OMGitsfirefoxx (Sonja Reid) is a video gamer and gaming commentator- who has been able to leave a remarkable print in the crazy world of gaming.
Similarly, she is recognized for playing numerous games- most notably Minecraft, The Sims 4, Overwatch, Counter-Strike: Global Offensive, and League of Legends. 
Her emerging journey to stardom is surprising and interesting at the same time. She created her YouTube channel, OMGitsfirefoxx, in 2013 and uploaded her first video PRECIOUS EAGLE CACTUS FRUIT - Amnesia: A Machine For Pigs. Soon after this, she started making more gaming videos and gained further recognition. She earned attention due to her involvement with the game Mianite.
As a result, the YouTuber has, as of January 2020, over 746K subscribers on her channel. 
Leaving her YouTube scene aside, she had also gained about 434K and 641K followers on her Instagram and Twitter, as of  February 2018.
OMGitsfirefoxx Bio, Age (Birthday)
OMGitsfirefoxx was born on 12 February 1991 in Toronto, Canada. Her real name is Sonja Reid and she spent a lot of time in foster care.
Another YouTube Star: YouTuber Antonio Garza Wiki, Age, Net Worth, Is She, Transgender?
Talking about her physical appearance, she has an elegant body structure with a height of 5 feet and 3 inches (1.6 m).
Her Dating Status
Well, Sonja is said to be dating a guy named Nick Sanchez. The pair has been dating from early 2017.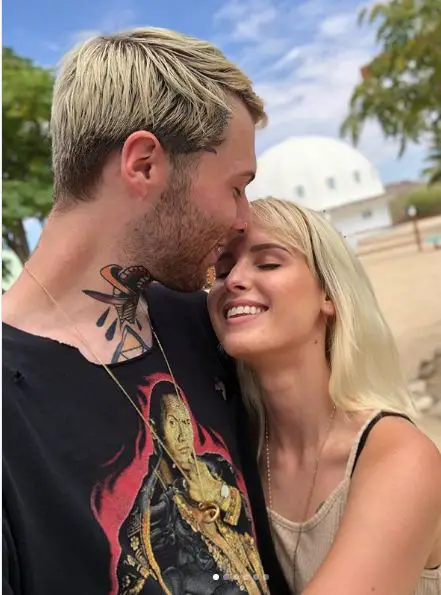 OMGitsfirefoxx with her boyfriend on 8th September 2019 (Photo: OMGitsfirefoxx's Instagram).
Prior to getting indulged with Nick, Sonja dated a fellow YouTube gamer named Tucker Boner in early 2016. But, in the same year, the couple parted ways on 31st July.
Notable YouTuber: Johnny Orlando Wiki: Age, Dating, Girlfriend, Parents, Net Worth
Interesting Facts About Her:
Sonja calls her followers the Foxx Family.
She also entered Guinness World Record 2017 Gamer's Edition as most followed female on Twitch.
Her birth sign is Aquarius.
She studied computer programming.
The games is also known for creating a Minecraft server titled Sparkade along with her ex-boyfriend, Tucker Boner. 
The meaning of her name 'Reid' is "Red Headed."
She usually gets attached to the animals she sees in her games.