We can bet every viewer had chills when the wildlife expert wore a glove with venomous Bullet ant. But this wildlife scientists and adventurer have been through worse than those bullet ants which reflect the endurance that this guy has. Pat Spain is a familiar name for those who watched "Beast Hunter." He is a cancer survivor and confessed the battle with cancer had been the toughest test so far.
Career as the Beast Hunter:
The wildlife biologist and the biotech expert caught the eye of National Geographic when he produced the YouTube show "Nature Calls TV." The Genzyme scientist starred in National Geographic Channel's reality called "Beast Hunter" where he hosted and narrated the show. The five-episode show which aired on 9th March 2011 investigated the existence of beast animal in the different part of the world.
He then narrated the show called 'Legend Hunter' for the Travel channel where he was on a quest to find the legend of lost Spanish Galleon in Southern California Desert. After hosting several major TV Series, he is now a Spokesperson and inspires people to battle hard to overcome the obstacles.
Cancer Survivor the Toughest Opponent!
When he was aged 30, he experienced some distress in stomach region and thought that it was something which he picked while at the visit to Sumatra, Amazon, and Mongolia. But after five months of diagnosis, doctors discovered a stage 3 colon cancer.
After the diagnosis, he lined up from hectic chemotherapy. And he said that chemotherapy is much harder than he anticipated and compared the treatment with being bitten by hundreds of Bullet ants. He stated that:
"Cancer has been harder and Chemo is my Bullet ants."
Since his colon cancer, he lost 30 pounds and is now cancer free. After being cancer free, he now utilizes his personal experiences and gives thoughts as the cancer advocate.
His thought:
"There is no rule that only smokers and people over 50 get cancer."
For which, he received a standing ovation.
Is Pat Dating Someone? Or Is He Married?
The wildlife scientist is known for traveling around the world but when he returns home, is there someone with whom he shares a special bond?
Well, the cancer survivor was in a relationship in the past. Back in 2011, he has mentioned about his girlfriend in a couple of tweets.
Though he is reluctant to reveal his love's name, he tweeted on 3rd August 2011 that he is dating his girlfriend for ten years.
But since his tweet in early August in 2011, he is pretty secretive about his personal life. Though he rarely reveals about his private life now, a tweet by Stupid Cancer revealed on 8th April 2015 that he is married.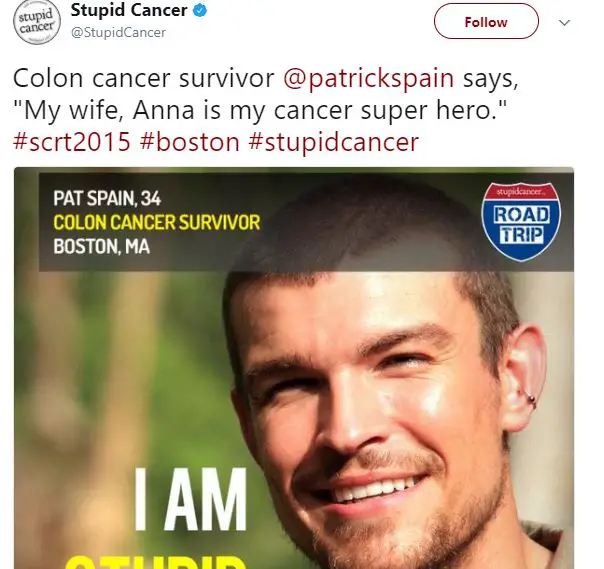 He is married to Anna in surprise yet stylish wedding and said that his wife is his cancer super hero.  
A Short Bio of Pat:
Pat was born as Patrick Spain and stepped into this world on 2nd May 1980 which makes his age 37. Nothing much has surfaced about his family life but the way he spends his days, they must be pretty thrilled at what he does. American wildlife expert is the graduate from the Suffolk University in Boston, Massachusetts. Cancer survivor possessed a healthy body shape before cancer, but he lost over 30 pounds after chemotherapy. The adventurer, who belongs to white ethnicity, is blessed with tall height.