Anyone can accompany you in happiness and laughter, but it takes real courage to share the painful moment with your loved ones. The WGN-TV reporter, Pat Tomasulo is a man with some courage who supported his wife, Amy Tomasulo during the painful days when she suffered from a rare disease named Trigeminal Neuralgia. He now raises funds through his "Laugh Your Face Off" for the foundation which helps for the cure of the same condition.
Career and Progression:
The alum of The College of New Jersey with a degree in Communications started his journey as weekend sports anchor, reporter and sports director for WJFW-TV in Rhinelander. After three years of successful stint in WJFW-TV, he worked as sports reporter and anchor in Buffalo's WKBW-TV.
After that, Pat, who is also the television personality, a stand-up comedian, a writer, and a producer, joined WGN-TV as the WGN Morning News reporter in June 2005. He is known for using his stand-up comic skill to full use and makes things sound more exciting to the news telling. He is also the host of "Shaq Vs." which is an ABC primetime Show. He also has several hosting credit to his name for the different network shows.  
How much Salary Does Pat Earn at WGN-TV?
The reporter, who brings in the new and intriguing side to the news telling, bags a handsome salary for his unparallel effort in WGN-TV which is yet to reveal. Though he receives the stupendous amount of fortunes, he uses most of the fortunes for the charity work for the foundation called "The Facial Pain Research Foundation" along with his wife, Amy.
"Together in Pain" with Wife, Amy!!!!
One in every 120,000 Americans suffers from Trigeminal Neuralgia and goes through the pain that can't be described in any words. Pat's wife, Amy is going through the immense and electric shock-like pain for 16 years now, and she combines with her husband to find a cure to this excruciating disorder.
Pat met his future-wife-to-be when she was recently diagnosed with rare form of Trigeminal Neuralgia. When she met her man Pat, she was pretty clear about her pain that she goes through every day. In an interview with WGN-TV she said:
"I told him the first day. There's no hiding it."
After meeting, they both hit off straight away and have been together ever since. After years of dating, Pat married his love of his life in October 2010.
After getting married their relationship is even getting stronger by each passing minute and now they have collaborated to form a charity foundation called "The Facial Pain Research Foundation" which works for the finding a cure for this rare form of disease of thousands of people in America.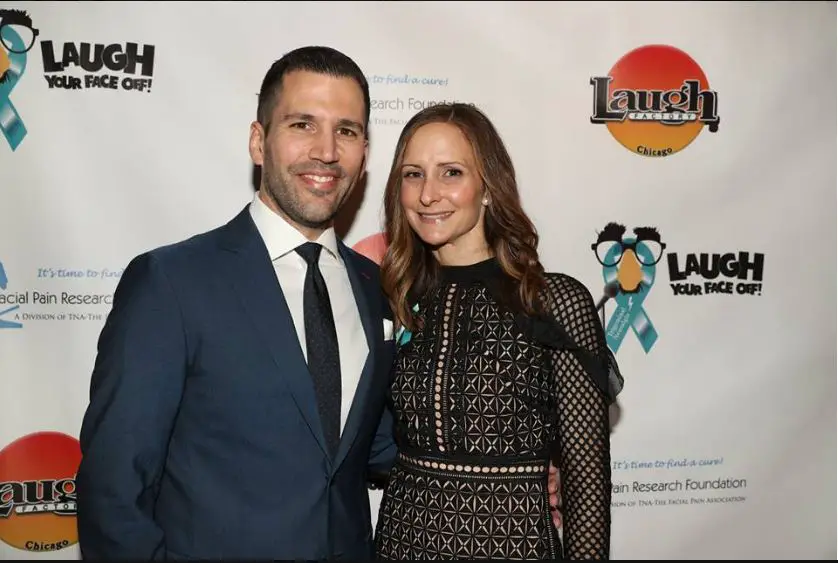 Caption: Pat and Amy in the Laugh Your Face Off
Source: Facebook
On April 9, the duo was seen in the "Laugh Your Face Off" through which he and his wife raised fund for the foundation. In the Facebook post, he mentioned that they were able to raise a significant capital which was higher than the fund that they raised in two years combined.
See Also: Lauren Magiera Wiki, Age, Engaged, Married, Husband, Parents, WGN-TV
Pat's Short Bio:
As per wiki sources, the stand-up comedian was born on 27th January 1978 which makes his age 39. The American reporter Pat Tomasulo shares a lovely relationship with his parents and makes some invaluable time to spend with family at the beach. Belonging to white ethnicity, he stands at tall height and maintains a healthy physique which works well with this astonishing personality.