Celebrity makeup artist, Jillian Fink and "Grey's Anatomy" star, Patrick Dempsey stood out to be the ray of hope for the couples who have separated over lame issue despite being attached. They made people believe that a minor problem should not be leading to the big decision such as divorce when the couple reconciled and worked out the differences after filing a divorce in January 2015. They have now reconciled their relationship since May 2015, and their married life has been better ever since!
Career As A Make-up Artist!
Jillian started her on-screen makeup career in 1992 when she worked as a makeup expert on the television movie, "Something to Live for: The Alison Gertz Story." Her other recognition as the artist was her work on "Skipped Parts," "The Crew" and "Stunt Fighter."
As per the news, she announced a collaboration with Avon Product Inc. in 2007 and was the first Global Creative Color Director who owns the high-end makeup brand in her name.
Read Also: Queen Latifah Wife, Girlfriend, Lesbian, Nationality
In 2008, Fink appeared on Academy Awards during E!'s annual pre-show. He is famous for the looks she created for celebrities like Kristen Stewart, Leslie Mann and Kirsten Dunst on the red carpet.
Similarly, Jillian in 2016 was credited for the makeup look she completed for Jennifer Lawrence which was featured on the cover of Yodonna Magazine.
Power Couple for Almost Two Decades!
Jill is of course known for her impressive work in the industry, but she is famous as the wife of the "Grey's Anatomy" star, Patrick Dempsey. The duo met each other in 1994 at Fink's hair salon and gradually bonded after the frequent visits to the salon. It took the couple almost three years to officially start dating.
Jill and Patrick took their relationship a step further and got married on 31 July 1999. Three years after their wedding, the couple was blessed with a beautiful daughter, Tallulah Fyfe. Then, on 1 February 2007, Fink gave birth to the twins, Darby Galen Dempsey and Sullivan Patrick Dempsey.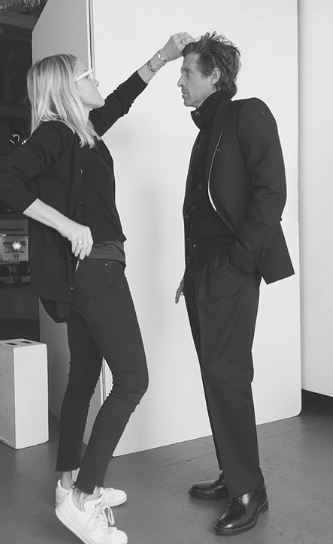 Jill not only a wife but also a stylist for the husband, Patrick! (Instagram)
You May Like: Philippe Coutinho's Wife Aine Coutinho Wedding, Age, Son
Jill Files Divorce After 17 Years of Togetherness! Still Together
The celebrity couple was having a perfect relationship with picture perfect family until their married life took its toll when Jillian filed for the divorce in January 2015. According to the source, Patrick was always busy in his work while Fink was left alone with the children at home which led to the communication gap. 
However, both of them were not ready to give up on the marriage and later seek the divorce counselor which resulted in the 53-year old artist to call off their separation. Dempsey in an interview with E News on 7 September 2016 mentioned that the relationship after the reconciliation has been better ever since.
The couple who have reconciled their relationship celebrated their 19th anniversary in August 2018. Jill's husband Patrick shared a photo kissing his better half in the same spot where they had their wedding in 1999. Though they were on the verge of heartbreaking relationship in January 2015, the twosome worked out their problems for good and, they are still together since May 2015.
See This: Rudabeh Shahbazi Wiki, Bio, Age, Married, Husband, Boyfriend, Salary
Nowadays, the power couple relationship is thriving and they showcase their strong bond via social media. During her husband's birthday on 14 January 2019, Jillian took her Instagram and shared a cozy snapshot maintaining his year. Likewise, on 4 February 2019, Partick also wished birthday to his better-half and declared that she loves him so much. During mid-February 2019, they were spotted enjoying their vacation at Malibu.
How much is Jillian Fink's Net Worth?
Jillian Fink started her job in the makeup industry as a mere artist and now has come a long way and has marked her position as one of the top celebrities makeup artists in the US. As per ZipRecruiter, makeup artist earns the average salary of $37,239 per year and their annual payroll range between the amount of $16,500 to $93,500.
With the likes of her popularity and success, she probably has a net worth in six figures. Though she has not mentioned it in exact numbers, her husband Patrick has an enormous value of $60 million.
Short Bio
Jillian Fink aged 53 was born in 1966 and celebrated her birthday on 4 February every year. She followed her passion for makeup and is currently a celebrity makeup artist in Hollywood. Fink despite the transparency about her personal and professional life, no information about her family is mentioned in the news. 
However, as per the wiki sources, Jillian has a sibling named, Kristin Fink Mason. The celebrity make-up artist Fink is a very talented and gorgeous lady with a relatively tall height and belongs to the white ethnicity.