Patrick Ta is a highly celebrated professional makeup artist notable for doing makeup for celebrities like Gigi Hadid, Bela Hadid, Kourtney Kardashian, Shay Mitchell, and more.
Besides his job as a makeup guru, Patrick is also a social media star with a massive number of followers on his Instagram and Snapchat.
Further, he is an entrepreneur who runs a beauty company, Patrick Ta.
Bio: Age, Ethnicity And Family Insight
Patrick was born on 12th February 1991 in San Diego, California, and possesses Asian ethnicity. He has an older sister in his family- who is a special-ed teacher.
Another Makeup Artist: Priscilla Ono Bio Reveals Age, Husband, Ethnicity, Makeup
Patrick's parents are initially from Vietnam, but they moved to the US after his birth. While growing up, Patrick was very close to his father and mother. His mother and father both have eight brothers and sisters, so he has many cousins. Altogether, Patrick has four male cousins and 30 female cousins.
Coming Out As Gay
The professional makeup artist, Patrick came out of the closet while he was in high school. After opening about his sexual orientation to his parents, they were supportive but also were worried thinking about how it would affect him at that time.
Career information
After Patrick went to Arizona from San Diego at the age of 16, he lived with a roommate named Glamazon- who used to wear makeup while going gym and to the grocery store. After looking at the transformation of his roommate Glamazon, Patrick became interested in makeup.
Notable Beautician: Gucci Westman Bio & Married Life Of American Renown Makeup Artist
At the age of 18, Patrick requested his parents to help him open a tanning and nail salon. Initially, his business ran successfully, but he faced bankruptcy at the age of 21. During an interview with the Thatiana Diaz, Patrick said that the reason behind the failure of his first business was his know-it-all mentality.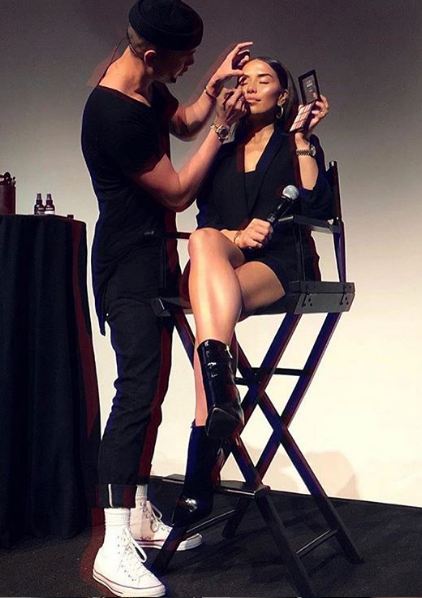 Patrick Ta joins an image.e Beauty Fest at Dublin, Ireland on 10th May 2019 (Photo: Patrick Ta's Instagram)
Later, Patrick asked for help for a new job from his roommate as she used to work in MAC as a makeup artist, and she was one of the managers. Patrick had never done make-up until he joined MAC. Patrick got to learn different makeup skills while he was working at MAC as he got a chance to do makeup on different women.
After moving to Los Angeles, his life took a turnover as he got to work with the Pretty Little Liars's star Shay Mitchell. Then, Patrick also got to show his skills on the supermodel Gigi Hadid's face and hair for her first red carpet at the American Music Awards. Since then, he has been working with many celebrities.
Also A Makeup Guru: Holly Boon Bio: From Age, Dating Status, Makeup, Hair To Surgery
Though Patrick promised not to open any business of his own after his first business got a flop, he came up with the new makeup line in 2018. Patrick launched 14 products, including tools, brushes, bath, body, and makeup kit. 
Interesting Facts About Patrick
His birth sign is Aquarius.
In September 2017, he appeared in the Vanity Fair article.
When Patrick was in high school, he was bullied because he was overweight. His friends used to bully him by calling him fatty patty and fatrick. 
The Pretty Little Liars's star Shay Mitchell followed back Patrick on his Instagram as he used to upload all his makeup related works. 
Back in 2018, he reviewed the nine holy products such as Cover FX Glitter Drops, Anastasia Brow Wiz, Cover FX Illuminating Setting Spray, MAC Stripdown Lip Liner, Tom Ford Lip Colour Matte in Flame, Morphe 350 Colour Matte Nature Glow Eyeshadow Palette, Maybelline x Gigi Hadid Lash Sensational Mascara, La Mer The Powder, and NARS Luster Blush.