A family is an archipelago of love, but seldom disputes may sway the family members into the battlefield. American designer Paul Teutul Jr.'s dispute with his father Paul Teutul Sr. was so much bitter that he didn't even care to attend his son's wedding.
Paul Jr. is mostly known for his appearance in Discovery series American Choppers with his dad and younger, brother Michael Teutul. He is a founder of Paul Jr. Designs and a co-founder of Orange County Choppers.
What Is Paul's Net Worth?
Paul Jr., 43, is an American designer and reality star who has a net worth of $2 million. He featured in the reality series American Chopper on The Discovery Channel and collected some decent amount of salary. As a founder of Paul Jr. Designs, the American designer gathered additional revenues from his design firm. He is also the co-founder of Orange County Choppers with his dad, Paul Teutul Sr.
Read Also: Al Calderon Wiki: Age, Birthday, Height, Girlfriend, Dating, Affairs, Family
According to the court documents, his father Paul Sr. had a net worth of $1,801,729 on 28 February 2018. Paul Sr. got classified for Chapter 13 bankruptcy in New York in March 2018, and the paperwork showed he owed $1,070,893.44 to 50 creditors. But in his statement, Paul Sr. said he owed the taxes worth $151,230.98 to the Town of Crawford, New York and $21,300 as debt to different credit card companies.
Family Life: Three Siblings, Sued His Dad After Bitter Feud
Paul Jr. was born to his parents, Paul Teutul Sr. and Paula Teutul. In his family, he has three siblings named Michael Teutul, Daniel Teutul, and Cristin Teutul. In 1999, he co-founded a motorcycle manufacturer and lifestyle brand company Orange County Choppers with his father, Paul Sr.
In 2003, he appeared in the show American Choppers, alongside his dad and younger brother Michael Teutul. When the show started to broadcast in TLC, Paul Jr and his father had legal issues which resulted in TLC to cancel the show. 
The reality show once again gained momentum when his father hired him as a contractor. However, Paul Sr. once again had a feud with his son and blocked his stake in Orange County Choppers revoking the rights to be in the show. Paul Jr. refused to back down, and his father sued him for $1 million.
You Don't Want To Miss: Jack McBrayer Married, Wife or Partner, Girlfriend, Gay and Net Worth
In the end, he won the lengthy court battle against his father and was able to keep his stake in the company. But this led an estranged relationship between the father-and-son. In their agreement, Paul and his dad concluded that they can't work. To keep their family together, they parted their way in friendly terms.
Dad Didn't Attend Paul's Wedding; Met His Wife On TLC Show
The designer is married to model Rachel Biester since August 2010. Paul Jr.'s feud with his father was so bitter that his father skipped his wedding on 20 August 2010. Even though his father didn't attend the ceremony, the American designer enjoyed his intimate wedding with Rachel at Bonnet Island Estate in New Jersey along with 135 guests that included his close friends and family.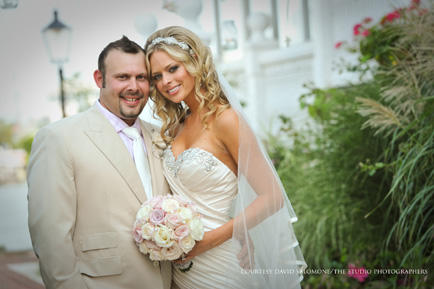 Paul Teutul Jr. and model Rachel Biester at their wedding on 20 August 2010 at Bonnet Island Estate in New Jersey (Photo: discovery.com)
The American designer met his wife on the set of TLC show, American Chopper in 2008. The duo soon fell in love, and Rachel appeared as a McCuff girl in the episode 'Mcuff Gas Tank Protector.' The lovebirds also appeared on 'Say Yes to the Dress' to pick the wedding dress for the model.
After their sweet affair on TLC, the couple planned their wedding cake with the chef from Cake Boss. They also helped to design the 'Paul Jr. Designs Dog Park,' in Montgomery, New York with a funding of $50,000 in December 2009.
See Also: Edie Falco Married, Husband, Boyfriend, Lesbian, Cancer, Net Worth
Paul Jr. and his wife embraced a son named Hudson Seven Teutul. The couple's son Hudson was born on 3 February 2015. He weighed 8.9 pounds during his birth, and according to Paul Jr, his wife endured 29 hours in labor during their son's birth.
Short Bio
Paul Teutul Jr. was born on 2 October 1974 in the United States of America as Paul Michael Teutul. At the age of 35, the TV personality designed a dog park in New York after he opened his design firm named Paul Jr. Designs (PJD).
Paul stands at the height of 1.77 m (5' 9") and holds American nationality. As per wiki, he began building motorcycles at PJD and competed directly with Orange County Choppers (OCC).