There are some people in the world who just can't give up on their dreams if they decide to reach on the vantage point of their life. Philip Schofield is one of them. 
Philip Schofield started his career journey as the booking clerk and tea boy for the BBC radio in London. At that time, he was just 17 years old, the youngest employee working for the organization. 
The fame and popularity he earned from his show 'This Morning' only came after his continuous effort, hard work, and dedication from an early age.
ITV Presenter Wiki, Education
The renowned TV personality of Britain, Philip Schofield, was born on 1 April 1962 in Oldham, England, but he spent most of his early years in Newquay, Cornwall. He pursued his high school education from Trenance Infant and Newquay Tretherras School.
His show 'The Morning' is the most-watched show in Britain, where he interviews celebrities and politicians along with his co-host Holly Willoughby. British Prime Minister Boris Johnson and David Cameroon have also been the guest of his show.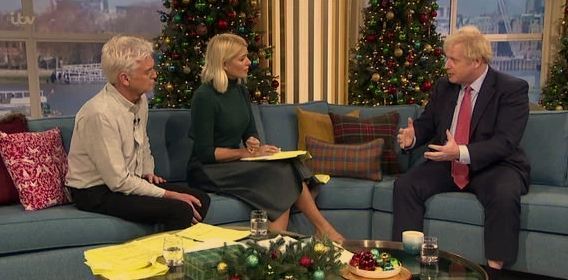 Philip Schofield with co-host Holly Willoughby and Prime Minister Boris Johnson on 'This Morning' Show (Photo:- express.co.uk)
Apart from "The Morning," he has hosted many voguish shows after signing a lengthy contract with ITV in July 2006. It includes Dancing on Ice, The Cube, Mr. and Mrs. You're Back in the Room, The British Soap Awards, The Military Awards, and so on.
Before working for ITV, he used to be a radio presenter at BBC, where he hosted a favored show named Going Live. He also tried his luck in the theatre playing an act of Joseph in the Joseph and the Amazing Technicolor Dreamcoat at the West End Stage in the early 1990s.
Gay-Related
Philip Schofield came out gay on 7 February 2020. He took Instagram as a platform to reveal his sexuality. He wrote:
With the strength and support of my wife and my daughters, I have been coming to terms with the fact that I am gay
Later, he further clarified his statement while being interviewed by his co-host Holly Willoughby on ITV's This Morning on 8 February 2020. He said he got inspired by the brave guests who appeared on his show.
Phillip added that he had never hidden any secrets from his wife of twenty-seven years and also mentioned that it was tough for him to come out. He exclaimed he even had suicidal thoughts while dealing with his sexuality, but his family pulled him back. 
Speaking with The Sun on 9 February 2020, he spoke of the dark thoughts that crossed mind, but he didn't give in to the tendencies and came out stronger.
Family Life
Philip Schofield has been married to Stephanie Lowe, and according to This Morning, she has no plan on getting divorced with her gay husband until he settles in a new relationship.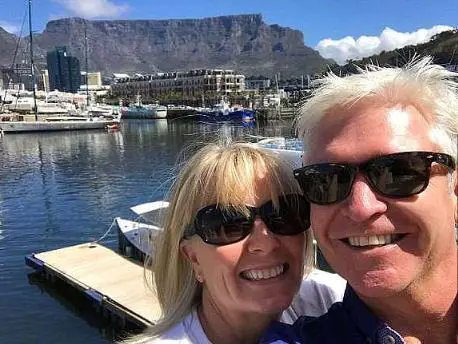 Philip Schofield and his wife Stephanie Lowe (Photo: dailymail.co.uk)
Philip met Stephanie at the BBC office, where they both used to work in their respective posts. Philip used to work as a presenter for BBC children's television, whereas Stephanie used to work as a BBC production assistant. Slowly they fell for each other after the frequent glance and later they got married in 1993.
Consider Reading This:- Ruby Rube parents
The duo has worked together in a TV series named Schofield's South African Adventure, where they have portrayed the life and culture of the local community of South Africa.
Together, Philip Schofield and his spouse Stephanie Lowe have two daughters named Molly and Ruby. Among them, Molly is the eldest daughter, while Ruby is the younger one.
Net Worth
The estimated net worth of Philip Schofield is $12 million. The TV Presenter has amassed vast fortunes by hosting many Radio and TV shows in his long career on BBC and ITV. But, it was This Morning and Dancing on Ice, the renowned British shows, which gave him much needed popularity, fame, and money to boost his fortunes.
In the year 2017 alone, he reportedly received a lucrative salary of £600,000 for co-hosting a show, This Morning.
Check This Out:- TV Host Christiane Amanpour Net Worth
Taking note of the increased popularity of the show, Philip has recently doubled his salary from £803,000 to £1.73 million, as stated by The Mirror. Plus, he also has his larger stakes in the Sunrise Radio Group, which launched Radio Plymouth in 2010. 
Philip Schofield is currently presenting a show named 'How to spend it well at Christmas' alongside his wife Stephanie, where we can see his luxurious house whose interiors are lavishly decorated and beautified.