Here, we are talking about a man who has made a habit of getting into jail and at the same time maintains the pace to keep up his popularity. Q Da Fool is the rapper who received limelight through PBG and his extended plays. He recently released a music video named "Fell In Love" on 8th September, but fans are still are waiting for confirmation of his relationship in real life too.
Career and Professional Life:
The Maryland rapper initially was the member of Pakk Boy Gang famously known as PBG. During his time in the PBG, he released mixtapes like Pistol Q, Rich Shootah, Trap Flu, and Trap Fever which posted him in the bracket of the top rapper. During his high times, he even collaborated with Stacks Gotti and Big Flock.
Life doesn't run without few bumps in the way, but in the case of Q Da Fool, he had many. He was sentenced to jail for some time following some undisclosed charges. But in prison also, he didn't stop working and completed his extended plays called "Committed To The Streets" and "Stacks Da Fool."
Sentenced to Jail Again!
After getting freedom in mid-2016, he announced that he is no longer the member of PBG and formed a new group called "Rich Shootah." The controversial yet renowned star, Q Da Fool but keeps finding the way back to jail.
For the second time in 2017 on 20th August, before his show in Silver Spring, police arrested the rapper as he failed to appear in front of the court to defend him for several traffic tickets in July.
After his imprisonment, the star tweeted in the morning on 21st August and said that:
"I Apologize to all my fans for last night. They locked me up before I could get on stage. Be home real soon."
He has been in and out of prison for a very long time and had his first confrontation with police when he was just aged 15.
Is Q Da Fool Dating or Happily Single?
Rappers are often pictured as lady magnets, but this guy is just the other way around. He has been sort of secretive when it comes to dating profile, and it might be because he is not dating at all which remains a topic of concern.
But if his tweets are to be believed, he is not into the dating scene. On 14th April 2015, he tweeted that he doesn't need a girlfriend as he got his money.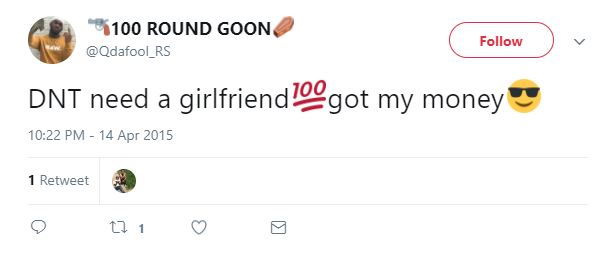 After this tweet, he has never made a public statement about having a romantic relationship. As of now, he is probably single or secretly having a brewing romance behind the scene.
His lack of dating activity and appearances with girls gave space to fans to question his sexual orientation. But as of today, he hasn't opened if he is gay or not.
See Also: Quincy Brown Bio, Age, Birthday, Girlfriend, Dating, Gay
Q Da Fool's Short Bio and Facts:
The rapper's real name is George Hundall and was born in Maryland. He stepped into the world on 4th March 1997 and currently ages 20. The rapper, who lived in Washington D.C. as well, is a tattoo lover and has inked many artistic tattoos in his body. Standing at a tall height of around 6 feet, he has buffed up physique. The Afro-American, Q Da Fool is the citizen of America. The man, who is vocal about his day to day activity, is reluctant to share any information about his family and parents.