Quinn Lundberg came to limelight as a wife of American stand-up comedian and actor, Zach Galifianakis. She has worked against domestic violence in North Carolina and has also served to build a community center in rural Malawi. During her 20's, she used to be a professional dancer and taught dancing at New York.
Welcomed Second Baby At The Age Of 33; Husband Kept Privacy Regarding Their Two Sons
Quinn Lundberg welcomed her second baby, Rufus Emmanuel Lundberg with her husband, Zach Galifianakis at the age of 33. The couple's second child was a healthy baby boy, born on 7 November 2016. Zach managed to conceal the news of his wife's second pregnancy until December 2016. However, E! News exclusively revealed the birth of their second baby and his name as Rufus.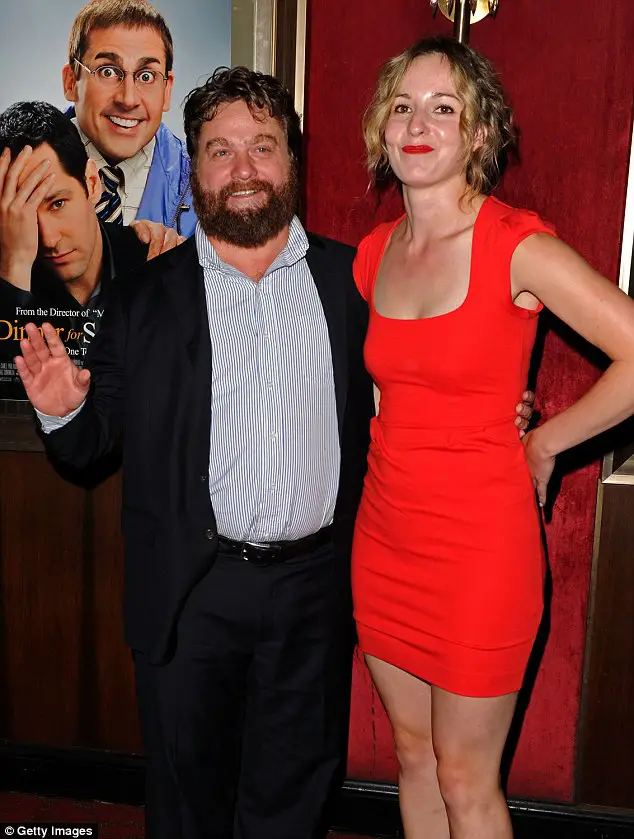 Quinn Lundberg and her husband, Zach Galifianakis pictured together in 2010 (Photo: dailymail.co.uk)
The 48-year-old actor also kept the gender and the name of his first child under the wraps until October 2014. After hiding the details of their first baby for an entire year, he stepped up at Tonight Show Starring Jimmy Fallon and revealed that he and his wife are the 'proud parents' of a 'baby boy.' The Birdman actor also defined 'fatherhood' as an honorable thing. 
Later, in early-2016, Zach talked about his first son with American television host, Conan O'Brien. The Wilkesboro, North Carolina native, Zach revealed that his child was two years old and he was a strict parent. The Tulip Fever actor also added that when his baby gets out of the crib, his father will put him on a rigorous exercise routine, a straight 50 push-ups. He wanted his son to be fit and show the other's 2-years-old kid that his son can kick their butts.
Quinn and her husband, Zach are now parenting their two sons, who are at the age of four and two respectively. The family of four are enjoying their good bond residing in Canada. The couple married in August 2012 and reportedly tied their knot at Vancouver, B.C. At their wedding rehearsal dinner, about 40 guests attended at the Tea House in Stanley Park.
What Is Quinn Lundberg's Net Worth?
Quinn Lundberg has gathered her net worth from her work in various sectors. In her early 20's she moved to New York City and gathered revenues by teaching dance. She also increased her wealth from her stint at the United Nations with UNICEF. Her status as a co-founder of a nonprofit organization, Growing Voices and a social activist in North Carolina and rural Malawi has further elevated her net worth.
She is also enjoying her husband's Zach Galifianakis' $ 20 million net worth. Zach has mostly gathered his fortunes from his career as an American stand-up comedian and actor. He has amassed fortunes from his 22 years of experience in the entertainment industry. During his career, the two-time Primetime Emmy Award-winning actor has starred over four dozens of films and more than two dozens of TV series.
Short Bio
Quinn Lundberg was born in 1983 in Alberta, Edmonton, Canada. She graduated from the Hunter College in CUNY Baccalaureate Program, with a degree in International Conflict Resolution in New York City. Quinn is much taller than her husband, Zach Galifianakis who has the height of 1.7 m (5' 7"). As per wiki, she volunteered for UNICEF and had traveled through Africa, Afghanistan, and Bosnia through community-based projects and organizations.