Rhonda Bryne is an author best known for publishing a best-seller book called The Secret.  Also, she has written other books titled The Power, The Magic, Hero and How The Secret Changed My Life.
Moreover, she has produced TV series like Sensing Murder (2004), Loves Me and Loves Me Not (2003), and the movie- Sensing Murder: Easy Street (2003).
Truth About Writing And Producing The Secret
Back in 2004, Rhonda was going through some turmoils in her personal life and career. At that time, her daughter handed her a book titled The Science of Getting Rich, written by Wallace D. Wattles in 1910.
Explore: Anne Rice Wiki, Net Worth | Everything About American Author
Though Rhonda was on the verge of having a mental breakdown, she started reading the book. By the time she was finished, the author was so touched that tears started rolling from her eyes as the book provided her a brief look at The Secret.
After reading the book, Rhonda researched on religion and the field of human endeavor. Surprisingly, she discovered some vital pieces of information, tracing back to thousands of years.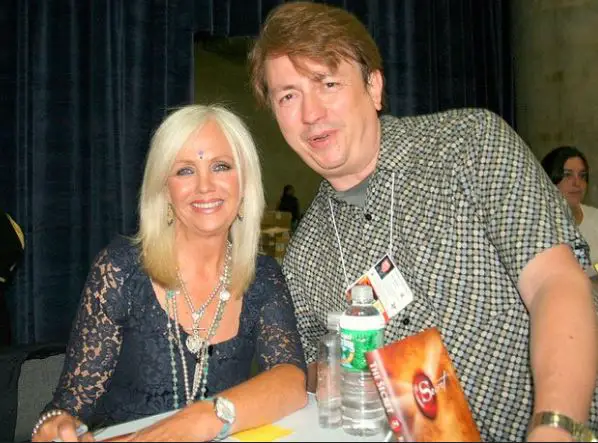 Rhonda Bryne snaps with one of her fans (Photo: Flickr)
Also, she implemented everything she learned from The Science of Getting Rich in her daily life. After Rhonda brought her knowledge into practice, she saw a huge transformation in her life. As a result, she thought to share all her experiences with the world.
Rhonda eventually released her documentary film, The Secret, in 2006. Soon, she also shared her story via the book, The Secret on 26 November 2006.
Net Worth
As per Celebrity Net Worth, Rhonda has accumulated a total net of $100 million, which is charged via her profession as a producer and an author.
The sales of her books have been a key factor in Rhonda's growing net worth. In the market, her books like The Secret is sold at $11, The Magic at $10, The Secret Teachings at $10, The Power at $12, El Secreto (Spanish Edition) at $11, The Secret Gratitude Book at $14, Hero (The Secret Book 4) at $12, La Magia (Spanish Edition) at $7, and The Secret Series 4 Books Collection Set Hero, Power, Magic, Secret is sold at $52. 
Rhonda's Success Story
As soon as she released and published her film and book, The Secret, Rhonda was praised by millions of people. In January 2007, she got an opportunity to appear on The Oprah Winfrey Show. Also, in the same year, she was named as one of the world's most influential people in TIME magazine's The TIME 100: The People Who Shape Our World. 
Later, Rhonda released another book in 2010 titled The Power- which made her a New York Times bestseller. The book is available in 45 languages with nearly 4 million copies sold in print.
Upcoming New York Times Bestselling Author: Eva Chen Bio, Age, Husband, Children, Books, Salary & More
Likewise, in 2012, she published a book, The Magic, and became New York Times bestseller for the second time with over 1 million copies sold. The following year, she held the batch of the best international seller again by publishing a book called Hero.
Quick Facts About Rhonda Byrne
Rhonda was born on 12 March 1951 in Melbourne, Australia.
Her birth sign is Pisces.
By the end of 2007, her book, The Secret, was sold more than 19 million copies in more than 40 languages.
Back in May 2015, she listed her Montecito, California's mansion in sale for $18.8 million. Earlier, in 2014, she had put it on sale for $23.5 million. Originally, she bought it for $18 million in 2007.
The mansion is built in 8,400 square feet with five bedrooms, six full bathrooms, and two half bathrooms. Also, there is a guesthouse, a 65-foot-long pool, and a cabana with a fireplace, a kitchen, a changing room, and a bathroom.