Rick Ness is best known as the heavy machinery operator in the Discovery Channel's reality series Gold Rush. Rick is also a musician of the band called the .357 Stringband and loves to workout in the gym, ride motorcycles and build tattoos. Apart from being known as a television personality and a band member of the .357 Stringband,  Rick is also famous for his tattoos which catches everyone's attention immediately.
How Much Is Rick's Net Worth?
Rick Ness has collected his net worth mainly from his Goldminer's job in Discovery Channel's Documentary series Gold Rush. He is seen in the show as the excavator and rock truck operator. He has replaced Todd Hoffman as the new mine boss of his operation in the show.
Gold Rush, which was premiered on 3 December 2010, collects the annual revenue of $3.6 million. Rick joined the show in its third season even when he has no any mining skills. However, he had learned to drive heavy machinery from his father's commercial construction company.
Prior to joining the show, Rick was pursuing a professional football career. Unfortunately, his football career was short-lived as he suffered the leg injury. He has also earned some fortunes from his musical profession as a member of the .357 Stringband. The band has released three albums named Ghost Town, Fire & Hail, and Lightning From the North.
Rick's Infamous Tattoos
Apart from his show on discovery channel, Rick is pretty famous for his prolific tattoos. He has decorated his body parts with dramatic ink arts. He posted a picture of his neck tattoo on Twitter on 25 March 2014 and called it the holy mother of horsepower.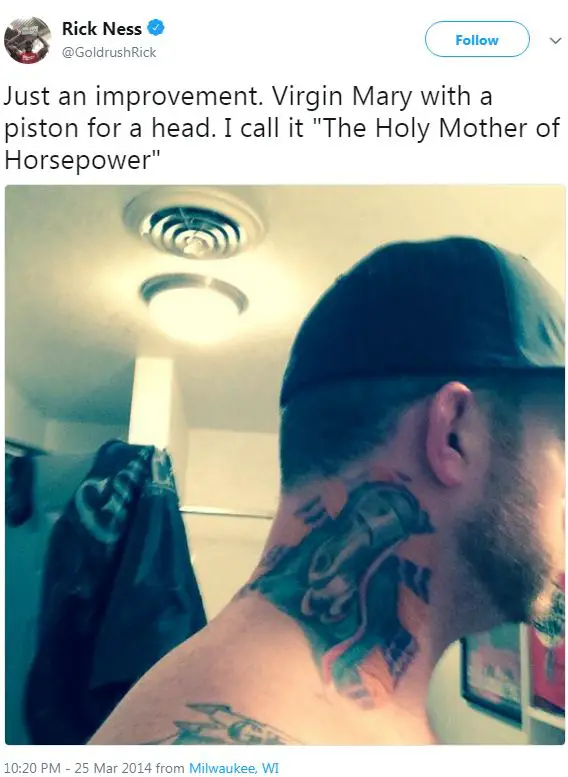 The musician, Rick, who is currently at the age of 37, is not hesitant to expose his macho tattoos on his muscular arms. His whole right hand is inked with different tattoos. His knuckles are also decorated with inked word STAY. On 6 March 2016, Rick posted a picture with his friend on Twitter, where one of his fans suggested him to decorate his left arm also. 
Cancer Is Devil!
Reality star Rick recently lost his mother due to cancer. His mother, who demised at the age of 55, was suffering from the disease for a long time. On 21 March 2018, Rick tweeted saying that his mother left him peacefully in her house when he was resting his face against hers.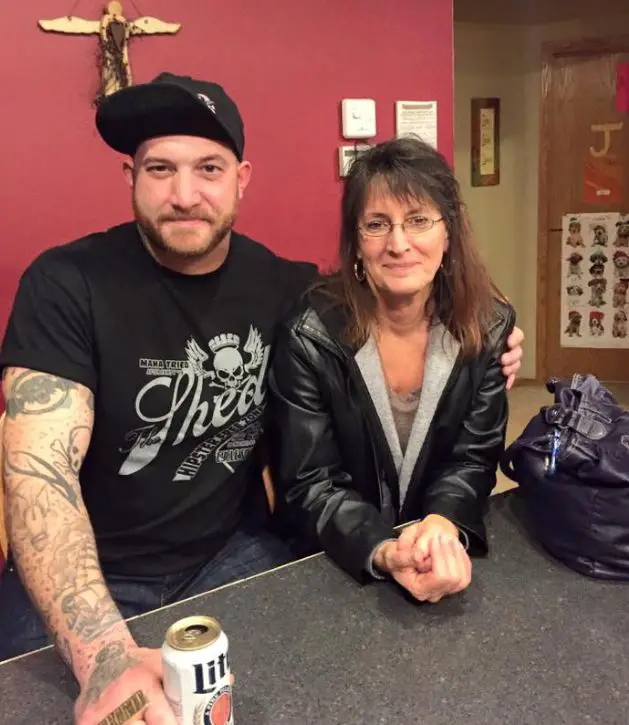 Rick Ness pictured with his mother on Thanksgiving weekend of 2015 (Photo: Facebook)
He also said that her health was not so great so he was spending as much time as he could to be with her, giving her company during her last days. He also showed his love towards his mother in social media. On 24 January 2018, the Gold Rush star wished his mother on her birthday with her picture.
Is Rick Dating Anyone?
The Gold Rush star Rick is miles away from the limelight regarding his personal life. He has kept his dating life secluded from the crowd. Rick has not been spotted with his possible girlfriend so far. Due to his mysterious personal life, it is likely that he is single and looking for a compatible wife to start a family. On 16 December 2016, he sarcastically said that he was going to meet his girlfriend and wished his followers on Twitter goodnight. He referred to the beer, Miller High Life as his girlfriend. 
Short Bio
Reality star Rick Ness was born on 5 March 1981 in Milwaukee, Wisconsin, USA. He celebrates his birthday every year on 5th March. He holds an American nationality and belongs to white ethnicity. Rick also has a twin brother and has a birth sign of Pisces.