When two people are genuinely in love, the factors like age difference, gender, and societal norms becomes less important. Ricki Lander, the American actress, proved this notion right when she dated a man who's thirty-nine years older to her.
During the starting phase, Lander and her billionaire boyfriend, Robert Kraft seemed head over heels in love, but is their relationship similar now? Let's find out!
Her Relationship With Billionaire Boyfriend!
Ricki Lander has kept her personal life behind the veils now, but there was a time when she made headlines in every tabloid with her unusual relationship. Want to know how?
Lander started dating Robert Kraft, the owner of New England Patriots since 2012. During the time, the couple made everyone's eyebrows raised with the fact that Ricki is thirty-nine years younger to Mr. Kraft and sixteen years to his son.
Also Read: Brian Ross: ABC News, Suspension, Fired, New Job, Salary, Personal Life
However, the couple made several appearances together and made everyone believe that they are a thing. But after three years in 2015, their relationship took a different turn reportedly due to their conflicts on getting married.
News had it that Lander wanted to tie the knot as soon as possible, but Kraft kept avoiding claiming that he doesn't want to stay committed to anyone after the death of his first wife. Kraft was a husband to Myra until she died of cancer a year before their affair started.
But claiming the speculations false, the couple was seen together in Pats-Dolphins game in Miami in January 2016. Their pictures together made everyone assured that they reconciled their relationship.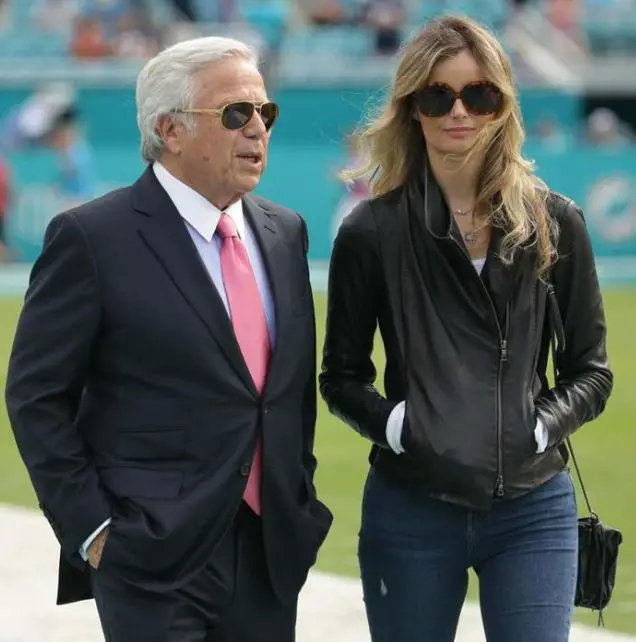 Ricki Lander spotted with her boyfriend at the game in Miami back in January 2016 (Photo: Boston Globe)
During the fall in 2017, Ricki welcomed her daughter named Monarch, and the news broke that Robert reportedly was the baby father. However,  In March 2018, the spokesperson for Robert confirmed with PEOPLE magazine that Robert was not the biological father. But he indeed was excited with the arrival of Monarch. 
Ricki's boyfriend Robert supported Monarch and split his time between Boston and Los Angeles, where she resides. In May 2018, Dailymail confirmed the speculation that she might have born Monarch via a surrogate as the couple was seen during the holiday season multiple times where Ricki was without her baby bump.
Recently on 22 February 2019, Florida police issued a warrant to arrest Robert in charge of having in association with a prostitution sting.
How Much Is Ricki's Net Worth?
Ricki Noel, age 39, reportedly enjoys an enormous net worth of $2 million. Certainty, the actress accumulated the amount from her works in the successful movies and television series like 'Ant-Man' and 'Iron Man.' Also, her modeling contract, photo-shoots, and other projects have also helped in strengthening her income.
Explore More: Judith Ann Hawkins Wiki, Age, Net Worth, Halle Berry
Ricki acted in the hit movie 'Ant-Man.' The film which released in the year 2015 provided her the opportunity to work with the sensational comedian, Paul Rudd. She also worked in the comical film 'Movie 43' which was produced by Farrelly Brother's. The star with the bug of acting worked with Robert Downey Jr. and Terrence Howard in the successful franchise movie, 'Iron Man' in 2008.
Short Bio And Wiki
American actress, Ricki Noel Lander was born in 1980 which makes her thirty-nine years of age. She grew up in the City of Salt Lake, Utah, the United States as per her wiki. The actress stands a towering height and belongs to white ethnicity.
See This: Natasha Aughey Married, Boyfriend, Dating, Workout, Interview
Lander has graduated cum laude with Honors attending Academic and Artistic scholarship from Florida International University in Miami with a Bachelor's degree of Art's in Dance and a Bachelor of Science in Mass Communication.