Rocco DiSpirito, an American 'James Beard' Award-winning chef, is well-known for his incredible weight loss struggle and has dedicated his life to preparing healthy and tasty food. On May 3, 2010, he appeared in the ABC television series Castle in the episode Food to Die For.
He then made his Bravo TV debut as Rocco's Dinner Party host, a weekly reality cooking competition on June 15, 2011. DiSpirito was also part of the Fox dating game show The Choice in 2012, where he featured as a celebrity contestant.
DiSpirito's Career In Cooking And Net Worth 
DiSpirito has been in several cookery series, including the NBC reality TV show The Restaurant, which followed the construction and management of another Manhattan diner called Rocco's on 22nd.
He has competed in Dancing with the Stars season seven and was paired with traditional expert dancer Karina Smirnoff. In 2000, he launched his television career by appearing on The Melting Pot, a Food Network program. Around the same time, Gourmet magazine dubbed him as 'America's Most Exciting Young Chef.'
DiSpirito is most recognized for his role at 'Union Pacific,' a restaurant he founded in 1997 in Manhattan's Gramercy Park neighborhood.
In an exuberant three-star review, New York Times reviewer Ruth Reichl noted that a woman at the adjacent table was groaning in unrestrained pleasure as she ate. Still, it was hard to discern what dish had prompted that reaction because nearly every meal was worthy of such sounds.
As of 2020, the award-winning chef started hosting a series called Dine Around Downtown- Cooking At Home Edition. The show features a virtual dine-around- at home with different chefs of Downtown NYC restaurants. 
DiSpirito also released his new book titled Rocco's Keto Comfort Food Diet in 2020. Further, looking back at his career, he surely has accumulated a net worth ranging to millions.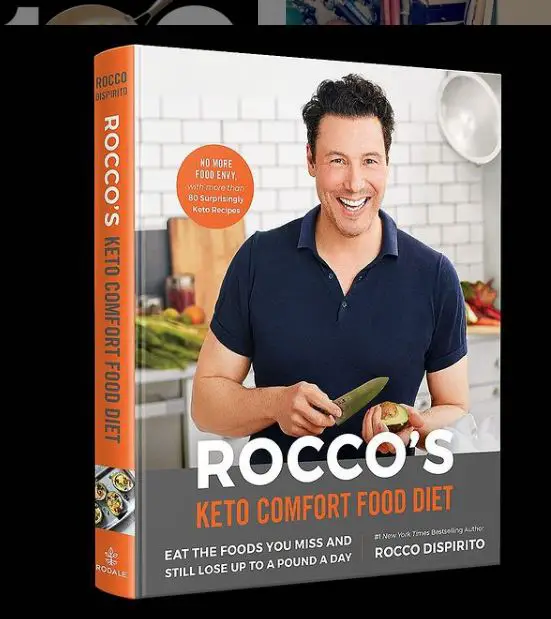 Rocco DiSpirito's recent book (Source- Rocco's Instagram) 
Who Is Rocco DiSpirito's Wife?
DiSpirito dated Katie Brown and Deborah Schoeneman before marrying his college love, Natalie David. However, neither of his relationships had a good outcome. His marriage with Natalie David quickly struck rock bottom, resulting in their divorce in 2000. Their wedding was said to have ended because of the gaps between the couple. Following their divorce, he quickly re-entered the dating scene.
After his divorce, DiSpirito dated actress Yvonne Scio, and the two even got engaged. Unfortunately, this romance also did not last long, and the couple split in March 2004.
Following Yvonne Scio, he appeared to be seeing Tracey E. Edmonds after they were sighted together at the Mercedes-Benz's Oscar viewing party in 2008. However, both Rocco and Tracey didn't touch on any topics regarding their relationship. 
Although the chef is usually linked with women, there were several rumors which stated him as gay. The rumor started after a website claimed DiSpirito and Jai Rodriguez were seen together at a gay club. The two also skipped the Bewitched after-party and went for a drink together. 
However, looking at Rocco's previous relationships, we can say that he is not gay, and the two are just friends. Rodriguez also confirmed it by saying- 
"They made it into something it wasn't. We hang out, go to dinners, completely platonic. But I love him like a brother..."
Journey To Weight Loss
DiSpirito was overweight at one time in his life and had to go through a weight loss program. As a result, he lost 41lbs while following a Mediterranean-style diet.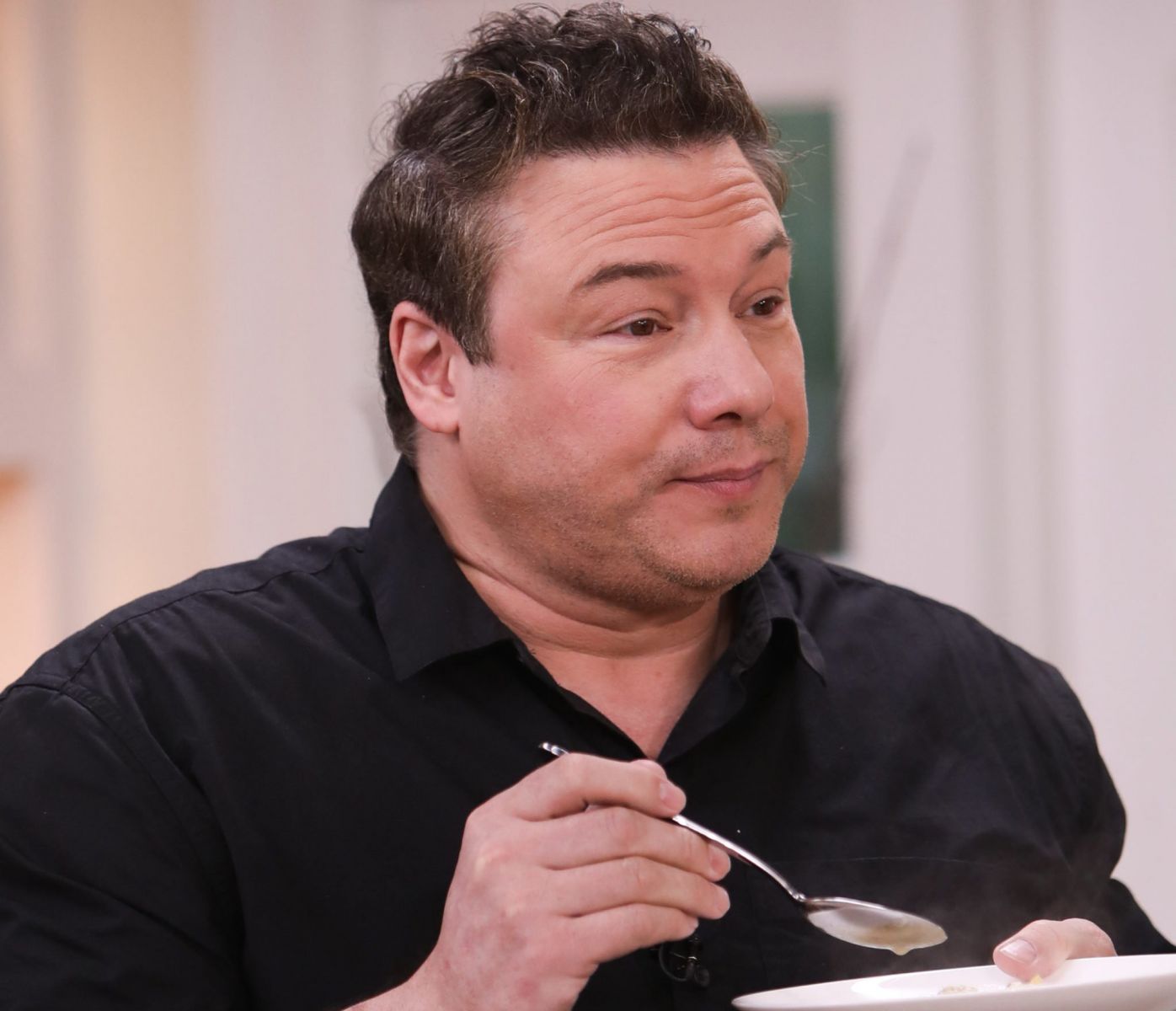 Rocco DiSpirito before weight loss (Source: The Focus)
While talking to People magazine, DiSpirito explained that being overweight caused his cholesterol and blood pressure levels to rise, and upon his weight loss through healthy eating and exercising twice a day, he found a new sense of confidence and doesn't feel insecure anymore. 
After his successful weight loss journey, people often assumed that he had gone through plastic surgery, but the chef is unbothered by the speculation as he stated- 
"Everyone thinks I look younger. Some people think I had plastic surgery, which I take as a compliment."
During his weight loss journey, DiSpirito also released a book titled- The Pound a Day Diet. 
Short Bio
Rocco DiSpirito was born on November 19, 1966, in Jamaica Queens, New York, to Nicolina DiSpirito and Ralph DiSpirito. He had a great interest in cooking since he was young, and his mother was a big part of it since he gained many traditional Italian dishes from her.
DiSpirito graduated from the Culinary Institute of America in 1986, which piqued his interest in cooking as a vocation. In 1990, he graduated from Boston University with a bachelor's degree in business administration. The award-winning chef is of Italian-American heritage and has American nationality. He is also rather tall and stands at the height of 6 feet 1 inch.