While many of us were stressed out by the pandemic, comedian Ron Funches took the situation as an opportunity to get married to his wife. After exchanging the engagement rings back in 2019, the couple has finally taken the biggest step. 
Met Wife Through Dating App
Ron is married to his wife, Christian Dawn. It was during the pandemic that the couple got married. As per his Instagram post, they exchanged vows on 21 August 2020. 
After meeting for the first time through a dating app named Bumble, they got engaged in November 2019. He made a huge announcement when he appeared on the TV program 'Late Late Show With James Corden.'
Ron lovingly calls his wife 'Robot' because she only had one wallpaper in the dating app, which made him believe that she wasn't real.   
Failed Married Life With First Wife
Ron was previously married to a wife whose identity remains a mystery. Though there is no information about his ex-wife, we have come to know that he lived for many years in Salem with his estranged wife.
Nevertheless, the couple is parents to their son Malcolm Funches. The former couple once faced great pain as their son was diagnosed with autism needing special care.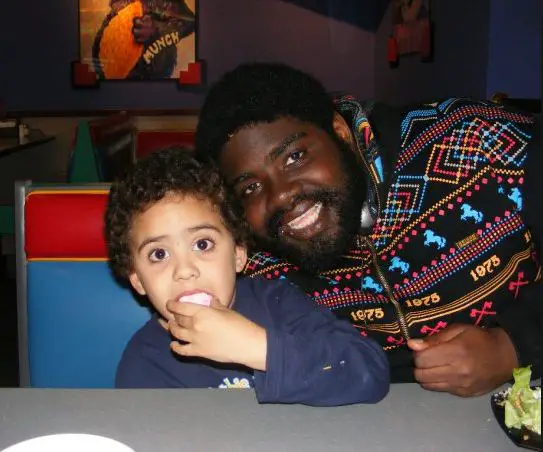 Ron with his son Malcolm (Photo: sporkful.com)
As Ron used to be busy with his work, he could not give much time to his family, so he got separated from his wife in 2012.
Why Gay Speculations?
Although Ron is a married man with a wife, there were speculations of him being gay because of his humorous personality. 
While he was on sets, he would share smooches with his male co-actors behind the camera, which gave rise to speculations of him being gay.
For instance, we saw him kiss Michael Ian Black on the set of 'The Meltdown.' Then in 2015, he shared a kiss with Undatebale's co-star Rick Glass for a video.
Such actions caught him under gay rumors, but that's not true.
Ron's Profesional Journey
Ron got interested in comedy right from his childhood. In his early days, humor used to be his weapon to save himself and his sister from his mother's scolding. Whenever his mother laughed at his jokes, he used to think that he was good at making people laugh.
However, he was not a full-time comedian at the prior stage of his career. He was engaged in different jobs before giving his full time for comedy. At first, he did his job at a bank call center. He also worked for Liberty Tax Services as a Lady Liberty, dancing around with a sign, which also helped him pave the way for a comedy career.
His career as a full-time comedian got started at the age of 23 in Portland, Oregon. In 2012, he moved to Los Angeles from Portland to make a career in comedy. One of his first acting credits is an episode of 'Portlandia' (2011).
Ron has written many episodes of Comedy Central's 'Kroll Show' and even 'The Eric Andre Show,' 'Funny or Die's Night Night.' He is also a roundtable guest on 'Chelsea Lately.' In November 2015, Ron released his debut album 'The Funches of Us' and had also made his appearance on '@midnight' several times.
During the pandemic, he came up with a new game show named Nice One! premiered on August 24 (2020) on Quibi.
His Net Worth
Ron has successfully established himself as a famous American comedian, actor, and writer. He has received a significant salary from his profession, which helped him accumulate a net worth of $500 thousand.
His Short Wiki: Bio
Ron was born on March 12, 1983, in Gardena, CA, possessing black ethnicity. He spent his younger days in Chicago before moving to Salem, Oregon. His mother was a social worker, while his father was a pipefitter. 
His current age is 37 years, and he has Pisces as his birth sign.
He attended Douglas McKay High School for his graduation, where he took English courses. He was highly inspired by writers, including Erich Maria Remarque, William Faulkner, J.D. Salinger, and Moliere.
Weight Loss
In 2012, Ron amazed his fans and followers with his weight loss. He had lost 100 lbs and came up to 245 lbs from 355 lbs. He decided on losing weight when his mother showed concern on his health.