Ron Teigen Sr. is not a new face in the Hollywood industry. He is widely renowned as a father of Chrissy Teigen- a model and a wife of famous singer John Legend. Besides that, he rose to the prominent when he won the 'Father of The Year' title in December 2018 for tattooing his daughter, Chrissy's face on his left bicep.
He further attracted the spotlight when he filed for divorce to Chrissy's mother, Vilailuck Teigen, a Thai native in November 2019.
Filed For Divorce With Wife
Chrissy's parents have come to an end of their long marital journey. They were married back in October 1981, and now, their 38 years relationship has finally reached towards the conclusion.
Recently, in November 2019, the supermodel's father filed for divorce to his longtime-wife in Los Angeles. Ron and his now-estranged-wife Vilailuck, who shares two adult daughters, Chrissy and Tina, have eventually lost the spark of their joyful journey.
Continue Reading: Simone De Alba Wiki, Age, Husband, Salary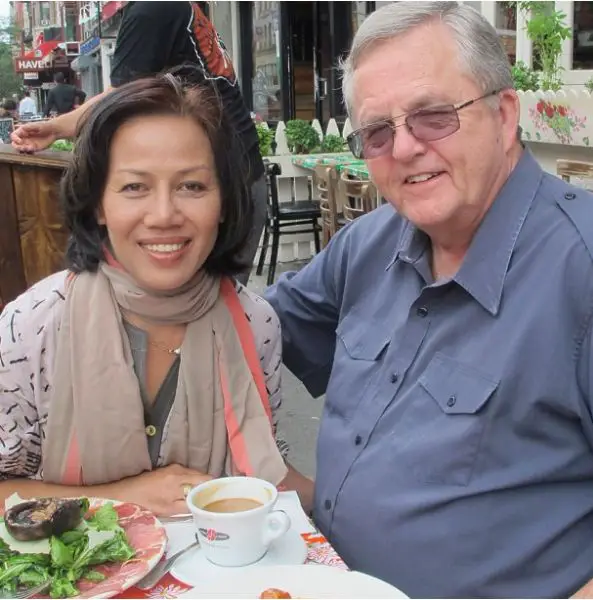 Ron Teigen and his then-wife Vilailuck Teigen in NYC on 29 May 2013 (Photo: Instagram)
Although the reason behind the divorce remains a mystery, he and his wife, Vilailuck, haven't been living together since early 2018.
Interesting: Will Sharpe Wiki, Dating, Parents, Ethnicity, Net Worth
Reportedly, she was living with their daughter Chrissy and son-in-law, John's daughter's family to look after her two grandchildren, Luna and Miles. Chrissy and John had to make travel often due to their business and events, which led Vilailuck to take care of the future family legacy.
Despite being married to Ron for several years, his wife finally became a U.S. citizen in October 2018. She is a native of Thai and used to reside at Huntington Beach, California, with him.
Chrissy Goes Shopping After Ron's Divorce
Ron Teigen Sr. filed for divorce from his wife, Vilailuck, on 6 November 2019. However, the separation of Ron and his spouse was not a big deal for their daughter, Chrissy Teigen, who was spotted outing for shopping. Chrissy seemed to be focused on her family and was walking with her three-year-old daughter, Luna.
She was seen carrying her daughter's purple bag as she donned in a long-sleeve zipper top with cropped leggings. Luna is the first child of Chrissy with her beau, John Legend. Also, they have an eighteen-months-old son, Miles.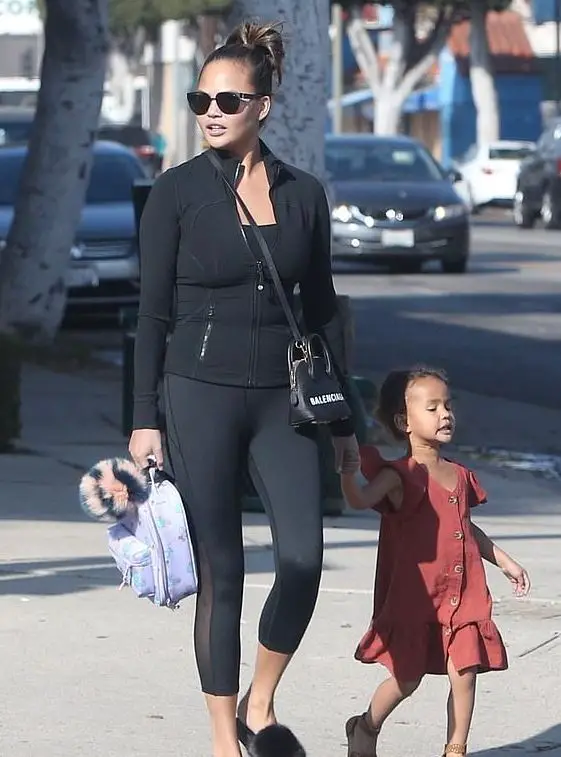 Ron's daughter Chrissy with her daughter, Luna (Photo: BackGrid)
Concerning the divorce filing of her dad to her Thai-born mother, she could not stop cracking jokes. Chrissy manifested her signature sense of humor as Karen Valby tweeted that, and she (Chrissy) and her lovely mom talked about the coming split during their Vanity Fair Time to which she referred to a couple of Christmases.  
Besides that, Ron Teigen and his wife, Vilailuck, have already started living separately. Currently, Vilailuck lives with Chrissy and John Legend and also helps care for their two children.
Wiki(Age)
Ronald, whose birthday falls under the 6th of August, looks fresh and stylish with his ever authentic dressing skills. The father of the world-renowned model was born in Norway and thus has Norwegian descent. However, his birth year has not surfaced in public.
Do Not Miss: Jim Parrack Wife, Divorce, Gay, Family
While at a young age, he worked as an electrician in Norway. His birth name is Ronald Teigen Sr.
Facts
Here are some of the points on Chrissy's dad, Ron Teigen Sr.
According to the source, his daughter and the family reside in John Legend's estate, which is not far away for the estranged pair. Ronald stays just 10 minutes away from Chrissy, wife Vilailuck, and John; as a result, he visits them every day and spends quality time with them. 
 

Chrissy's sister Tina is Ron's half daughter. She was born to Vilailuck and her mysterious partner before marrying Ron. 
 

Ron has three other children with his mysterious women, as explained by Chrissy in one of her interviews.