You might be pretty shocked by listening to the success of the ten years old kid, RonaldOMG, who has carved himself as a famous YouTuber in the first decade of his life. He has relished the thriving life along with his father and sister, who are also famous as YouTubers.
With a prosperous career as a YouTuber, he has earned millions of followers on his channel and also accumulates the fortunes in thousands and more.
How Much Is The Net Worth Of RonaldOMG?
RonaldOMG, whose real name is Ronald Kurzawa, is the ten years old YouTuber who smashes the monthly income ranging from $9.4K - $150K. And concerning his monthly salary, he garners his annual fortunes in a considerable amount that varies from $112.5K - $1.8M. He hosts the videos of Roblox game in his YouTube channel, RonaldOMG, which has gained over 1.8 million subscribers till the date.
See This: David Wright's Wife Molly Beers Wiki: Age, Bio, Engagement Ring, Wedding
RonaldOMG first uploaded the video "Minecraft: BLOODIEST NIGHT | Kids learning how to play Survival Mode," on YouTube in 2016. After then, he created his channel where he contributes the commentary on the progress of the game along with the live games. His YouTube channel has hit more than 612k views.
Besides that, he also collaborates with his sibling sister, Karina Kurzawa aka Gamergirl, and posts the vlogs, travel diaries, slime tutorials, and challenge videos on their channel, "Sis VS Bro." Their YouTube channel, Sis VS Bro, summons the estimated fortune that ranges from $49.9K - $798K monthly and $598.5K - $9.6M annually.
You May Like: Everleigh Soutas Wiki: Age, Father, Parents, Net Worth
Looking at their career as a YouTuber, they seem successful in their net income and values.
Family Life: Gamer & YouTuber Father!
RonaldOMG, age 10, is born to the Polish parents, and his father is also a famous 'Roblox' gamer, who has his own YouTube channel, Freddy, and is mostly known with the name FreddyGoesBoom. He uploads the gaming videos of the Minecraft Roleplay series, which is based on the characters from the Five Night's at his video games and FNAF related projects and stories.
RonaldOMG frequently includes his parents in his videos along with his sister, Karina. In the video shared on Bro VS Sis, on 28 December 2017, the brother-sister duo introduced their father on Korean Fire Noodle Challenge.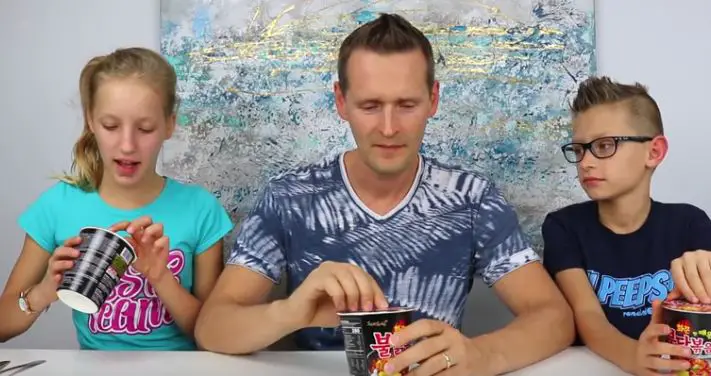 RonaldOMG with his father and sister in Bro VS Sis' Video, 2017 (Photo: YouTube)
Besides that, they mentioned that their family includes their father, mother and two cats. Currently, he lives in Spain with his parents and sister, as per wiki. 
Interesting Facts About RonaldOMG
Here are some interesting facts that you should not miss about RonaldOMG:
Born in Canada in 2008, RonaldOMG celebrates his birthday on 3 September.
 
The real name of the ten years old YouTube star is Ronald Kurzawa and his birth sign is Virgo. 
 
RonaldOMG loves Rubik's Cube. As per the video shared on Bro VS Sis, he can solve the three by three cubes in just two minutes.
 
He loves to travel and also has been to more than 30 countries all around the world. Currently, he has planned to be on vacation in the Philippines in November 2018 with his family.