Rory Cowan is an Irish actor best known for portraying Rory Brown in the sitcom Mrs. Brown's Boys from 2011 to 2017. He is also renowned for his on-screen partnership with Brendan O'Carroll, who created Irish television sitcom Mrs. Brown's Boys and starred as Mrs. Brown.
The Dublin native is openly gay in real life. He also played the famous gay character, Rory Brown, for 26 years in Mrs. Brown's Boys, originally a radio show from 1992. The radio show made its TV debut in 1992, wheras he left the show in 2017.
Here are some interesting wiki about him, ranging from rejected marriage proposals, his coming out dilemma to his bio info.
Rejects To Make 'Women' His Wife Saying No To Married Life 
The gay Irish actor got a sum of four marriage proposals from 'women' during two different tours in Australia. He revealed in an interview with IrishMirror on 9th February 2016 that he rejected two marriage proposals while touring Australia in 2014 and two more in 2016.
Being gay wasn't the only reason for his rejections as he expressed no desire to being tied down in any relationship at all.
As it turns out, his decision to embrace his singleness has benefitted his career as an actor, allowing him to work and travel easily.
Regrets Not Coming Out As Gay Sooner On His Blog
Pretending to be someone you're not can be tormenting. Be courageous, don't hide who you are and the right people will be there for you - Rory Cowan taught us penning an inspiring aritcle.
Rory set up a blog in July of 2017 and wrote a few shares of advice to his younger self, writing an artilce titled 'Letter To My Younger Self.'
He wrote about not to waste time on girls as he wouldn't have any sexual interest in girls. He added that sharing about it with friends wouldn't cost him any loss of true friends. He backed up this advice with the fact that his friends would be supportive of him and not one of them would abandon him if he were to come out in 1997.
"Stop trying to have girlfriends. They'll only end up being friends anyway, because you know in your heart of hearts you have no sexual interest in girls and you never will have. Save yourself six more years of hiding in the closet. In 70s Dublin gay people are "Queers', 'poofs', bent" etc. and you are doing everything in your power not to think of yourself as gay, because being gay is different – and not in a good way, you think, in 1977.

I know you're putting the 'gay thing' to the back of your mind, afraid of being found out, afraid that if your friends discover your secret they'll turn against you and you'll have no friends left, but the opposite is true. When you come out in six years time, not one single friend of yours will abandon you. They won't care one bit. In fact they'll be delighted to have a gay friend and they'll think you coming out is great news."

-Excerpt From Rory's Article Letter To My Younger Self
Rory came out in the year 1983, but previously, he was frightened by the idea of losing his friends if he came out. 
The article inspired LGBT teens struggling to come out. The infused message in the article was elegant, logical, and showed a brighter way to look at life: 
Is Taking Care Of His Unwell Mother, Father Died in 2009
Rory's 84-year-old mother, Esther Cowan, suffers from Dementia and lives with him. His 58-year-old's father, Rory Cowan Sr., passed away in 2009. His death left a traumatic effect on his wife, Esther, who swiftly began to decline and show signs of Dementia soon after the incident. He takes care of his mother spending €1,000-a-week.
He remains determined to ensure her mother to not end up in a nurse home and wants to remain by her side through her illness.
His Father Passed Away Without Knowing That He Was Gay
Cowan revealed in an interview with Mirror on 20 August 2016 that his late father was oblivious to the fact that he was gay. He claimed that he didn't tell either of his parents about his sexual preference, but his mother knew about it anyway. His father was a very religious man, so he never came out to his father.
During the interview, he told a story that at one stage of his life, he had been sharing an apartment with a girl. His father assumed that she was his girlfriend and thought that he should have made an honest wife out of her.
Partner Mrs. Brown Paid For His House
Irish producer Brendan O'Connell, who played Mrs. Brown on Mrs. Brown Boys, has been a life-changing person for Rory Cowan.
Rory, born on 15th July 1964, was very late in the payment of his house mortgage back in 1992 before he met Brendan. He had to pay IR£2,000 in two weeks time in 1992, but he was missing out on the lump sum. Fortunately for him, he met Brendan, and soon, Mrs. Brown's Boys went on production.
Brendan created the role of Rory Brown, especially for Rory. The show's success earned him a massive amount of money- money that paid for the house.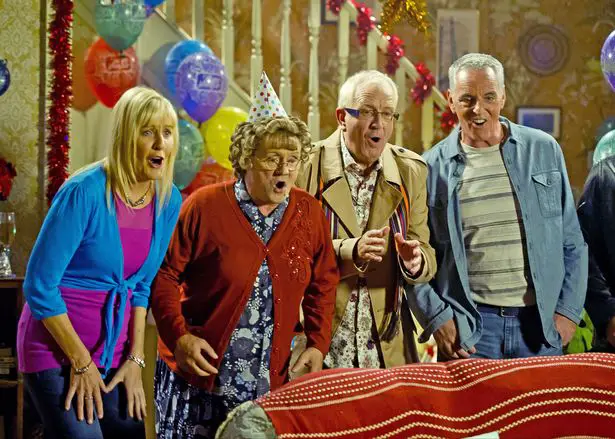 Rory Cowan (far left) acts as Rory Brown  with Brendan O'Connel (center with birthday hat) in famous sitcom show Mrs. Brown's Boys (Photo: BBC)
He remains thankful to his former employer and work partner, Brendan O'Carroll, whose popular show paid him very generously, so much so that he doesn't need to work again. Because of him, he can pay for his mother's care without resorting aid of nursing homes.
Before the famous sitcom, Rory was a publicist to the comedian, Brendan, who was doing gigs in the clubs. Rory helped Brendan attract a lot of people for his gigs. The gigs helped Brendan to write and pitch ideas for his own show. The show he went on creating succeeded immensely.
Rory was at one time a DJ, performing at Nightclub Dublin. He graduated from St. Benildus College.