If you have a strong head on your shoulders and determination to win the battle of life, then you certainly will make it to the other side. Australian entrepreneur Roxy Jacenko is the living proof of it. She went from working at McDonald's at 15 to owning a million dollar company, acclaiming the title of Sydney's PR queen.
She has not only proved herself professionally but has also won a lot of battle in her personal life as well. And one of the biggest battles she had to fight and won is her struggle against cancer.
Road Bumps In Marriage With Husband Oliver Curtis; Wedding, Pregnant!
Even though Roxy Hacenko and her husband Oliver Curtis went through the toughest times in their life, they managed to get out of it together. They have proved to the world that if you love a person, nothing can drive you apart.
Also Read: Mark Leigh Bouris Salary and Net Worth
The couple was already parents to their Baby Girl Pixie-Rose Curtis (born on 16 August 2011) at the time of their marriage. Following their parenthood, they tied a knot on 11 March 2012. Little Pixie was also present in the nuptials where her parents got pronounced as husband and wife. The couple had a lavish wedding which was held in Quay Restaurant, Sydney.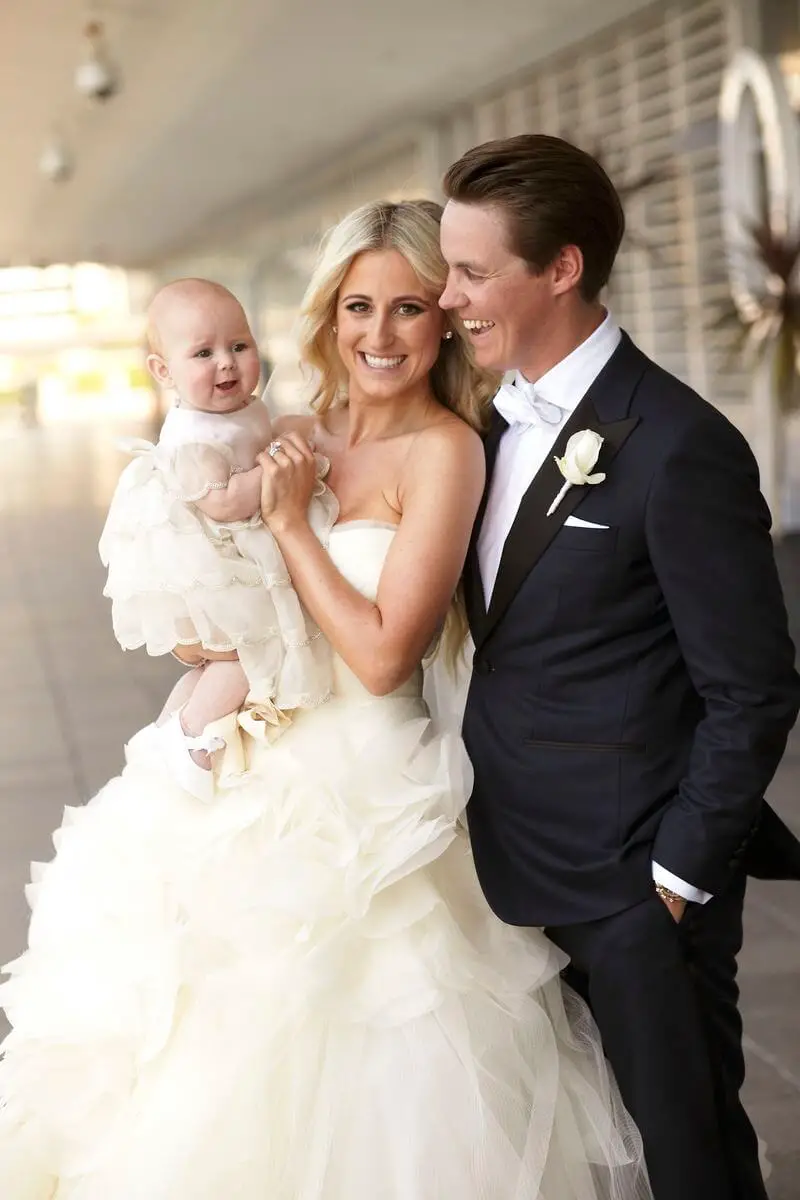 Roxy and her husband, Oliver on their wedding day in March 2012 with their daughter Pixie at Quay Restaurant, Sydney ( Photo: idealbride.com.au)
Shortly after getting married, Roxy became pregnant with a baby boy. In April 2014, she and her husband Oliver welcomed their second child, a son named Hunter Curtis. Even though Roxy and Oliver went through a lot during their marital life, they are now a happy family of four, and during the New Year's Eve in December 2018, the family beamed spending their vacation at Six Senses Fiji.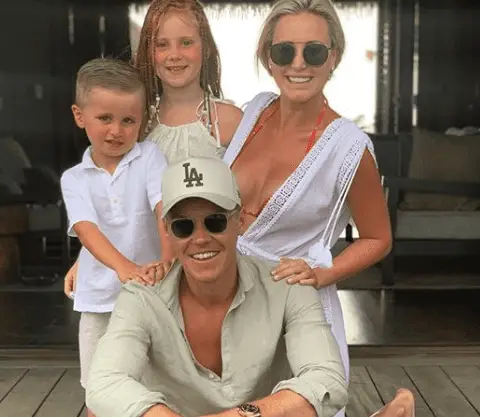 Roxy and her family on their vacation in Fiji in late December 2018 (Photo: Instagram)
Her husband Oliver was once found guilty for an insider trading scam hatched with a former private school friend that made more than $1.4m in profits. In June 2016, he received a sentence for two years, along with a minimum of 12 months penalty in jail. He was serving his time in prison while Roxy had to fight her battle with breast cancer alone. She had to fight the battle with cancer while raising their two kids and looking after her business, all by herself. 
Do Not Miss: Pettifleur Berenger Net Worth
During the time her husband was serving his time in jail, she got spotted enjoying a PDA moment on a balcony in Sydney with her ex-boyfriend Nabil Gazal. The scandalous photo added fuel to the news about the twosome getting divorced which later was put to rest when Oliver came back home after his finishing his one year sentence on 23 June 2017. Roxy even charted a plane to take her husband home.
Despite the scandal, in July 2017 Oliver purposed to his wife of four years at the luxurious Four Seasons Hotel Sydney. The couple is maintaining their smooth relationship and currently resides in their $6.5 million houses in Vaucluse with their two children.
Roxy Jacenko's Earnings And Net Worth!
Roxy summons the net worth as an Australian, entrepreneur, and during 2015, her company's turnover was rumored to be around $13 million. She is the founder of Sweaty Betty PR, one of Australia's leading public relations firms. She founded Sweaty Betty at the age of 24. Her former investment banker husband Oliver is also currently working at the Elizabeth Street-based firm.
She also owns the Ministry of Talent, an agency for Instagram influencers and bloggers and Pixie Bows - a business selling hair accessories fronted by her daughter Pixie. According to Dailymail, her daughter Pixie Bow's worth could be $21million by the time she turns 18.
Might Interest You: Real Name, Dating, Ethnicity- All About Australian Model
Other than that, Roxy makes $50,000 per hour from her 'In Conversation' seminars, and it goes on for two hours per event earning her up to $100,000 for each seminar. In 2018, this Australian PR mogul held seminars in Sydney, Queensland, and Perth. And on top of that sponsorship earnings, she receives from various brands ranges between $8,500 to $25,000 per seminar.
She likes spending money as much as earning them. She splurges her money on Houses, Cars and various other things. The revenues she generates from her 30 Hermès Birkin handbags is estimated to be around $1 million. But who wouldn't acquire the taste of more delicate things in life if they were earning as much as she is?
Roxy made her TV show Debute in early 2001; she signed a contract with the 'Seven Network' to star in a semi-scripted reality TV show named 'The Sweat Box.' She was later also seen on the Australian version of 'The Celebrity Apprentice' in 2013. Roxy is also a celebrated author; she published her first book, 'Strictly Confidential' in 2012. She has published some books.
Short Bio And Wiki!
Roxy was born on 8 June 1980, in Sydney, Australia. She started working at the age of 15. Her first job was at McDonald's drive-through. She is also mostly actives on her social media account. She has more than 229 thousand followers on her Instagram handle.
She is standing with a height of 5 feet 11inches and over 57 kg of weight. She has collected the attention of all public with her cute face, and her attractive body figure with slim body sized and also her seductive body measurements of 33-25-35 inches, as per wiki.