Among the various Ponzi schemes, December 2008 confession by Ruth Madoff's fraudster husband, Bernard Madoff marked the notorious financial fraud in the history of US. Not only he got 150-years of a prison sentence but made Ruth be known as the wife of a convicted fraudster.
Ruth was a director of Bernard L. Madoff Investment Securities.
Husband Defrauded Investors; Both Children Died!
Talking about Ruth's personal life, she was a married woman and there is no doubt on it. She married Bernard "Bernie" Madoff on 28th November 1959 when she was a just age of 18. The couple met while attending Far Rockaway High school when Ruth worked for some time as her husband bookkeeper.
Read Also: Vern Yip Husband, Gay, Wedding, Children, Net Worth
Ruth's husband is arguably still the most hated man in New York. Her husband defrauded investors out of billions of dollars, all while living the extravagant life with his family. The man is now in jail for the notorious financial fraud in US history. 
Bernard got arrested in December 2008 for the notorious multi-billion dollar Ponzi scheme. The Hofstra University graduate was pleaded guilty to 11 felony charges regarding Ponzi scheme and the court declared his sentence to serve under the bars for 150 years.
The Ponzi scheme felony started serving his 150-years of prison sentence from 14 July 2009 in Butner Federal Correction Complex in North Carolina. During his February 2011 interview with the US weekly from the prison, Bernard said that banks 'had to know' of his fraud schemes.
The couple had two children among which both of them were sons. Their kids' name was Mark Madoff, who graduated from the University of Michigan in 1986 and Andrew Madoff, who graduated from the University of Pennsylvania's Wharton Business School in 1988. But unfortunately, both of her sons are no more. Yes, both of her children are dead now. Mark died on 11th December 2010, his death as suicide by hanging and Andrew died in 3rd September 2014 by Lymphoma.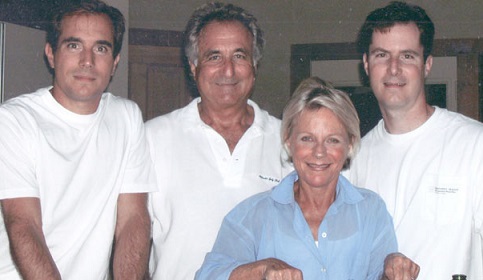 The Madoff family before the arrest of Bernie and the death of their sons, Mark and Andrew (Photo: ABC News)
Don't Miss: Brandi Passante Wiki: Net Worth, Salary, Wedding, Family, Now, Height
Mark's lawyer Martin Flumenbaum declared the sad demise of the couple's son. He announced in a press statement that Mark was an uninvolved victim of Bernie's crime who underwent some hardship of false accusations and pressures for two years before taking his life in December 2010.
How Much Is Ruth Madoff's Net Worth?
Ruth Madoff has an estimated net worth of $2.5 million. When her husband, Bernard Madoff, confessed to the notorious Ponzi scheme in December 2008, it was a massive $18 billion fraud, which led him to serve under the bars for 150-years. He made a deal to the prosecutors in 2009 where Ruth was allowed to keep $2.5 million and seize the rest of their assets worth $80 million which consisted their mansions, jewelry, and cars.
See Also: Ross Bagley Wiki, Net Worth, Now, Parents, Wife, Girlfriend
She briefly lived in a condo in Boca Raton, Fla and resided in a colonial house at 57 Tomac Ave for two years. According to the public records, the Tomac Ave house owner was her son Andrew and his ex-wife Deborah West. After her son's death, Ruth moved to the townhouse complex The Gables in the Old Greenwich community, where she now resides.
Short Bio
The director of Bernard L. Madoff Investment Securities Ruth Madoff was born on 18th May 1941. She was born in Queens, New York and grew up in Laurelton to a practicing Jewish family of white ethnicity.
Ruth has one sister whose name was Joan (Alpern), Roman. Ruth graduated from Rockaway high school in 1961 and secured her Master of Science degree in Neutrino from New York University. She is potentially one of the smartest and talented ladies in the US, as per wiki.