Ryan Upchurch, an American musician, and comedian initially earned a fanbase after posting several home videos goofing around with his friends in 2014. Later, he switched to uploading videos consisting of music and comedy. His extended play, Cheatham County, and a full-length album, Heart of America, reached the top 30 of the Billboard Top Country Albums chart. Today, the musician has over 2.30 million subscribers on Youtube.
Upchurch constantly updates about his relationships on his social media. However, his recent posts of only his music career have speculated rumors that he is no longer together with his wife, Taylor Eileen Smith. 
Is Ryan Upchurch Married?
Ryan, who constantly shared pictures about his relationship, only started posting about his music. The musician also stopped following his wife on social media. On the other hand, Smith posted a video of her daughter on Instagram where she asked her followers to stop asking her questions regarding their relationship. 
The couple's confusing actions on their social media sparked rumors about their separation. However, they have never officially said anything regarding their split, so it is unsure if the duo is still together. 
Upchurch started dating Smith in 2020 and proposed to her on July 10, 2020. He shared a now-deleted post on Instagram and revealed their engagement news. In the post, he held Taylor's hand, which showed her flawless engagement ring.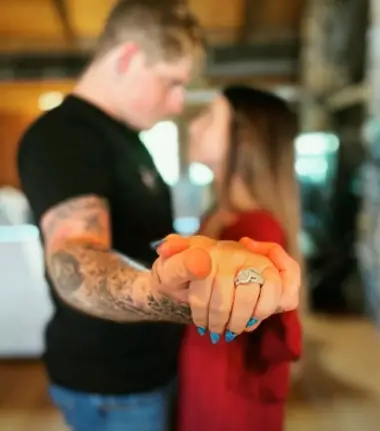 Ryan Upchurch and Taylor Eileen Smith now-deleted engagement post 
The duo soon got married on September 18, 2020. During the span of their relationship, they didn't have any children together. However, Taylor already had a daughter before the two started dating. 
Discover More: Nick Bean Wiki: Age, Height, Girlfriend, Family
Ryan Upchurch previously engaged? 
Before dating Smith, the musician was in a relationship with his then-girlfriend, Brianna Vanvleet. The two got together in 2015 and were also engaged. Upchurch was very open about his relationship and publicly tweeted about his desire to marry Vanvleet and have kids together.  
'Brianna Vanvleet I can't wait to marry you and have little brown Upchurch babies running around with fake tattoos all over them.'
However, in his tweet in June 2016, Ryan stated that he is single and loves music. He didn't touch on any topic about his split later in the future. 
See This: Adam Shapiro Wiki: Actor, Age, Wife, Girlfriend, Affairs, Family, Net Worth
What is Ryan Upchurch's Net Worth?
Ryan accumulates his net worth from his career as an American country rap artist and a YouTuber. According to Glassdoor and various other sources, a rap artist's average income is over $60k per year. 
Furthermore, he has his own YouTube Channel, Ryan Upchurch, with more than 2.3 million subscribers. As per socialblade.com, his YouTube Channel hits the monthly income over $5.9K - $93.7K monthly and $70.3K - $1.1M yearly. 
His second full-length album, Chicken Willie, released in August 2016, reached the top 22 on Billboard Chart.
Also Read: Brendan Penny Bio, Age, Birthday, Married, Wife, Gay, Family, Net Worth
Short Bio
Born in Nashville, Tennesse, the United States, in 1991, Upchurch celebrates his birthday on 24 May. His real name is Ryan Edward Upchurch. The Musician stands at a height of 1.83 meters (6 feet). 
Ryan grew up in a middle-class family. He spends a lot of his time with all his family members and has a strong bond with them.