Saffron Barker famous face on the internet known as is a Youtuber and a singer. With over 2 million subscribers on her Youtube channel, Saffron has managed to make a name for herself through her vlogs, Q&As, challenges that she posts on her channel.
Along with being a prominent Youtuber, Saffron is also a singer. She, along with her three childhood friends, formed the all-girl group Born2Blush. They released their first single 24seven on Youtube in March of 2015. The group also went on the partake in various singing competitions, most notable of which being Open Mic UK.
You Might Enjoy: Elisa Gayle Ritter Bio, Family, Net Worth, Facts
But later in the same year, through reasons unknown, the group disbanded, and since then, Saffron makes a living out of a career as a prominent Youtuber.  
When it comes to her net worth and her earning, the exact numbers remain undisclosed to the public. In November 2017, has thought to buy a dream car. So she probably might have a considerable amount of income.
What Is Saffron Barker Age? Family Background & More
Saffron Barker's date of birth falls on the 24th of July, 2000 in Brighton, England to parents Darren Barker and Wendy Barker. Talking about her family background., she has parents, her two brothers Casey and Jed and her adoptive brother named Jordan. Her father is also an Instagram star whose hobby is playing football.
Being born in the UK, she holds British nationality and is of white ethnicity. Currently, she is 18 years old.
Interesting: Nia Amey Wiki, Husband, Net Worth, Now
For her education background, Saffron attended Longhill High School as evident by the school's official Twitter account which states she graduated from Longhill in 2016.

Saffron Barker congratulated for her achievement by her high school. (Photo: Longhill's Twitter | 16th July 2017)
As for her measurements, she stands at the height of 5'3" and weights 49 kgs.
Is Saffron Barker Dating Anyone?
Fans and followers who regularly follow Saffron's Youtube channel are well aware of her relationship history. It is unsure whether or not, at present, Saffron is currently dating anyone, or she is still single. She has remained entirely private about that aspect of her life.
Read More: Veronika Khomyn Wiki, Age, Job, Net Worth, Family
However, Saffron was previously in a relationship with boyfriend Jake Mitchell, who is also a YouTuber. The pair were an item for about a year from 2015 up until 2016. As per Saffron's 'How I Actually Met My Boyfriend' video on her Youtube channel, she states that the two first met on a school skiing trip to Austria.
Although they were from two different schools, their hotel was the same, and that is where they first met. Saffron recognized Jake from a picture she had seen before. Eventually, they hooked up with one another and started dating.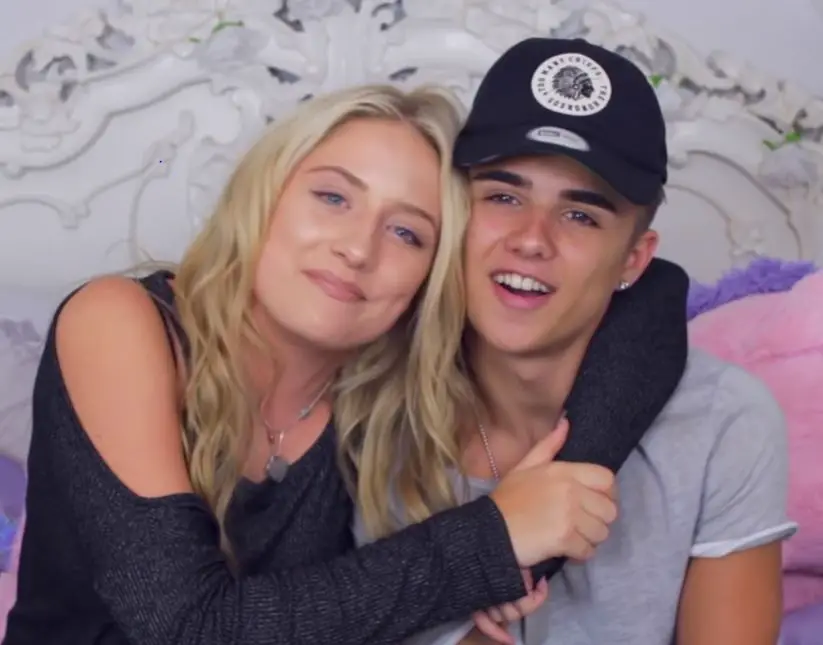 Saffron Barker with her former boyfriend Jake Mitchell (Photo: YouTuber)
However, in 2018, a controversial picture of Jake surfaced on the internet. The picture showed Jake sleeping in someone's bed. The internet went crazy with speculations stating that it was neither Saffron nor Jake's bed. And it was later revealed that Jake had been cheating on Saffron with another girl named Claudia Naya. After the controversy, Saffron broke up with Jake and their relationship came to an end.
As of now, it is quite a mystery as to whether or not Saffron has found herself a new beau or she is single. Unless she discloses the facts herself, we can never be too sure.