Safra Catz is the chief executive officer of the American multinational computer technology corporation, Oracle Corporation. Under her leadership, the company was listed as the second-largest revenue generating enterprise in 2019.
Prior to becoming the chief executive officer, Safra had also aided Oracle in defeating the rival company, PeopleSoft, in 2005.
She was regarded as America's Self-Made Women by a Forbes' list in 2019. Also, Forbes listed Safra under Power Women 2019 and Billionaires 2019.
Personal Life: Husband And Children
Safra has been married to Gal Tirosh, who is a writer and stay-at-home dad- since 1997.
Know The Married Life Of Ajaypal Singh Banga: CEO of MasterCard Wiki: Salary, Net Worth, Wife
Safra and her husband are parents to their two sons named Gary and Scott.
Career Information
Soon after completing her college, Safra commenced working at a bank called "Donaldson, Lufkin & Jenrette" in 1986. She became the senior vice president of the bank by 1994 and held the position until 1997. Also, she served as the managing director of the bank from 1997.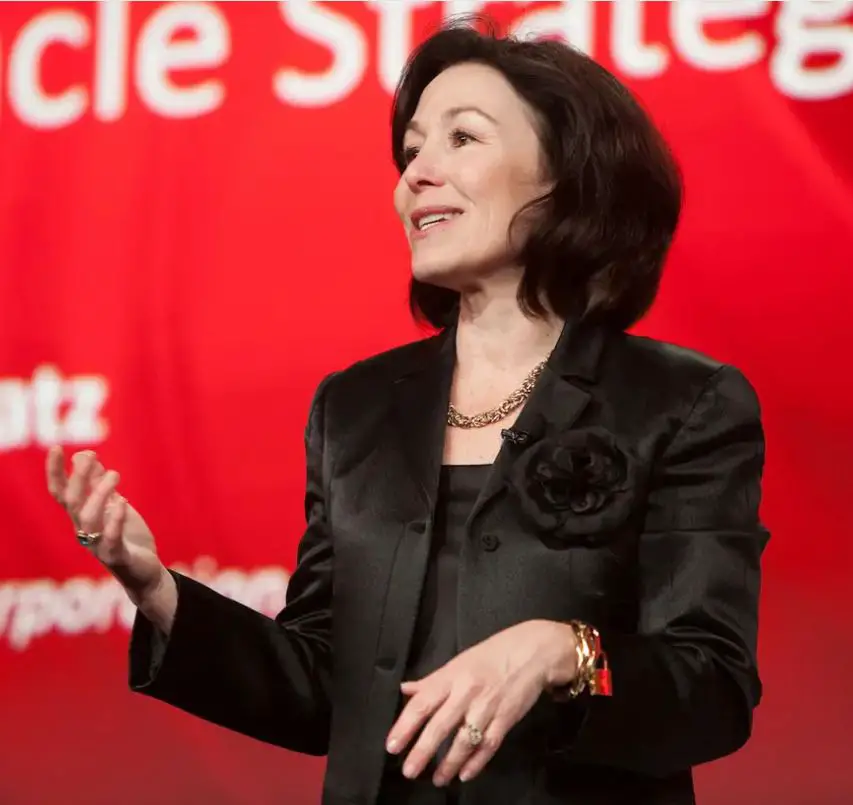 Safra Catz delivers her speech for a conference, Oracle Strategy (Photo: Business Insider)
After gaining almost 14 years of experience in the financial sector, Safra joined Oracle Corporation in 1999 a senior vice president. Prior to being the chief executive officer and a member of the company's board of directors, she was the president and the chief officer of the company.
Another Wealthy Businesswoman: Pleasant Rowland Wiki, Net Worth, Family, Facts
Moreover, Safra also serves a director of The Walt Disney Company.
Net Worth Info
According to Forbes, Safra has piled up a total net worth of $1.1 billion.
Bio: Age, Family, And Education
Safra was born on 1 December 161 in Holon, Israel. She was brought up in the United States as she immigrated to the country with her parents at a young age of six.
Safra attended the University of Pennsylvania Wharton Schoo and received a Bachelor's degree in Arts/Science in 1983.
Later, she earned a Doctorate in Jurisprudence from the University of Pennsylvania.
Quick Facts About Safra Catz
Safra became a member of the Oracle Corporation's board of directors in 2001.
In 2017, she made $135 million in total, which made her the highest-paid woman executive. Also, in 2018, she earned $40.7 million in compensation as per the news published by Forbes.
According to the news published by the Business Insider in September 2019, Safra, along with two other executives Larry Ellison and Mark Hurd, got no bonuses and equity in 2019 as they all failed to achieve the company's financial goals.
In October 2019, Safra's colleague and former CEO Mark Hurd died due to which there rumors that Oracle was about to hire a new co-CEO. But, Oracle's chairman Larry Ellison confirmed that the company was not in the process of recruiting a second CEO, as per the news published by Business Insider in November 2019. As a result, Safra has been fulfilling her duty as a solo CEO for now.