Sally Hershberger is a celebrity hairstylist who rose to fame for creating actress Meg Ryan's shag haircut in the 1990s.
Over the years, Sally has also established herself as a successful businesswoman. She is the owner of salons like Sally Hershberger Uptown, Sally Hershberger, Sally Hershberger NoMad, and Sally Hershberger Los Angeles.
For her contributions to the beauty industry, Sally has been honored with Allure Best of Beauty for Hyper Hydration Super Keratin Spray. Plus, she has received Spring Beauty O-Ward from Oprah Magazine for Shine Revival Dry Conditioner.
Personal Life: Girlfriend
Back in 2011, Sally was in a relationship with a girl named Tierney Gearon. Producer Brett Ratner was the one who set up the two.
Know The Lovestory Of Another Hairstylist: Monica Rose Wiki: Age, Daughter, Stylist
Sally and Tierney made their first public appearance at the Edmiston & Co. boat party, which was thrown in Sag Harbor by former LVMH US president Mark Cornell in August 2011.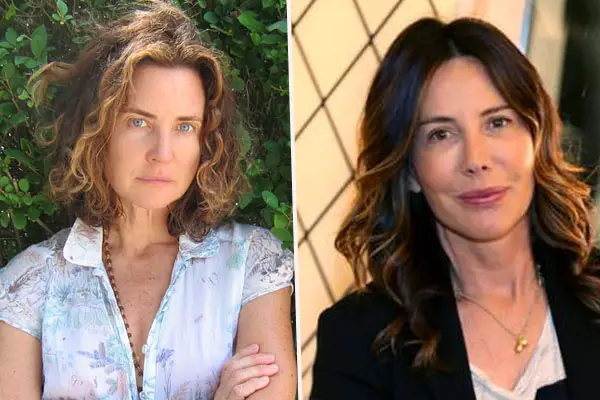 Sally Hershberger was in a relationship with Tierney Gearon (right) in 2011 (Photo: Wikinetworth)
However, during an interview with National Post in January 2013, Sally dismissed the dating claims and mentioned the two as only close friends.
Know About Tierney Gearon
Tierney is an art photographer who has gained recognition for her powerful and intense colorful photographs.
After being discovered by Charles Saatchi, she came into the limelight in 2001. The same year, her work was featured in the exhibition, I Am A Camera, which aided her in gaining public attention.
In 2009, Tierney worked for a project called EXPOSURE. Plus, in 2012, she worked for the New York Times, writing and directing 13 short films. 
The following year, Tierney previewed a new collection of works titled Shape Color at Paris Photo Los Angeles Photography Art Fair. Her children photography album titled The Alphabet Book was published by Damiani, the same year.
Until now, Tierney has worked in many prominent galleries and museums, including Gagosian Gallery, Yossi Milo, Ace Gallery, The Parrish Art Museum, Scottish National Portrait Gallery, and Phillips de Pury & Company in London
Bio: Age, Family, And Education
Sally was born in 1961 in Kansas, United States. At the age of three, she moved to Beverly Hills with her mother after the divorce of her parents.
Next Celebrity Hairstylist: Hair stylist Nicky Clarke Bio: Age, Personal Life Insight & His Salon Details
She had two brothers named Jimmy and Michael. However, Jimmy died due to the overdose of a drug; whereas, Michael lost his life in an accident.
Quick Facts Sally Hershberger
She has been providing services to celebrities like Meg Ryan, John Mayer, Jimmy Fallon, Tom Cruise, Olivia Newton-John, and Joan Jett.
In 2005, Sally became the inspiration for a character named Shane in the Showtime drama titled The L Word.
In 2010, Sally listed her Beverly Hills, California's house in sale for $5,500,000. The house is built in 3,645 square feet, and has 3 bedrooms and 5 bathrooms.
Back in 2012, she used to charge $800 for a haircut. She cuts hair when it is dry and uses a razor to give shape to layers.
She has a website called Sally Hershberger, through which she sells hair products that are rich in quality and textures.
Her salons: Sally Hershberger Uptown is at New York's Upper East Side, Sally Hershberger is at Barneys New York on the Upper East Side, Sally Hershberger NoMad is at New York's hottest neighborhoods, and Sally Hershberger Los Angeles is at La Cienega Boulevard.
The most interesting part about her products is that all those products undergo testing by Sally herself at her eponymous New York City and Los Angeles salons to ensure high-quality, high-performance formulations and effortless hair.