In a romantic British Royal Ceremony between Duchess of Sussex, Meghan Markle and Duke of Sussex, Prince Harry, around 2640 members of the public were invited. Among them, only 600 guests were invited to attend their wedding ceremony at St. George's Chapel. Moreover, the group was cut down to 200 with just close friends and family for an afterparty hosted by Prince Harry and his family.
However, Samantha Grant who is also the half-sister of Meghan did not get invited to the wedding even though she was her family. Furthermore, their father, Thomas Markle also did not attend his daughter's wedding. Samatha, also known as the half-sister of Meghan Markle, has appeared in TV series Matlock. She is also an associate producer of the short film, Choices.
Accused Half-Sister Meghan Markle For Ignoring Their Father
Samatha Grant, 53, has accused her estranged half-sister Meghan Markle, 36, on Twitter claiming that the Duchess of Sussex has been ignoring their father, Thomas Markle. The former model vexed out towards the member of the British royal family on 16 July 2018 and tweeted saying,
All the PR in the world cannot change the reality that the burden is on her to step up to the plate and do the right thing and not ignore our father. I don't care who does not like what I have to say.
Reportedly, Thomas and Meghan are not speaking to each other since May 2018. As per The Sun, the lighting director has 'been frozen out of royal family' after a picture scandal ahead of his daughter's wedding. He missed Meghan's royal wedding on May 2018 due to the heart problems. His daughter, Samatha also announced that Thomas would not attend his daughter's royal wedding on Good Morning Britain news.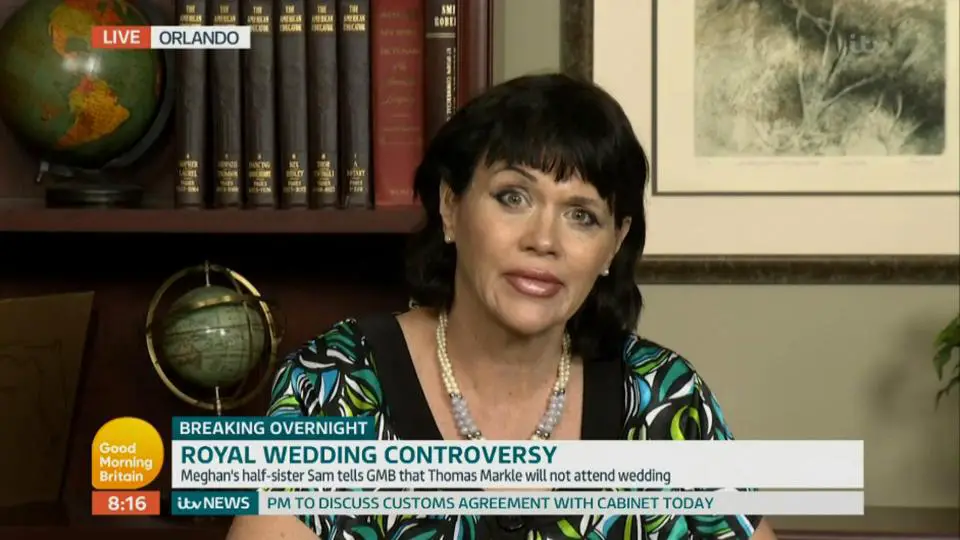 Samantha Grant on Good Morning Britain announcing that her father Thomas Markle would not attend Meghan's wedding (Photo: thesun.co.uk)
In November 2016, the former actress said that Meghan had always fancied marrying Prince Harry because she wanted to become a princess. She also appeared on social media and various news channels where she ill-speak about Meghan. Her half-sister Meghan also did not invite her in the extravagant wedding of St George's Chapel at Windsor Castle, England on 19 May 2018 with Prince Harry.
Know Who Meghan Markle Married Before Prince Harry!
Family Life: Meghan And Samatha Shares Same Father; Accused Brother As 'Lowlife'
Samatha was born to her parents Thomas Markle and Roslyn A. Loveless. She and Meghan Markle share the same dad. Samatha was born to Roslyn whereas her half-sister Meghan to a retired American actress, Doria Ragland. At one period, their father Thomas Markle got filed for bankruptcy in charge of debts of $30,000. Reportedly, he had tax debts of over $50,000. The Matlock actress also has a brother named Thomas Markle Jr. as her family member.
However, she and Thomas are not close to each other. Samatha has publicly called her brother a 'lowlife' and a 'lying thief' and reportedly accused Meghan's half-brother of demanding money to buy drugs and alcohol. The former actress also has an estranged relationship with her half-sister. Nevertheless, she has decided to write about her childhood experience with Meghan in the book titled 'The Diary of Princess Pushy's Sister.'
Slammed Ex-Husband; Ex-Husband Also Warned British Royal Family
Samatha was married to Scott Rasmussen. However, they could not stay in terms and got separated in 2003. After 15 years of split, she slammed her ex-husband and said that Scott has lied about their status of marriage. She also revealed that the duo divorced since he could not keep his job and was abusive. On her private Twitter account, she said,
I put my daughter through school because he could not keep a job to save his soul. Never met my sister and my father hates him. Knows nothing of our childhood or my life. He abused his former wife also, on public record.
Back on February 2018, her ex-husband Scott Rasmussen, 58, had also warned the British royal family not to invite the 'fame hungry' half-sister (his ex-wife Samatha) to their wedding. Furthermore, Scott claimed that she is jealous of her half-sister and his 'pushy' former wife had never maintained a close relationship with Meghan.
Been In Wheelchair; Had Car Accident With Boyfriend
The former actress of Choices has been in a wheelchair since 2008. She was diagnosed with a demyelinating disease multiple sclerosis (MS) in 2008 and became bounded towards wheelchair due to an autoimmune condition.
She was also reported to have fractured her knee and broke her ankle in a car accident on 16 May 2018. Along with her partner Mark, she drove near their home in Florida and crashed near a concrete barrier. Her boyfriend Mark told that he steered their vehicle to the left but smashed near a toll booth. She resides in Florida with her boyfriend Mark and three children Noelle Rasmussen, Ashleigh Hale, and Christopher Hale.
Short Bio
Samantha Grant, who is also known as Samatha Markle, was born in 1965 as Yvonne Marie Grant. The 53-years-old former actress and model reside in Florida, US. Samantha stands at the height of 1.68 m (5' 6") and posses American nationality. As per wiki, she has claimed that raised her estranged half-sister Meghan Markle for 12 years while growing up in California.