Some celebrity couples set an example as a perfect married couple for decades and suddenly one day leaves the audience in heartbreak with their split. Similar is the case with the real estate investor, Scott Phillips who recently separated after thirteen long years of commitment with wife, Julie Bowen in 2018.
Who are Scott Phillips and Julie Bowen?
Not all of you might be familiar with the name Scott Phillips but Julie Bowen; this is the name you've often heard. Well, then who is he? Let's find out!
Julie Bowen is a famous actress known for her role in 'Modern Family' while Scott Phillips is a real estate investor in Hollywood. However, more than his job as real estate investor, Philip is famous as a husband of the talented actress.
Thirteen Years of Married Life to an End!
According to the E-News, the "Modern Family" actress Julie Bowen and the real estate investor husband Scott Phillips have officially split after the thirteen years of great marriage in February 2018. The couple got married back in 2004 and together shares three children; Oliver who is ten years old and the eight years old twins, John and Gustav.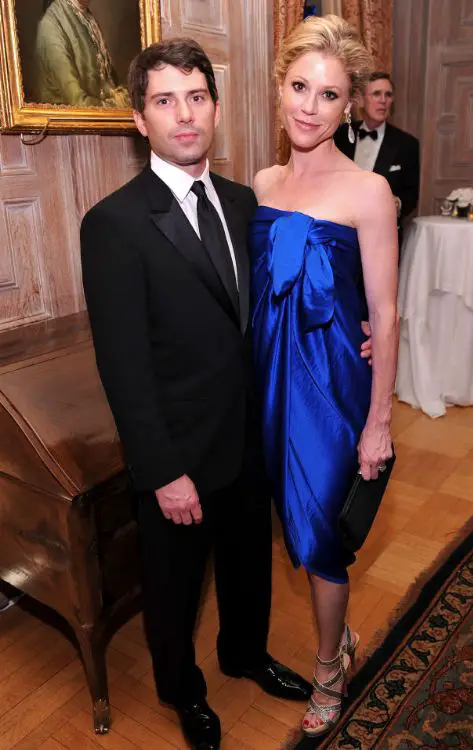 Caption: Former couple Scott Phillips and Julie Bowen in Bloomberg Vanity party in 2010
Source: Getty Image
While their relationship was stable and beautiful than ever, Julie Bowen spilled about her views on divorce and joked about it with Us Weekly in September 2016. She said, 
"We watch all these people get married and split up and go, 'Wait, did they get married after us or before us?'" "We outlast all these people. The answer: We're too tired to do anything else!"
She further added:
"At first I loved my husband and then I loved the kids and now I love our family. When I see my husband with my kids, it makes me so happy. When I see my kids all sitting down at the table together, I'm like 'This is awesome. We did this!'"
Despite this marital joy two years ago, Julie and Scott's circumstances now are entirely different. The ex-couple after their divorce has not been active in social media. 
Also, they are not seen together or even separately in any of the award functions since a gala for the Los Angeles LGBT Center in 2016. The duo as of now lives a low-key life and has been away from the limelight for quite some time now.
What is the Net Worth of Scott Phillips?
The handsome Scott Phillips though a successful real estate investor had a low profile until he came to fame as Julie Bowen's husband. Phillips basically gained half of his popularity as her husband and was the talk of the town they first got married. Because of the low profile Scott lived by, his details are not disclosed yet including his net worth. However, his former wife has a net worth of $16 million.
Short Bio and Wiki:
Scott Phillips was born in 1974 which makes him 44 years of age. He made it to all headlines when he got married to Julie Bowen. However, except his marriage life, no personal information about him is mentioned in wiki sources.