Shaun Livingston during his NBA career became infamous because of his terrifying injury during the NBA. The player who injured a various part of his knee needed a lengthy rehabilitation to walk let alone play basketball. But the NBA star did not cease to dedicate his life on the basketball merely because of torn ACL, PCL, and MCL. He made an outstanding comeback in NBA for Golden State Warriors and helped them to secure an NBA Championship.
How Much Is Shaun's Net Worth?
Shaun Livingston has gathered a net worth of $10 million from his career as American basketball player. According to hoopshype.com, his projected salary on American professional basketball team, Golden State Warriors during 2017/18 season is $7,692,308. Shaun earned 33.02% more salary than he received for the 2016/17 season. He is set to see his payrolls increase in 2018/19 season, as his contract ensures him to bag $8,307,692 and $7,692,308 for 2019/20 season.
During his recent season, he became a 6th best-paid player of the Golden State Warriors. The American commentator and ESPN reporter Chris Haynes on 30 June 2017 reported that Shaun and his basketball team Golden State Warriors agreed on 3-years worth $24 million extending their partnership contract. His reported jaw-breaking signings have also served the professional basketball player to earn his substantial net worth.
Shaun also had put his house on rent in September 2015, situated in Playa del Rey, Los Angeles with a price listing as $6,500 per month. His home consists of three bedrooms and three bathrooms in 3,379 square feet area located 1200 to 1800 feet from the beach in Playa Del Ray. The luxurious house had an additional family room with a billiard area and sauna in the bathroom.
Who Is Shaun's Wife?
Shaun is married to his longtime girlfriend Joanna Williams. Joanna is reportedly a creative director and a talented model. The couple tied the knot in August 2017 in a surprise ceremony conducted in the Oakland Hills, California. The guests who received the invitation for a party witnessed the duo share wedding vows.
His wife Jonna is the founder of Kneeland Co. situated in Los Angeles. Together they have a baby daughter named Tyler Marie born in February 2017.
Shaun is also active on social media Instagram where she posts the photo alongside his wife and daughter. On 26 December 2017, he shared a picture with his then-10-month-old daughter Tyler alongside his wife Jonna wishing them 'Merry Christmas.'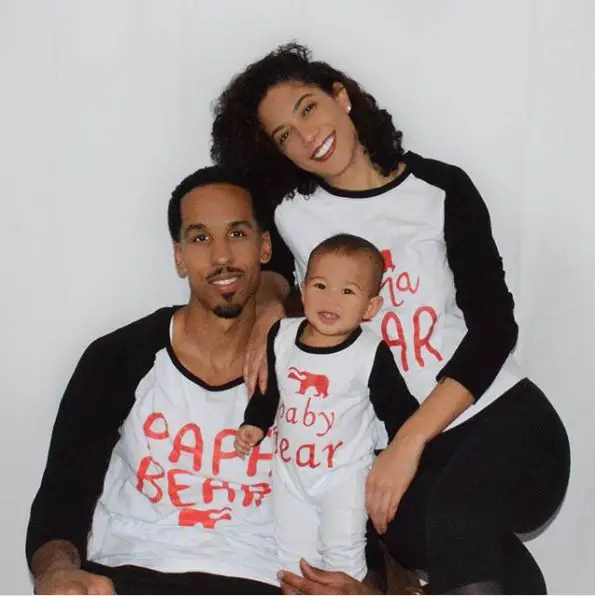 Shaun Livingston and his wife, Joanna Williams and their daughter, Tyler Marie on 26 December 2017 (Photo: Instagram)
The professional NBA star has mobbed his Instagram photo with his adorable daughter and beautiful wife. Shaun also shares his pictures of Golden State Warriors team alongside the snapshots of his NBA game and his grandparents. Shaun and Jonna are cherishing their togetherness and parenting their one-and-half-year-old daughter.
Family Life
Shaun was born to his parents Reggie Livingston and Ann Wyman. Reggie and Ann split when he was just two years old. Ann won the custody of their son, but when Reggie found that his son was being raised in the house of maid, he immediately took Shaun and raised him as a single dad. Shaun's father passed down his love of sports to his son. His grandfather Frank worked in security for 30 years.
He has two siblings Sarah Aupperie-Livingston and Blair Wyman who are both his sisters. Athletism runs in his family. His sister Sarah played volleyball in USC whereas his uncle Jon Baer played basketball in Germany. 
Short Bio
American professional basketball player, Shaun was born in Peoria, Illinois on 11 September 1985 as Shaun Patrick Livingston. Shaun who stands at a tall height of 2.07 m (6' 7") weighs around 192 lbs (87 kg). As per wiki, he played basketball for two years in Richwoods High School before he transferred to Peoria Central High School and led his team to Class AA state titles.