Shaun T is fitness entrepreneur and motivator famous for his training advice and workout. He is recognized for home fitness like T25, Insanity and Hip-Hop Abs. He is known for his appearances on TV shows like Dr. Oz and Oprah. He also has acting credits on few movies, and TV series like Bring It On: All or Nothing, The Comebacks, and My Diet Are Better Than Yours.
What's Net Worth Of Shaun T?
Shaun T has accumulated the net worth of $10 million. He derived prominent part of wealth from his career in fitness training. He has been gathering the net worth from Home fitness programs like Insanity, and Hip-Hop Abs. 
Shaun also received income appearing in a handful of movie and TV series. He generated fortune from his acting stints in Bring It On: All or Nothing, The Comebacks, and My Diet Are Better Than Yours.
Shaun worked for Beachbody fitness company which was launched in 1998. Shaun and Beach body experts released Insanity in 2009. His first episode for Beachbody, Hip Hop Abs was released in 2003.
At the age of 21, Shaun started dancing in college. After completing graduation from Rowan University, he worked as a choreographer, dancer, and trainer.
Shaun T Comes Out Gay; Married Scott Blokker; Celebrates Fifth Anniversary
Shaun T is a gay, and he opened up his sexuality after he announced his wedding to Scott Bloker on 13 October 2012.
He married to his longtime boyfriend Scott Blokker on 12 October 2012. The two announced their wedding on Saturday, 13 October 2012 via re-tweet. 
Shaun with his husband Scott has been in a buttery smooth relationship with each other. Not only that, the two surpassed their five years of togetherness and celebrated the fifth anniversary on 12 October 2017. Shaun Instagrammed throwback photo and wished his husband on their marriage anniversary.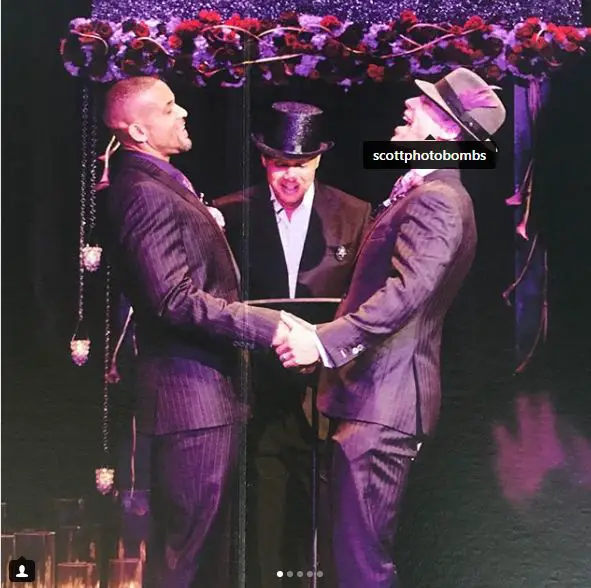 Shaun T and his husband Scott Blokker celebrates a fifth anniversary (Photo: Instagram)
He mentioned in the caption that there is more to discover in their relationship. He also said that they embarked on a journey five years ago and had loved every second of their married life.
Welcome Twin Boys Via Surrogacy
In October 2017, Shaun revealed that he and his partner, Scott were expecting twins children via surrogate in their family.
One month later on 20 November 2017, the two announced that they are now parents of twin boys named Sander Vaughn and Silas Rhys. Shaun uploaded a picture of their twin boys and said that their children were born on 17 November 2017 and revealed they arrived earlier than expected at just 32 weeks and five days.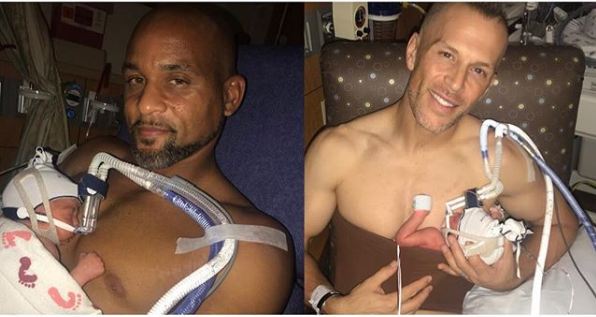 Shaun T and his husband welcome their twins babies on 20 November 2017. (Photo: Instagram)
As of now, Shaun T spends lovely time with Scott and their babies. He frequently shares pictures of his family dancing or having casual time on Instagram. On 7 December 2017, Shaun introduced their surrogate, Ashley to the world. He shared a picture with Scott, Ashley and their baby boys and thanked Ashley by saying, 
MEET OUR SURROGATE, Ashley! First I wanna say, ITS UNBELIEVABLE how one person can completely change the course of your life!! Ashley is that person for us. We've had many people help us along this journey and when Ashley offered to carry our children, many of those same people rallied behind her to give her the love, support and encouragement to help bring our two boys into the world.
He also showed his appreciation for Ashley's family which includes her husband Michael and three children. 
Short Bio
Shaun T was born on 2 May 1978 in Camden, New Jersey, the United States. He stands at the height of 1.83 meters (6') and weighs 190 pounds (86 kg). His real name is Shaun Thompson. Shaun completed his graduation in Sports Science from Rowan University as per wiki. He maintains low-key about his family, but he did reveal in an interview that his family didn't have a lot of money while growing up.