Flamboyant personality Shay Johnson is also known as Buckeey. She is famous as the former VH1 reality star who successfully got a spotlight on Love Hip Hop: Atlanta. She came into limelight with the VH1 series, Flavor of Love.
Shay is famous for her appearances in reality TV shows and is always on the headlines with her personal life and has buzzed the internet with her on and off relationships with different stars.
Going Into Personal Life Of Shay
Buckeey is famous for her love affairs but looks like love hasn't been entirely on her side. She was seen in a love triangle with Lil Scrappy and Erica Dixon on Love and Hip Hop Atlanta. This relationship added the drama to the show but did not add a lover in her life. She could not be at her best because she admitted that she was "in love with a lie." This led her gaining a lot of pounds and left her depressed.
But after leaving the show, she was able to get her mind and body together. After the heartbreak, she was ready for the next season and knew that the show was just a place for drama not for love.
Read: Younes Bendjima Wiki: Age, Nationality, Ethnicity, Net Worth
After all the drama she carefully kept Scrappy away and moved on to search for a more stable relationship, reportedly with Jody Breeze. Shay and another rapper in her life, Jody, were frequently spotted around the town.
AfterJody, the TV star reportedly dated Peter Thomas, who is a star from Real Housewives of Atlanta. Shay visited Peter's North Carolina sports bar, and the two of them were enjoying the company and rocking the dance floor. Nobody around could deny the chemistry between them.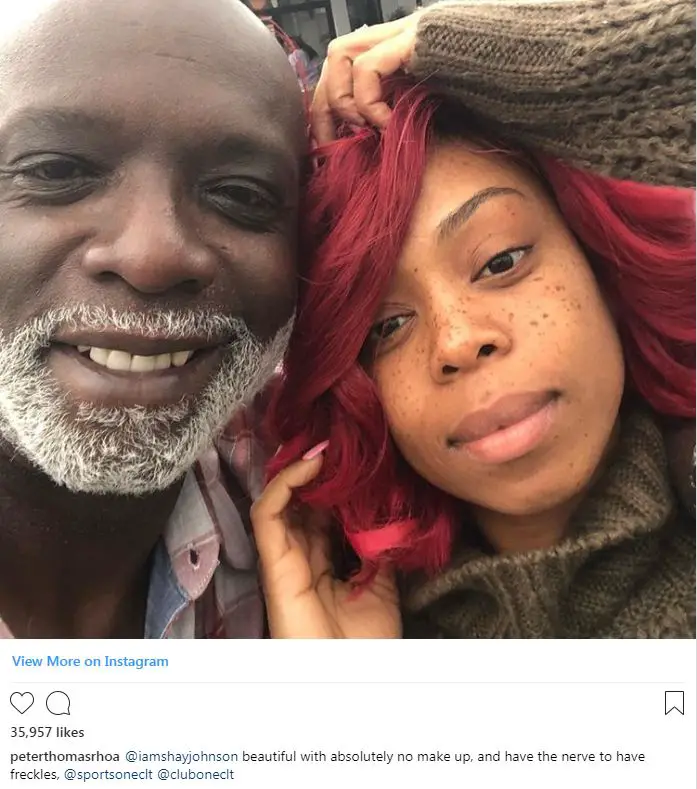 Peter posts a picture with Shay in May 2018 (Photo: Instagram)
Peter posted a picture with Shay in his Instagram, appreciating her natural beauty and complimenting her for the natural freckles. But Peter denies the rumors, saying that Shay is a great and gorgeous person but the fact that they were dating was false.
How Much Is Shay's Net Worth?
Shay, at the age of 35, has accumulated the net worth of $400 thousand. She reportedly summons her fortunes as a reality show star and a model.
Before the fame, which she received from TV shows, Shay was an active music video model and appeared on the covers of several men's magazines. She claimed stardom only when she made her debut in VH1's reality show, Flavor of Love, which starred Flavor Flav. With the success of the reality series, she returned to its second season, Flavor of Love 2.
Don't Miss: Lauren Akins Wiki, Age, Cancer, Tattoo, Kids, Height
Most recently, she was seen in the reality show Love & Hip-hop Atlanta.
Short Bio
Shay Johnson was born in 1983 and marks her birthday on 30th September every year, as per wiki. In height, she stands 1.62 meters tall (5 feet 4 inches) and has beautiful brown eyes. In her family, along with her loving parents, she is blessed with a doctor brother named Joe Johnson.
Unknown Facts About Shay
There are some facts that most of the audience is probably unaware about Shay Johnson.
Before starting the career as a model or reality star, she was a stripper.
 
Shay, who is nicknamed as Buckeey, does not love the nickname and wishes people would forget it soon. She got her name in the show Flavor of Love and Flavor of Love Girls: Charm School.
 
Shay is also an entrepreneur; she has her shirt line, Bread Girlz. This product line is targeted for the girls who want to "build strong relationships in every aspect of their lives."