The whole principle behind getting married is to share the happiness and sorrow with their counterparts for better future. Sheila Downs went on the similar journey but in a different way when she married her husband Nate Duhon in the first glance in the show "Married at First Sight." In spite of heated argument and differences between the couple that surfaced during the show, they are determined to keep their relationship alive.
Married at "Married at First Sight"!
The concept of "Married at First Sight" is pretty simple, you get married to your counterpart as set up by the relationship experts and see how things turn up for eight weeks and then decide, whether you want to stay married or part ways. Well, the outcome hasn't been as simple as the concept, only four out of possible fifteen marriages are still intact and others have already divorced.
On the fifth season of "Married at First Sight," fans witness three couples trying to find their feet in the relationship. And among them, Shelia Downs and Nate Duhon are still married.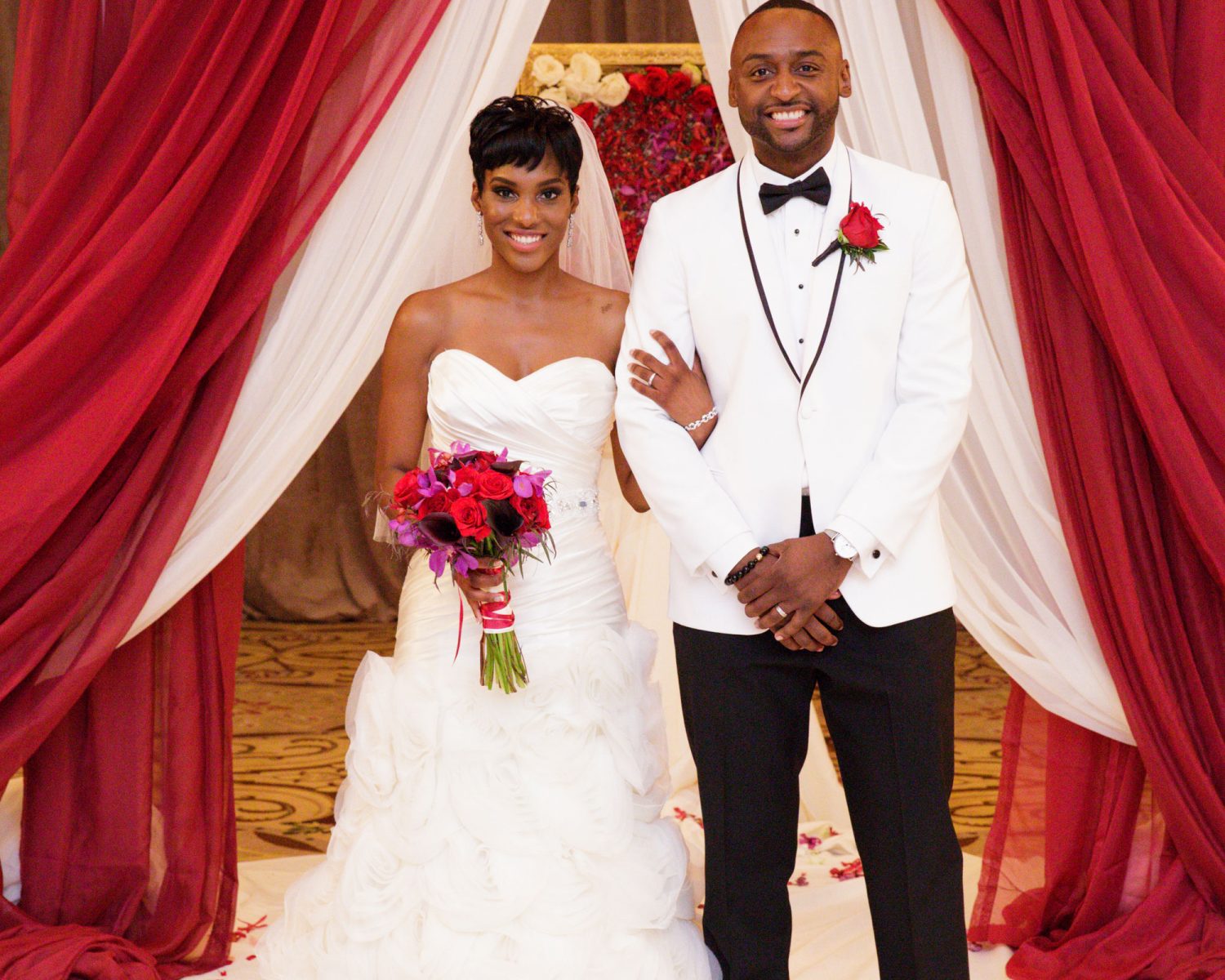 Caption: Sheila Downs and husband, Nate Duhon on their wedding day.
Source: The Knot News
Their relationship has been everything but smooth, on 12th May 2017, her husband Nate shocked Sheila when he said that he couldn't be married to her anymore which paved the way from the devastating and heartbroken speech of Sheila. She said:
"I spent the majority of my 20s trying to convince men that they wanted this, When I'm easy to love, I'm easy to love. I never had someone to love me when I wasn't easy to love."
The apparent bust-up occurred when the couple was playing ping pong game, and Sheila felt that he was being too competitive against her and labeled him "sore loser." She also claimed that losing is something that Nate can't-do.
Turn Around from Divorce:
Everything appeared gloom for the couple after their heated argument and Sheila's speech but things turned around, and the couple reconciled.
On 1st June 2017, People.com reported that Sheila now feels differently about Nate and she feels loved and protected. The couple even hosted 25 guests at the dinner where Sheila's family was present.
Then on 25th July, reports emerged that Nate was having second thoughts about staying married to Sheila. He said to People.com that:
"I've learned I have a whole lot of patience, but I have to still learn how to completely be a husband. I'm starting to have second thoughts about being married to Sheila."
The duo is reportedly keen to salvage their relationship and keeping divorce aside for a moment. The couple is one of two couples who are still married. Among three couples, Danielle and Cody parted ways on 22nd August 2017.
Professional Life of Sheila:
The Chicago-native is the director of operations for a local school. In the introductory profile of Sheila, she mentions that she has a successful career and a supportive family behind her back. Her husband, Nate Duhon is the former basketball player and is currently the branch manager of a car rental company.
Sheila's Short Bio and Family:
According to the wiki sources, the MAFS star was born in Chicago, Illinois and was raised by her supportive family, in south Chicago suburbs. Sheila Downs-Duhon, who currently ages 32, celebrates her birthday on 10th September. She was born as the youngest of four daughters in her family, and she is born to parents who spent 40 years together as a married couple. Belonging to Afro-American ethnicity, she holds American nationality. Standing at a tall height, Sheila maintains a healthy body shape.