Sian Reese-Williams is an Award-winning Welsh actress known for ITV's long-running soap opera, Emmerdale. She is also a former member of National Youth Music Theatre of Britain. She won the 'BBC Theatre Award for Outstanding Performance in a Musical' at Covent Garden for her role in musical, The Dreaming.
On-Screen Dating; Revealed Boyfriend In Interview
In the ITV soap opera Emmerdale, Sian played the role of Gennie Walker and was dating Jamie Hope, which was portrayed by English actor, Alex Carter. As a couple, the pair even had an on-screen kiss in Emmerdale. When Jamie first decided to ask Gennie for a date, he didn't know Gennie had a secret. She had slept with his dad Bob and had mourned over it. 
In an interview with Ok! magazine in September 2009, Sian also talked about their character and said that Jamie and Gennie were made for each other. Sian and Alex are also close friends in real life. However, Alex found their on-screen kiss weird as Sian was going out with one of his best friends.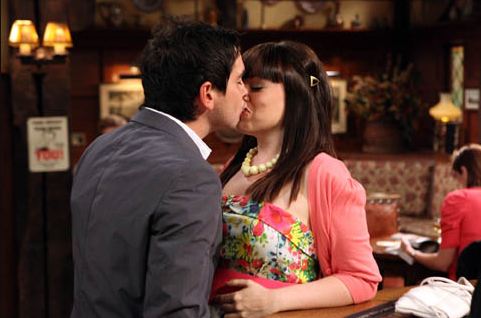 Sian Reese-Williams and Alex Carter on-screen kiss in 'Emmerdale' (Photo: whatsontv.co.uk)
She also confirmed Alex's statement and said that she has a boyfriend who is Alex's mate. Further, she said that she finds an on-screen kiss with Jamie awkward. 
Read Also: Joe Nieves Wiki, Bio, Actor, Ethnicity, Wife, Tattoo and Net Worth
While the actress continued to surprise her fans with her low-key romantic life, on 5 July 2015, she tweeted a photo kissing a mysterious guy on his cheek and captioned, 'Me and my husband/wife/boyfriend/girlfriend/brother/sister/child/greatest responsibility.'
Sian planting a kiss on a mysterious man shared on 5 July 2015 (Photo: Twitter)
However, after the photo, she never mentioned the man and is yet to post pictures again. Her inactivity suggests that she was not dating the man and might have a colleague or a friend. The Emmerdale actress in spite of her heated on-screen romance is reportedly single as of August 2018.
On-Screen Husband In 'Emmerdale'
Gennie Walker and Nikhil Sharma were married-couple in the ITV's soap opera, Emmerdale. English actor, Rik Makarem played the character of Sian's on-screen husband. They also had an on-screen baby, Molly. But her character, Gennie was killed on 25 July 2013 following a car accident which marked her departure from ITV.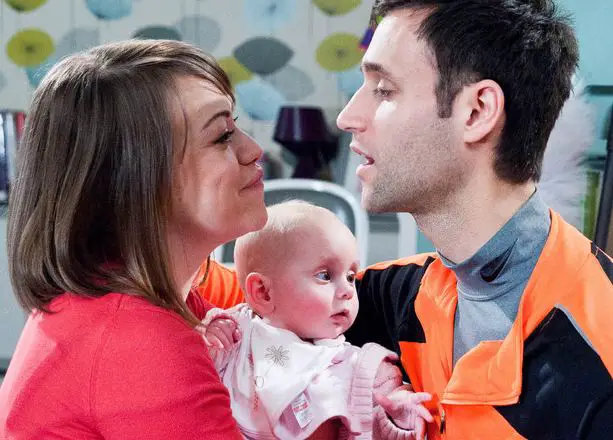 Sian Reese-Williams as Gennie Walker, and her on-screen husband, Rik Makarem as Nikhil Sharma with their on-screen baby Molly in 'Emmerdale' (Photo: soapboards.co.uk)
The actress also talked about her departure and confirmed that her decision to leave has nothing to do with Emmerdale. She also described that she is honored to be a part of an iconic show for five years and will always cherish it. She added it was a right time for her to say goodbye and find new challenges.
You Don't Want To Miss: Josh Hopkins Married, Wife, Girlfriend, Dating, Gay, Shirtless, Net Worth
How Does Sian Reese-Williams Gather Net Worth?
Sian Reese-Williams has gathered her net worth from her career as a Welsh theatre and television actress. She has gathered revenues from ITV Studios as she has starred in 597 episodes of British soap opera, Emmerdale from 2008 to 2013. Likewise, her BBC London Theatre Award-winning role in 2001 musical, The Dreaming has also served to raise her fortunes.
Sian started her acting career in 2008 with a role of Genesis Walker in ITV's soap opera Emmerdale. Sian featured in 2016 Welsh crime drama, Hinterland with a character of Manon. In 2017, she starred in BAFTA Award-winning series, 35 Diwrnod as Sara.
Sian also played Trudy in the six episodes of 2017 Netflix drama, Requiem. She also emerged in 2017 Welsh drama series, Craith portraying the character of D.I. Cadi John. Her notable theatre appearances include Children of Fate and Enjoy at the Bussey Building and West Yorkshire Playhouse respectively. 
In the BBC Four series Hidden, she portrayed a character of DI Cadi John. In an interview with BBC in May 2018, she talked about the drama series and said that it is a personal drama, which delves across the life of everybody that gets into the crime. The Hidden actress revealed the drama centers around the better plot for the detectives as well as the victims. Even more, the family of the victims and the bad guy life are caught in the series.
See Also: Paul Qualley Wiki: Age, Wife, Divorce, Married, Relationship, Net Worth, Now
She liked the female-led dramas work and the personality of the character Cadi. The Glanamman native became excited to portray a role of Cadi in the BBC series, and she found the ability to create a Welsh female-led detective to be astonishing. Attracted towards the character as DI Cadi John, she saw the typical relationship between her and on-screen character.
Short Bio
Sian Reese-Williams was born on 18 November 1981 in Glanamman, Wales. She spent her early days in Swansea and moved to Brecon, Mid Wales with her family in 1985. Sian has a height of 1.58 m (5' 2 ½") and is of Welsh descent. She currently resides in South London, England.