Full of puns and sarcasm, with intelligence and fun, English television presenter Sian Welby is one of the rising presenters on the internet. The charming television weather forecaster is a columnist and radio presenter and has worked in popular channels and networks like ITV, Channel 5, Heart, Channel 4, Eurosport and much more.
Sian is very much admired by her fans as her unique and quirky way of presenting news has made her a fan favorite. Her pun battle with Greg James on BBC Radio 1 went viral gaining millions of views around the world.
Career
The presenter has been active in the industry since 2008 and despite some hardships along the way, has managed to stand up on her career and profession. She was only 14 years old, whe she reportedly got her first payment from her job as a pot-washer. At the age of 18, she left her school and auditioned for drama school but she didn't get it. Thus, she started working at retailer New Look.
She started off her career at 19, presenting for small shows, following up with Channel 5 in 2010.
Later she became the new face of Channel 5 in November 2010. After which, she ended up with Health Lottery and also presented Formulae E's global TV show on Channel 5 according to her wiki.
Read More: Rah Ali Wiki, Net Worth, Husband, Baby
Likewise, she has hosted live on Twitter, The BRIT Awards in 2016. She has also hosted for BBC one, and cycling shows on various television channels. Moreover, influenced by her sarcastic presentation, many other news channels are trying to follow her way.
As of now, she hosts her own national radio show Heart, every weekday. 
Relationship: Dating Boyfriend, Married?
Finding the perfect partner via the internet is quite impossible these days, but the miracle has happened to the Heart show host, Sian Welby. Like many in modern times, she has been in a relationship with a guy named Junno Turner who currently works as Head of Digital Content at The Ocean Race. He has been serving there since August 2017. Likewise, Junno is also a Sports Industry NextGen Leader 2019 at Sport Industry Group.
In the interview with Express.co.uk, she revealed more about her boyfriend, and explains him as witty, funny and one of her kind men. She was the one to initiate the conversation on Twitter, and luckily they both ended up falling in love with Junno.
She went on to explain that the pair kept on chatting and after a few months of getting to know each other through their social media, Junno came to London for a job interview. It was then when he asked to meet Sian. The met there for an hour and has lunch together. And thus began the story of their relationship.
After going out on a few dates with one another, both Sian and Junno felt a strong connection between the two. The heartthrob pair has been dating for more than five years.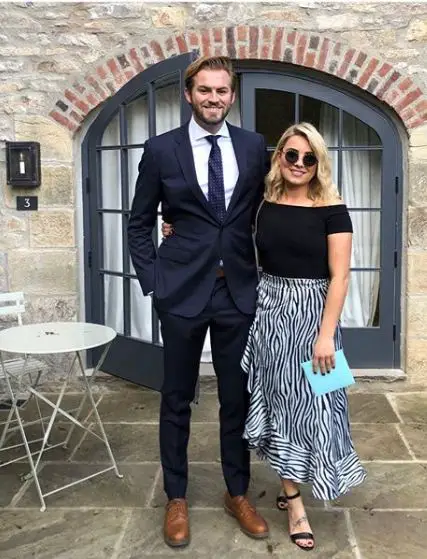 Sian Welby alongside her boyfriend Junno. (Photo: Sian's Instagram | 21st June 2019)
Interesting: Christine McConnell Wiki, Age, Married, Net Worth
The regular presenter of the Health Lotter confronted that it will be a lonesome time in the glittery on-screen profession, and she is happy to find out someone like Junno finally. The pair have been dating for quite some time now. As for whether or not, if they plan to take their relationship to the next level remains uncertain. it would seem they are taking their time before rushing into anything. 
As of now, the pair currently live together in Balham, South-West London but they are taking their time until Sian thought to make him her husband. She is yet to get married.
Short Bio:
Filled with humor, beautiful Sian Lousie Welby was born on September 3, 1986, in Nottinghamshire, England. Besides being a funny girl, and presenting on televisions and radio channels, she loves to watch football and loves to play games as well. Welby is of English nationality and has white ethnicity. As for her height, she stands at five feet and four inches tall. She grew up in England and still resides in London, England.
Apart from her works on television. she remains a very active personality on Twitter and Facebook.