Sibley Scoles is a familiar face of E! News channel as an entertainment correspondent. She broadcasted the E!'s red carpet coverage of 2016 Billboard Music Awards. The California native is also widely known as a former host of Revolt TV.
Along with her hosting skills, she is an American hip-hop artist who has released the singles like Donuts and Rock That Party.
Sibley Glimpsed Her Relationship!
E! News entertainment correspondent Sibley Scoles sparked a romance with the JLT coach, Jamal Liggin. She celebrated Jamal's birthday on 14 August 2018 and wished him success, health, and happiness on her Instagram. Along with the sweet birthday wish, she declared her love and wrote, 'I love you.' Although Sibley announced her love towards Jamal, both of them has remained mum to address their relationship further.
Before her involvement with Jamal, she was reported to be in a relationship with American rapper Sean Combs aka Puff Daddy. The I'll Be Missing You rapper picked the 30-year-old Rock That Party singer as his host on Revolt TV.
See Also: Mo'ne Davis Age, Baseball/Basketball, Stats, Parents, Net Worth, Now
Sibley, who featured with TV actor Justin Sylvester, in the show Real Housewives of Beverly Hills, once introduced her first boyfriend on Twitter as 'MRGAMETIME' in June 2013. Sibley addressed that her first boyfriend refers to her as a 'Dyke Vick.' She also glimpsed her relationship with her mysterious boyfriend in September 2014 and tweeted: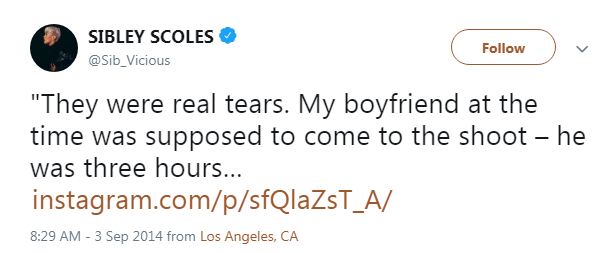 (Photo: Twitter)
Further, in March 2018, she shared a gorgeous photo of herself and said that her boyfriend had clicked the snap. However, she remained careful to conceal all the details of her mentioned boyfriend to herself.
Her relationship with several men in the past proves that the California native was never in a gay relationship.
Sibley's Family Life!
Sibley's root of a distinct sense of passion and interest goes towards her family with her parents backing up since she was a kid. The E! News entertainment correspondent retains the day that her parents had their romantic encounter. Her father and mother were teenagers when they met during Oakland's game, and they still prefer to attend the games. 
Don't Miss: Nick Faldo Wiki, Married, Wife, Girlfriend, Family, Salary, Golf, Swing
Her lovable parents celebrated their 35th anniversary in August 2015. Along with the parenting duties of Sibley, they nourished their daughter Erica and fulfilled the family responsibilities. Now, they have become proud grandparents as Sibley's sister Erica gave birth to a child named Kennedy James Heard on 15 November 2018. 
Sibley does not miss updating her family life on social media where she reflects her love dimensions. Most recently on 2 March 2019, she shared a picture of her mother and warmly wished her a birthday and stated her as a woman who never ages. Also, she mentioned a love of her life, who reminded her of the memories they had together. 
Likewise, Sibley shared her picture depicting her tattoo on her hand, which she got from the Inkies Tattoo shop. Meanwhile, she stated that she got her tattoo for her Gramma Sibley. 
As of now, Sibley resides with her parents and often attends events and occasions with them. She attended on GLAAD Media Awards in March 2019 where she flaunted on a pink skirt and a yellow outfit.  
Similarly, on 4 March 2019, she covered her 1st movie junket & red carpet in New York and shared the memoried on Instagram. She thanked East Coast Team for their warm welcome and hospitality.
Short Bio
Sibley Scoles was born in northern California on 7 December 1987. The entertainment reporter was at the age of 31 when she attended the E!'s red carpet coverage of the Billboard Music Awards. The news anchor has a height of 5 feet 8 inches, and her zodiac sign is Saggitaurus.
Read Also: Robert Ellis Silberstein Wiki, Net Worth, Wife, Today
Sibley holds American nationality and carries mixed ethnicity (black, Filipino, white, and Native American). As a musical artist credits, she credits her inspiration sources to Michael Jackson, Missy Elliot, and Toni Braxton. As per wiki, Sibley holds an undergraduate degree in broadcast journalism.