Danish actress Sidse Babett Knudsen is famous for her leading character as fictional Danish Prime Minister, Birgitte Nyborg in the Danish TV series, Borgen. The Borgen actress is also known for her role as Theresa Cullen in the HBO's show, Westworld. Sidse won the best actress awards for the comedy romance, Den Eneste Ene and César Award for Best Supporting Actress for the movie, Courted. 
Sidse Babett Knudsen Adultery On-Screen Married Life; Has Boyfriend OffScreen?
In the Danish political drama television series, Borgen, Sidse portrayed the role of sophisticated Danish Prime Minister Birgitte Nyborg. She was a married lady and a mother of two.
Don't Forget: Jordan McGraw Wiki: Married, Wife, Girlfriend, Net Worth- All About Phil McGraw's Son
As shown in the series, her onscreen character Birgitte had a busy work-life and tight schedules that gradually let her husband, Philip (played by Mikael Birkkjær) to become tired of her absence. It forced Philip to have an illicit affair while the couple's daughter, Laura (portrayed by Freja Riemann) became a victim of depression and anxiety.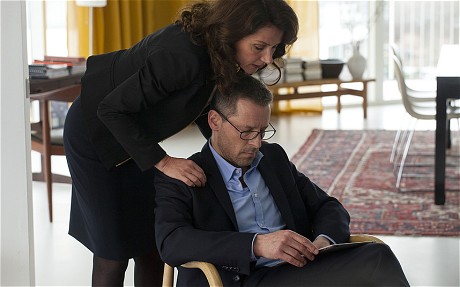 Sidse Babett Knudsen and her on-screen husband Philip (Mikael Birkkjær) in Borgen (Photo: inews.co.uk)
Since Philip cheated on his wife, she also starts dating the British architect, Jeremy Walsh (by Glen's Alastair Mackenzie), Until the third season of Borgen, Sidse fell for her new boyfriend, Jeremy. With Radio Times Magazine in February 2014, she gushed that every Danish women was dumbstruck by the presence of Alastair in the set and revealed about women's love for the British man.
In an interview with Sun Magazine in February 2013, she revealed that her fans often offered her personal advice like she should be nicer to her then-husband. And she even gave them a reply by saying that she would try. Even, she sarcastically asked 'didn't you see the cake she baked him?'
You May Also Like: Ella Craig Wiki: Facts You Need to Know Daniel Craig's Actress Daughter
In real life, Sidse has a very private life. Sidse is a mother of a son named Louis Ray Knudsen; however, her husband and the father of Louis is yet a mystery. Though Sidse is enigmatic in her personal life, she is sharing a healthy bond with her son. In an interview with the Telegraph in November 2013, she calmly dodged the partner related question. She also added that,
"You can ask me but I won't answer"
In the TV series, Borgen she portrayed the role of Prime Minister Birgitte Nyborg. Though she portrayed the role of a politician in the series, she doesn't have experience in politics. In an interview, she told that she is just an actress and have not much interest in politics in real life.
How Does Sidse Gather Her Net Worth?
Sidse Babett Knudsen gathers the net worth from her career in acting. She accumulated the wealth, appearing on numerous TV series and movies. She collected massive fortunes appearing in the long-running series like Westworld (2010-2013 ), and Borgen (2016-2018 ).
Sidse stepped into an acting career in 1994, at the age of 26. She made her debut in the Jonas Elmer's slice-of-life comedy, Let's Get Lost with leading role of Julie.
Recently in May 2018, the source claimed that LevelK has taken on world sales for the Danish thriller movie The Exception. In the movie, Sidse also has appeared in the following. While the production teams are pre-selling the movie, which will begin shooting in late August. Also, they planned to premiere a movie for autumn 2019. 
Meanwhile, the director of the movie Jesper W. Nielsen gushed with an interviewer that he was excited about working with such a strong, talented actress including Sidse. Also, he has thought of beginning the fascinating universe women consisting of very interesting and multifaceted characters together. He said,
"I am very excited about working with such strong and talented actresses in a story about human beings and the darkest corners of their minds. Together, we will enter a fascinating universe of women consisting of extremely interesting and complex characters that not only lie to each other but to themselves. An unfortunate mixture that allows evil to rein."
Read Also: Tracey Emin Wiki, Married, Single, Net Worth, Now
Short Bio
Sidse Babett Knudsen was born to parents, Ebbe Knudsen, and Susanne Andersen, on 22 November 1968 in Copenhagen, Denmark. She stands at the height of 5' 6" (1.68 meters). Sidse holds an American nationality and belongs to Danish ethnicity.
She completed her training in acting from Theatre de L'Ombre I Paris from1987 to 1990.