American actress and singer Sierra Aylina McClain was fascinated by music from a very young age. She sang around the house and even participated in her parents' songwriting singing session. Her fascination grew into a passion, and she started getting more involved in her parent's studio recordings.
Sierra started her acting career at the age of 11 and later became well known for her work in Daddy's Little Girls. Along with her successful career, she has hot featured in films and TV series like Minhdhunter, Empire, Six blocks Wife, A.N.T Farm, Shrink, and House of Payne.
Wiki- Age, Family Background
Sierra, who celebrates her birthday on 16 March, born in the year 1994 in Decatur, Georgia, USA. She comes from a family of artists—her father Michael McClain is a musician, singer, writer, and sound engineer whereas her mother Shontell McClain is a vocalist, musician, and songwriter.
In the family, Sierra has three siblings: a brother named Gabriel McClain, two sisters China Anne McClain and Lauryn McClain. Both her sisters are actresses. Her sister China is a singer and actress known for her role as Jazmine Payne in the family-drama House of Payne. She has also received an NAACP Award for Outstanding Performance in 2014 for her role in comedy-drama A.N.T Farm.
On the other hand, her other sister Lauryn McClain is praised as a singer and actress, who got acting credit for House of Payne and romance-drama sitcom Daddy's Little Girls.
Eventually, the similarities in the passion and skills amongst sisters turned out propitious for Sierra. She along with her talented sisters China and Lauryn formed the music band McClain in 2004 and started releasing tracks.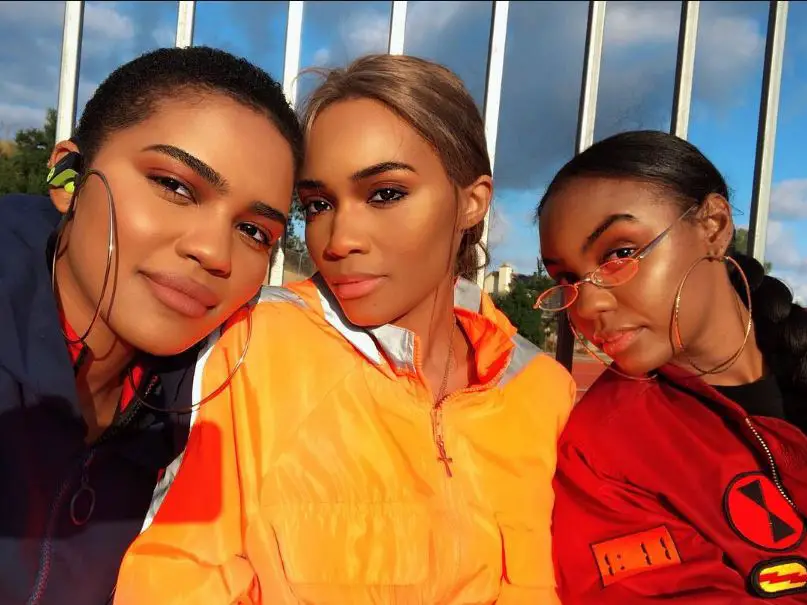 Sierra with her sisters China and Lauryn celebrating National Sisters' Day in August 2019 (Photo: Instagram)
The trio-artists sister's brother Gabriel McClain has also not been left behind. Her brother had also played a small in the series Daddy's Little Girls.
On her physical attributes, Daddy's Little Girls actress stands at the height of 1.65m (5 feet 5 inches).
Don't' Get Left Behind: Rhenzy Feliz Bio, Age, Family, Girlfriend
Who's Sierra's Boyfriend??
The romantic aspects of this beautiful actress Sierra Aylina McClain and her dating are not quite fully explored at the moment. She likes to keep her relationship profile in the shadows away from the general attention. However, she had clearly stated that she was single in October 2014. It was quite unsure whether she was honest or it was one of her clever ruses to keep her fandom off the romance trail.
Later in September 2016, Sierra replied to the question regarding her dating life that she was single and working at the moment. She admitted that she was focussing on her career, enjoying the single cruise. It's been three years since she declared herself single but in the midst, she never came forward to gush about her dream boy.
Even during her Valentine's Post 2018, Shrink's actress didn't share any picture of her loved one. Instead of that, she wished her fans a Valentine.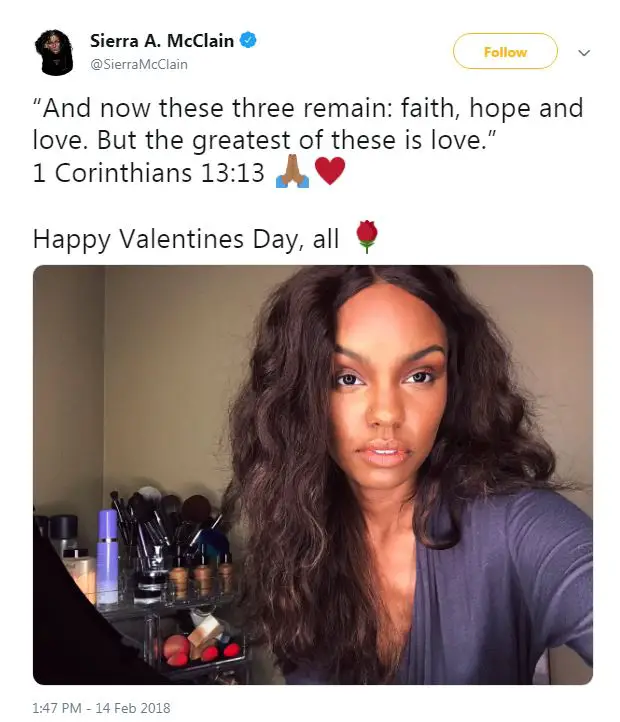 Sierra's Valentine days' Post(Source: Twitter)
But, Valentine's Day somehow hinted towards her interest in love. As of now, the single and working actress might have found someone she could share the romantic bond with. Nonetheless, it is yet to be made clear Sierra herself whether she has found her prince charming or still looking into filling the romantic pages of her life.
Explore More: Lina Esco Husband, Gay, Dating, Parents
Net Worth
After Sierra made her debut the movie The Gospel in 2005, her journey to the big screen blossomed. Later, she had a breakthrough appearance in the family-drama Daddy's Little Girls in 2007. After that, the American actress never looked back and kept on grasping new feats in the entertainment industry.
Not only acting but, Sierra's music also was quite a hit; she and her sister's band released their first single Go, which was released in 2012. Their album received positive feedback, and they released another single He Loves Me in 2014. Her sister has also performed for Disney soundtracks and nationwide fair down their career as a band for A.N.T Farm and Disney Holiday playlist.
The American actress and musician's career in the film industry and the music industry has inevitably garnished her immense fame and wealth in her life. As of now, 2019, her net worth is estimated to be around $2 Million.