Reality star, Simone Ormesher became a household name when she set the fire with her beauty and elegance in The Bachelor in 2017. And now, she is back in 2018 with more drama and twists in the Bachelor in Paradise. She has been in the spotlight with her love-triangle with Elora and hunk Apollo Jackson, which has been the highlight the show ever since her introduction the latest BIP season.
How Much Is Simone Ormesher's Net Worth?
The former waiter-turned-reality star, Simone maintains privacy when it comes revealing her actual wealth. Simone's has a job in digital marketings and has earned a decent amount of salary. However, her net worth is accumulated by her appearances in The Bachelor in 2017 and BIP in 2018. In The Bachelor, she exited the show after being one of the top eight contestants.
Before working in the digital marketing, the beauty was a topless waiter. She also used to work as a promo model and did some waitressing at buck's parties. 
Simone In Center Of Love Triangle
The 25-year-old previously appeared on Matty J's season of The Bachelor in 2017. She got to the top eight spot until the time she got eliminated from the series by Matty, the Marketing Manager residing in Sydney. Simone's dating with Matty, could not go to the final episodes however she found a fellow contestant Florence Alexandra as her lifelong friend.
After failed attempt to win Matty J's heart, she made her presence felt in BIP which premiered on March 25, 2018. She is generating quite a drama as the ongoing drama unfolds. The debacle of the love triangle of Simone between friend-turned-feud Elora and Apollo has been one of the prime plots of BIP.
Simone and her former best friend, Elora Murger had a crush on a newcomer, Apollo Jackson, and renewed their old rivalry after Apollo preferred Simone over Elora. Although Apollo and Simone don't share a boyfriend-girlfriend relationship yet, she shared a kiss with her man on 18 April 2018.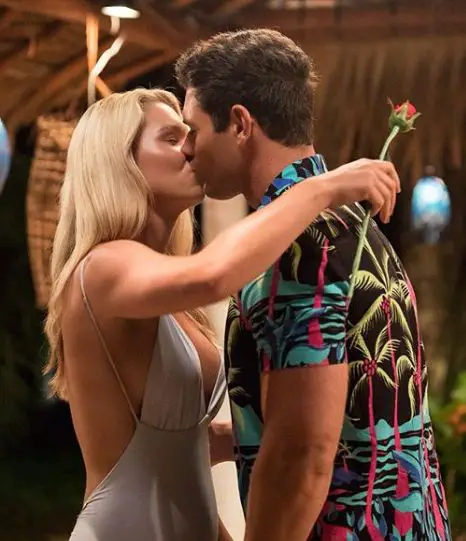 Simone and Apollo sharing a passionate kiss posted on April 18, 2018 (Photo: Instagram)
Well, after their feud rejuvenated in the recent episode of the BIP, Elora revealed some mystery behind their rivalry. Elora explained in an episode of BIP in April 2018 that Simone slept with her crush, Courtney Dober which created the hatred among the former best buddies.
Another contestant Legh Costa did come for the support of Simone and urged Elora to be responsible for her questionable action for bringing Simone's sexuality on TV.
Simone's Past Affair!
Simone had a past affair to share. She had a boyfriend whose identity has not been disclosed yet. Although their dating history is still a mystery, she confessed that she had a breast enlargement procedure at 22, in Thailand and her then-boyfriend paid for the surgery. 
Simone loves making fun of herself. Sometimes she becomes too critical of her appearances. The Bachelor alum posted her childhood snap on 6 March 2018 and compared it to her contemporary look on her Instagram. The TV star shared the image with a caption, "My family keeps saying I was an ugly kid?"
Nevertheless, Simone has always been dear to her parents. She loves sharing multiple snaps of her father and mother but has not disclosed their actual names.
Her Short Bio:
Simone Ormesher was born in Manchester, England with an English origin. Simone, age 26, has an acute fear of height but she fought her concern in 2017 when she successfully attempted sky-diving. The English beauty, who currently resides in Melbourne, has a sizzling figure and works hard to keep her body in best shape.