Stokeley Clevon Goulbourne is the real name of famous Afro-American rapper Ski Mask 'The Slump God'. He rose to fame after his first solo, Catch Me Outside went viral on SoundCloud. He established himself as a household name in the scene of R&B with the song New World Order, which also featured rappers Lil Peep and Lil Tracy.
What is Ski Mask's Net worth?
Ski Mask enjoys the net worth of $1 million. He has generated revenues from his mixtapes, Members Only Vol. 1;  Members Only Vol.2; and Members Only Vol.3. He has also generated money through tours and concerts hitting up ten different cities from Los Angeles, California to Florida.
His latest mixtape from 2017, You will Regret, earned him a record deal worth in millions with the Universal Music Group.  He earned a massive amount of money from his 2016 debut mixtape, Drown in Designer, which earned over 22 million streams on SoundCloud. His earnings increased through 2016, thanks to his next mixtape, Very Rare For Lost Files.
Not just that, his youtube earnings have also supplemented his net worth. His songs have been released through two channels, Ski Mask The Slump God and Cole Bennett - Lyrical Lemonade, with the channels reportedly making an average of 500K-1 million dollars a year in total. 
Late Partner XXXtentacion Threatens Family
Stokeley met XXXtentacion, a similar character with similar aspirations, in the Broward Juvenile Center, at the age of 16. Meeting XXXtentacion had a huge impact on Ski's life. It was X  who made him realize his talent and pursue a rap career.
After being released, they formed rap groups named Very Rare and The Members-Only Group. The pair produced three EPs- Members Only Vol.1, Members Only Vol.2, and Members Only Vol.3.                            
But after producing 3 EPs together and being friends for over three years, they parted ways. The reason was unknown during that period, but in late 2017, the 22-year-old claimed that X had threatened his family, and that was the ultimate reason for their friendship to end. He also claimed that no one would have taken him seriously if he was affiliated with someone 'crazy as hell'.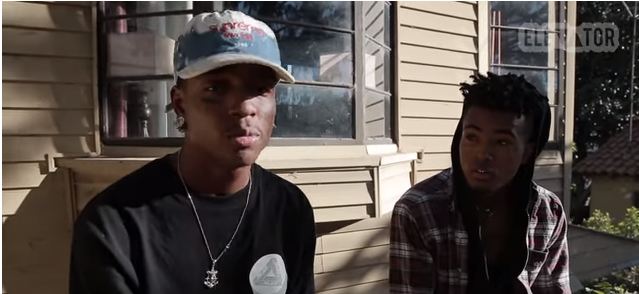 Ski Mask and XXXtentacion interview with ELEVATOR uploaded on their YouTube Channel on 6th Jan 2018. (Photo: YouTube.Com)
Unfortunately, XXXtentacion passed away on 18th June 2018 as he was shot dead during an apparent robbery that took place in Florida.
Difficult childhood; Family Problems Led Him To Rap
The personal life of Stokeley remains very discrete. The famous rapper grew up with his four siblings in the Fort Lauderdale area and bounced between his mother and father's house. His mother struggled through her issues while his father offered little or no support.  However, music provided him with an escape route - he ultimately decided to take up rapping. He retrospected his tough childhood in an interview, saying, 
"It was either make this shit work or die to try,"
Upon gaining interest in music, he started to make mix tapes and rap freestyle, plus he began to develop his own rhymes along with a unique personality. And his hard work and dedication have led to spectacular results. 
He has come out with four mixtapes, Drown-In-Designer, Very Rare Lost Files, Slaps For My Drop-Top Mini-Van, and You Will Regret, from the period of 2016 t 2018.
With one major label debut album due this year, he continues to work hard to achieve more success. With the rapper remaining totally invested in his work, having a girlfriend and dating could be the last thing on the mind of the up and coming rapper.
Short Bio
As per Wiki, Stokeley Clevon Goulbourne was born in Florida on April 18, 1996. He possesses mixed ethnicity and belongs to Jamaican and Afro-American descent. He stands at the height of 5 feet and 7 inches.