An Emmy Award-winning journalist Sonia Azad mounted to popularity after she joined the ABC-affiliate WFAA in October 2015 as the station's health and wellness reporter. She documented her personal experience sharing hopes of giving women an in-depth look at mysterious and often misunderstood process of egg freezing and believes that it's about getting prepared.
Not Married But Wants To Be Mom!
Sonia has a fascinating personal life when it comes to her love affairs. She was rumored to be dating her work partner Ron Corning, who anchors news along with her on News 8 Daybreak when one of their fans tweeted;
@SoniaAzadTV The way you and Ron interact it seems you could either be married or siblings????. 
Sonia also gifted Ron a coffee mug on his birthday wishing him through her Twitter. Again recently in March, another fan speculated that they are married. However, News 8 Daybreak replied the tweet confirming that they're neither dating nor married.
Though she doesn't completely open up about her relationship status, she likes interacting with her fans on her social media accounts. On 2017's Valentine's Day, she wished everyone tweeting;
If no one else tells you today... know that I love you!!??????? #ValentinesDay #iamup #wfaa ???????
And on September 2017, she posted a picture with Teddy mentioning him as her new boyfriend on her Facebook which hints that she is single.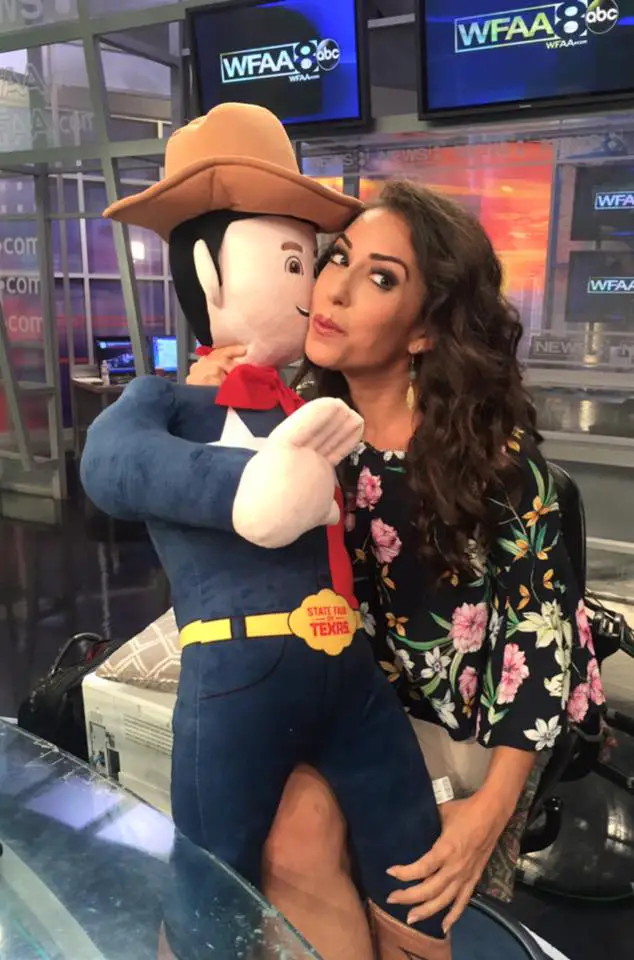 Sonia posing with Teddy and mentioning that as her boyfriend ( Photo: Sonia's Facebook)
Sonia, who thinks that running a marathon in Antartica looks more likely than getting a husband, has a clear thought about becoming a mother. Sonia went through egg freezing process to ensure she can become a mother when the right time comes. In an open letter, she wrote to encourage women to freeze their eggs explained that it's not about giving up bachelorette life, but it's about getting prepared for future.
Professional Career And Net Worth
Sonia Azad is currently the health and wellness reporter for ABC-affiliate WFAA-TV in Dallas, Texas where she is entitled to a handsome salary. She joined the network in October 2015 replacing Janet St. James who was with the station for nearly two decades.
Before joining WFAA, Sonia worked as a reporter at KTRK-TV. She reported for TV stations from different places including Houston, San Diego, Chicago, Waco, and College Station. She spent more than six years on the network and probably summoned a decent amount of fortunes.
Some of her notable global assignments include; reporting on Iranians and Afghans seeking asylum in Paris, the Columbia Space Shuttle disaster for Star Television out of New Delhi, India. Domestically, her reports ranged from the medical aftermath of Hurricane Harvey, the deadly police ambush in Dallas, and President Barack Obama's subsequent visit to North Texas, Wendy Davis' gubernatorial campaign, the Ebola crisis in Dallas, to the mass theater shooting in Aurora, Colorado. Sonia broke the news of Houston Mayor Annise Parker's same-sex marriage from Palm Springs, California.
Sonia won an Emmy Award in 2011 for her half-hour special report entitled 'Passage to India.' And in 2012, the Texas Associated Press Broadcasters named Sonia one of the best reporters in the state.
Short Bio
Sonia Azad celebrates her birthday on 17th September every year. Her birth year and age remains a mystery. However, she probably ages around the thirties. She holds dual nationality and is vocal representative of Asian American ethnicity.
As per wiki, Sonia graduated from the University of Texas at Austin with a Bachelor of Science in Journalism. She also owns a Master of Science degree in Journalism from Northwestern University's Medill School of Journalism. Additionally, Sonia received a Master of Legal Studies from Northwestern University's Prestigious Law School.
Sonia is also a marathon runner and a certified yoga instructor, with a height of 1.52 meters (5') who enjoys teaching studio and corporate classes.