The life of Stan Cadwallader, mostly known as the love of Jim Nabors, changed when same-sex marriage became legal in Washington in 2012. As a couple, Stan and Jim couldn't wait any longer and finally made their lifelong dream of being a legitimate partner true. However, even after waiting for almost four decades, the happy moment didn't last long enough for the two.
Insight Into Stan's Enthralling Marriage
Stan Cadwallader married his 82-years-old male partner, Jim Nabors on 13 January 2013 after dating him for more than 38 years. Stan was 64-years-old when the ceremony finally took place.
Stan and Jim traveled all the way to Washington State, where gay marriage became legal early in December 2012 and married at the Fairmount Olympic Hotel in Seattle. The ceremony was private with just a couple of friends in their hotel room.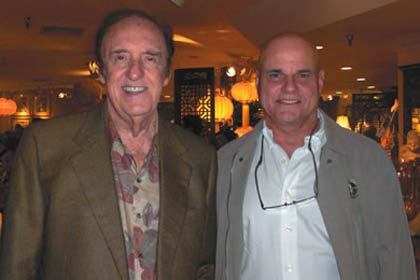 Stan Cadwallader' with his partner, Jim Nabors ( Photo: hawaiinewsnow.com)
When Hawaii news tried to do an on-camera interview of the newlywed couple in 2013, Jim clearly declined and gave the interview on call instead. Jim told Hawaii News exclusively by phone that they have been together for 38 years and he is not ashamed of people knowing about their marriage. Further, he said that he is delighted and blessed to have a partner for such an extended period.
The pair first met in 1975 when Stan was working as a firefighter in Honolulu. He eventually started working for Jim and developed a friendly relationship.
Jim said to Hawaii news that he was open about being gay to his co-workers and friends, but never publicly came out in the media until 2012 when he married his companion. He further told that they had no rights as a couple before and they have been waiting for same-sex marriages to be legal in Washington.
Stan Partner's Tragic Death
Stan's companion Jim was suffering from health issues since 1972 which limited his ability to travel. In 1994, Jim underwent a liver transplant after he contracted hepatitis B. And in May 2012, he went through successful open-heart surgery.
But, as per Stan, Jim's health had been declining for much of the past year. And at the age of 87, on 30 November 2017, Jim died peacefully in his house at Honolulu, Hawaii, U.S.
The United States Marine Corps released a statement on Jim's death honoring him as one of the few ever to be named an Honorary Marine. Stan remembering his partner told CBS News on the same day of his death that Jim was a wonderful man and he's going to be dearly missed. He further added that the loss of Jim appeared to be from natural causes.
How Much Is Stan's Net Worth?
Now retired, Stan Cadwallader once had a job as a firefighter in Honolulu. And after meeting with actor Jim Nabors, he started working with him as a business associate. Jim is best known as Gomer, a Marine in the CBS comedy which ran for five seasons during the 1960s.
The net worth of Stan is still unclear; however, his partner Jim had accumulated a pretty good amount of money in his career. The former American actor and singer, Jim had a net worth of $ 15 million.
Short Bio
Stan Cadwallader was a firefighter by profession in his hometown Honolulu. He was born in the year 1948 as he was 64 years old when got he married to his longtime partner in 2013. However, the exact date of birth is still unknown. Also, there is no information available about his family and educational background in his wiki sites.