Supreme Patty is an upcoming American rapper, social media personality, and a prankster. Famous for doing crazy stunts and pranks, Patty has managed to make quite the name for himself. Over the years, his weird and unusual acts have garnered him a massive fan following as well has also landed him in quite some trouble con-currently.
A native of Florida, Patty's career as a rapper has seen him release one or two music over the years. Like many modern rappers, he started by posting music on SoundCloud.
Wiki & Bio: Birthday, Parents & More
Supreme Patty, whose real name is Patrick Wallace, was born on the 18th of December 1997 in Daytona Beach, Florida. He is a son to parents Bill and Angie Wallace. He grew up alongside a sister named Katie.
Read More: Who Is Thomas Colford Girlfriend? His Dating Status, Family
For the education, he attended the Sugar Mill Elementary School and later the Ormond Beach Middle School. After which he joined Seabreeze High School. He stands at the height of 5' 6" tall.
What Happened To Supreme Patty? Presumed To Be Dead?
Patty is best known for his unique and daring pranks and stunts that have often resulted in him having health problems, being hospitalized, or being arrested.
As a high school student, he got in with the wrong crowd and became a drug addict. After this, he started having depressions, which led to him attempting suicide several times. Supreme's lifestyle has caused a lot of havoc to him both physically and mentally.
Interesting: Akai Osei Wiki, Girlfriend, Family, Net Worth
Furthermore, back in 2018, a video surfaced on YouTube, which showed Supreme lying in his car seat, bruised and bloody after being involved in a car accident. It was reported that he was driving while drunk, which resulted in the accident.
Thankfully, he was not hurt very badly. Likewise, following his car crash, another rumor started to circulate. It was reported that Supreme had contracted the disease Ligma and was pronounced dead as a result. But that turned out to be just a hoax and nothing more.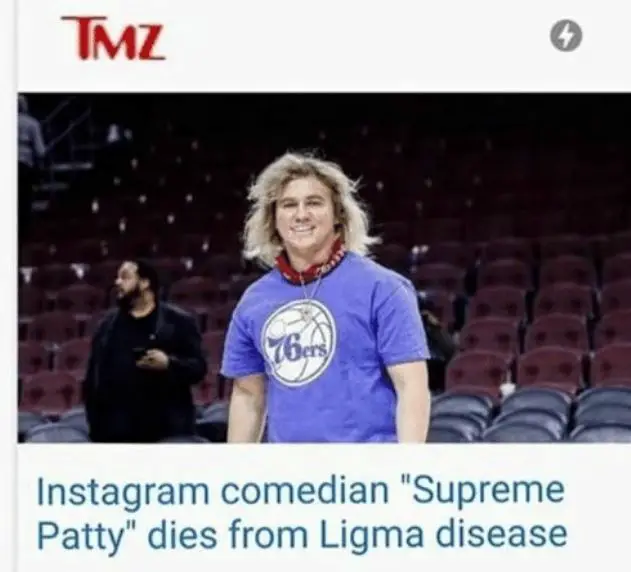 Fake news regarding Supreme Patty's death. (Photo: me.me)
It was later revealed that he was alright, and there was no such thing as a disease called Ligma. And as of now, Supreme Patty is doing just about okay in terms of his health, both physically and mentally.
Net Worth
Supreme Patty is an American rapper, social media influencer, prankster, and a stuntman. He is famous for his weird and unusual activities, which he posts on his Youtube channel.
Over the years, Patty has managed to gain quite the fan following. Likewise, as a rapper, Patty is looking to make a name for himself. Back in 2015, he, along with A.Millz, released a song called Watchin.
The song received mixed reviews from the audiences. And Supreme is looking to further establish his music career with more music on the works. But his preliminary work remains his pranks and stunts videos. Patty can mostly be seen performing tasks that would otherwise seem mental. From eating washing detergents to jumping off rooftops, Supreme Patty is one unique character.
And with his uniqueness, he's managed to bag home a decent chunk of change. As of 2019, he is reported to have a net worth of $2 million to his name.