Susan Mikula and partner, Rachel Maddow has shut the mouths of those stereotypes who believe that a pure form of love can't exist between same-sex individuals. Both the ladies are together for more than a decade and are accomplished in their respective career. While Rachel is a successful host for MNSBC and appears on the screen, Susan Mikula is an aspiring photographer who captures moments from behind the camera.
Lesbian Affair with MNSBC's Rachel Maddow!
The couple, who has spent over eighteen years together, first met in 1999 when she hired Rachel to complete little yard work at her property in Berkshires.
While speaking about their first meeting with People, Rachel joked that 'it was very Desperate Housewives.' The duo now resides in a pre-civil farmhouse in Western Massachusetts and also owns a West Village apartment in New York City.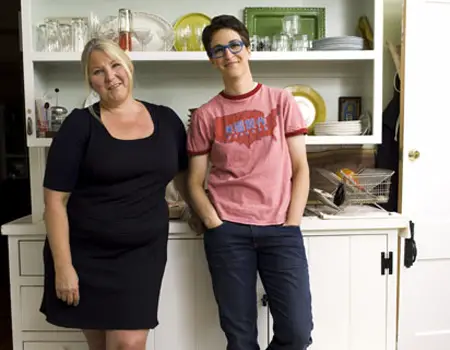 Caption: Susan Mikula and girlfriend, Rachel Maddow are together for eighteen years.
Source: afterellen.com
Despite staying in a relationship for this long, her girlfriend, Rachel doesn't seem much excited about legalized gay marriage. In an interview with Hollywood Reporter, she shared that gay people being prevented from enjoying equal rights have preserved the sanctity of their relationship and gay culture. She said,
"I feel that gay people not being able to get married for generations, forever, meant that we came up with alternative ways of recognizing relationships, And I worry that if everybody has access to the same institutions that we lose the creativity of subcultures having to make it on their own. And I like gay culture."
Career and Net Worth:
Susan Mikula uses her SX-70 Polaroid Camera to capture the nature and moments as it is. She has penned three books named, 'Susan Mikula: u.X,' 'Susan Mikula: Photographs,' and 'Susan Mikula: American Bond.'  
Mikula also owns a website where she presents her work, which has been shown throughout the States including Los Angeles, Miami, New York, and San Francisco. She currently delivers site-specific works for U.S. Consulate in Nuevo Laredo, Mexico which is commissioned by the Art in Embassies program.
Besides that, the artist hasn't revealed her earnings so far, and the actual figure of her net worth is out of reach. But her partner, Rachel enjoys a whopping salary of $7 million annually and has a splendid net worth of $20 million dollars.
Her Short Bio:
The outstanding photographer and artist, Susan Mikula was born in 1958 in New Jersey. As per a wiki source, she spent most of her childhood days in urban New Jersey but later moved to New Hampshire town. She is 59 years of age but hasn't revealed her birthday. With her busy schedules, she now divides her time between Western Massachusetts and New York City. Mikula belongs to white ethnicity and has an impressive height of 5 feet 5 inches which compliments her physique.