One of the blockbuster movies Black Panther's actress, Sydelle Noel had dreamed of appearing on TV as an Olympian. The former sports model suffered an injury during college and gave up on her hopes of showing her talent in the Olympics. She balanced her on-screen and off-screen work and rised in the Hollywood industry. 
Sydelle's career-shift in Hollywood came to be fruitful as her big breakthrough came from the movie Black Panther as Dora Milaje. She also has been portraying the lead role as Cherry "Junkchain" Bang in Netflix's comedy GLOW, since 2017.
Married On-Screen On 'GLOW!' What About Off-Screen Relationship?
In the Netflix series GLOW, Sydelle mesmerized the viewers with her character as Cherry Bang. The Screen Actors Guild Award-nominated actress gushed about her role in her June 2018's interview with the Essence. She talked about the growth of Cherry from going badass to the rollercoaster during Season two. 
Read Also: Douglas Emhoff Wiki, Age, Wedding, Net Worth, Kamala Harris
In the TV series, the tomboy Cherry fell in love with Keith Bang and married him. American actor, Bashir Salahuddin portrayed the character of her on-screen husband as Keith.
Sydelle didn't even know that she had to play an on-screen married role in the series and found out during the second episode of the first season. When Sydelle found out that her on-screen husband was Bashir and the producers wanted her to show a stable and loving relationship, she was blown away. She thanked her producers for her role, which was contrary to most of the story timeline, where a single mother struggles.
She and Bashir not only shares jaw-dropping chemistry on the screen but also maintains close bonding in real life. During Bashir's 42nd birthday on 1 July 2018, she warmly wished him via Twitter and gushed about their on-screen chemistry.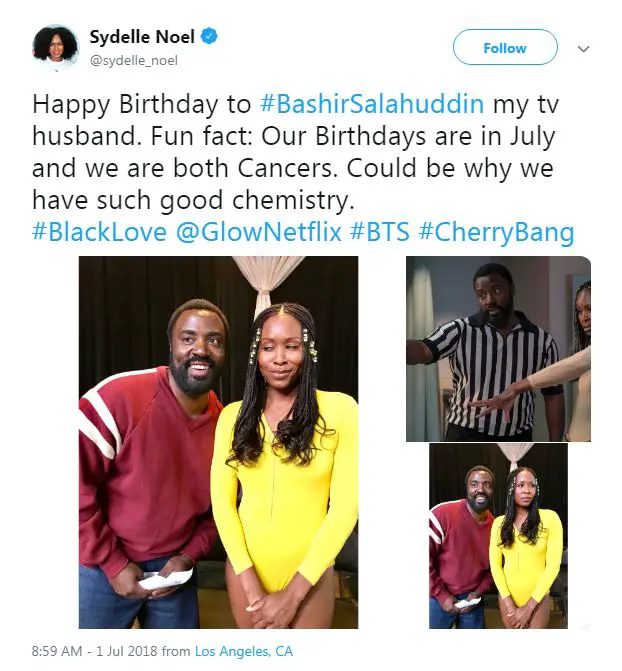 (Photo: Sydelle 's Twitter)
Though she is an on-screen wife of Bashir, behind the camera, they are just good friends. Behind the screen, Sydelle has managed to conceal her love life and is reportedly unmarried, as of February 2019.
Sydelle Noel's Net Worth, Movies, And TV Shows!
Sydelle, age 33, garners the prominent part of the net worth from her professional career as an American actress. According to the 'Bureau of Labor Statistics,' the actors receive an average salary of $39.84 per hour, and their hourly payrolls range from $9.39 to $100. 
Don't Miss: Sam Querrey's Girlfriend Abby Dixon Wiki, Age, Dating, Parents, Facts
She inaugurated her acting career in 2006 landing a cameo role of Girl with Earring in TV series Everybody Hates Chris. Since then, Sydelle has been rising in the entertainment industry and has credit in the movies like Expecting; Captive, Americons, and Black Panther. In the movie Black Panther, she debuted alongside her castmates, Chadwick Boseman, Danai Gurira and Liv Lo.
Her upcoming films like Daughter of the Wolf, The Clearing, and Rise are in the post-production phase. Likewise, her TV shows credit includes Private Practice, Bones, GLOW, and Arrow.
Short Bio And Wiki
Sydelle Noel was born in Hollywood, Florida in 1985. Her birthday is on the 16th of July. She and her sibling brother, whose Instagram's username is Reuben Granger, grew up with her parents in Florida. When the actress was nine years old, her father Sydney had a sad demise. The siblings share a close bond with their mother and often gushes about her on social media.
Explore More: Sebastian Moy Wiki: Age, Ethnicity, Height, Parents, Siblings, Girlfriend, Dating
Sydelle holds a mixed ethnicity, and her nationality is American. Her height is 1.75 m (5 feet 9 inches). As per wiki, before her acting career, she did sports modeling and drove for Uber.
After acquiring education from high school, the Screen Actors Guild Award-nominated actress gained a track scholarship at the University of Georgia.