You might all know the scandal of October 2016 which involved Donald Trump and former "Today" host, Billy Bush. But what you might not know is that the scandal is still causing damage in its aftermath, and his married life is the next target.
Sydney Davis, who is the wife of American television host Billy Bush, decided to get separated from his husband and evaluate where they stand and what future holds for them. 
Separated After Two Decades
Twenty years is a long time for any couple to stay together, and, surprisingly, being together for all these years couldn't hold the catastrophe.
Sydney Davis married American radio host, Billy Bush in April 1998 and is a parent to three daughters named Josephine, Mary, and Lillie.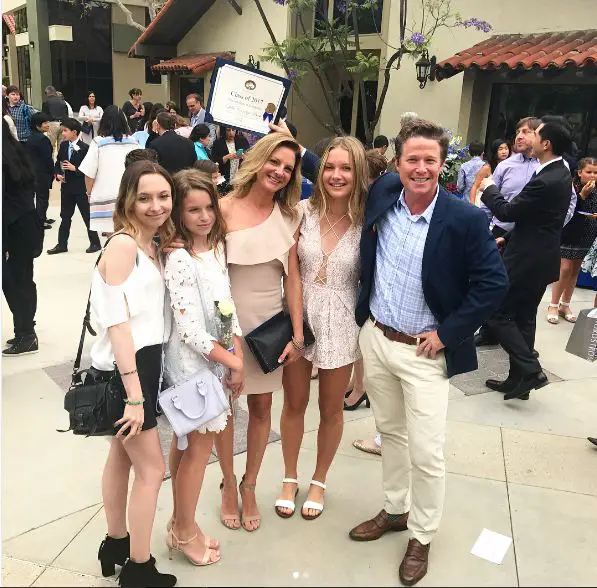 Sydney and Billy with three daughters on May 11, 2015. (Source: Instagram)
Sydney and Billy both were dedicated towards their family, and their bond can be seen on the pictures they post on social media.
Their differences surfaced when the controversial video of Billy with President, Donald Trump shocked the world on October 2016. The leaked video made during 2005 records the conversation of Trump talking about groping and trying to have sex. He was suspended and then fired from 'Today' on 17th October 2016.
The video made everyone upset, including his settled family. Sydney's 16-year old daughter, Mary was reportedly confused and said that:
"No. Why were you laughing at the things that he was saying on that bus? Why were you playing along with it, Dad? It wasn't funny."
After one year of the leaked video, the couple decided to split on 19th September 2017 and is trying to evaluate their life. Billy's lawyer, Marshall Grossman, condemned the rumors that Sydney left him.
Are They Planning A Divorce Or Reconciliation?
Marshall also confirmed that they separated "on a short-term break" and were not hurried to jump on the divorce just yet.
If words of Marshall are to be believed, the couple loves each other and is concerned about the bright future of their children.
Back in 2015, Billy posted a picture of his family on the mother's day and said that she is spectacular and stronger than she knows. But after the scandal with the then-presidential candidate Trump, everything changed, and now they are struggling to keep their 20 years relationship alive.
Do Not Miss: Lori Goldstein Partner, Net Worth, Family
It's still not conclusive enough if they have decided to divorce or salvage their relationship.
Divorce Finalized 
It has been a couple of years, that Sydney Davis and Billy Bush has separated, but they took no time to finalize their divorce on 19 September 2019. The former lovebirds, who stated that they were 'on a short term break' previously filed the divorce papers in April 2015. Also, they had a misunderstanding of raising their three kids. 
However, they agreed and stayed committed to their children's bright future.
Despite the settlement of their divorce, the provisions of a child, spousal support, and child custody were contained in the couple's "Further Stipulated Judgment." As per the sources, the couple had a mutual desire to keep their respective rights to financial and personal privacy. The couple dismantled their longterm married life of over two decades and started navigating their life's journey separately.
In between of the split, Bush got spotted with the Real Housewives of New York City star Tinsley Mortimer in June 2019. The couple added that they are long-time friends and are currently dating happily. 
Sydney's Short Bio
According to the wiki sources, Sydney Davis Bush was born with the birth name Sydney Davis in America. Her secretive nature makes it difficult for the media to retrieve any information about her age and family. She probably ages around the same period as her husband Billy Bush, 47. Holding the American nationality, she belongs to the white ethnic background. For a woman around forties, she maintains a healthy body shape and has a height which suits her image.