The changing realities of life are a challenge, not a roadblock. Tamra Cantore who was diagnosed with Parkinson's disease when she was forty, now works for the fundraising event to find a cure for the horrific disease. Tamra is the former executive in The Weather Channel and a proud mother of two children.
Divorce with Husband Jim Cantore!
Tamra met her husband-to-be Jim while she was working in a management team in 1986. She then took the task of publicizing the name of Jim, and she did wonders on that front. Then they made a swift transition to co-workers to friends and then to the eventual couple.
After years of dating, she married her husband, Jim on 6th October 1990 in a private wedding ceremony. The couple then gave births two children, a daughter, Christine and a son, Ben.
When she was aged 40, she was diagnosed with Parkinson's disease. She kept her illness under check while managing her job and house. But the problems worsen, and she found it increasingly difficult to eat on her own.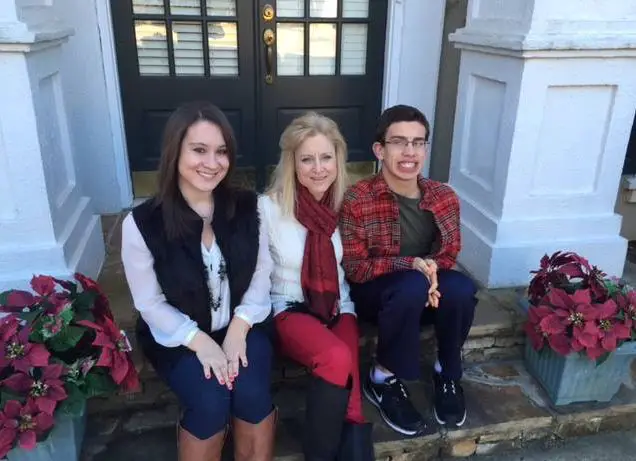 Caption: Tamra and her children on 27th December 2014
Source: Facebook
The news wasn't getting any better when she came to know that her son had a problem to walk and speak when he was 18-months old. After the diagnosis, the couple found that both their children had fragile X-chromosome. Ben suffered the horrific consequences, and his shortcomings were often related to autism. Although, her daughter, Christine didn't have any symptoms as they have two X-chromosome in their gene.
After increasing difficulties to have an appointment with doctors and therapists for both Tamra and her son, the couple's differences began to surface. Subsequently, the couple split in 2006. Their divorce was finalized in 2007 and have been co-parenting their children ever since.
Tamra's Career and What is She Up to Now?
Although her early career is pretty much under evaluation, it is known that she is the former executive at The Weather Channel for 21 years. According to her personal site, she is also a telecommunications executive. In 2000, she founded a fundraising team for Parkinson's Research with the name "Team Cantore."
After forming the fundraising team, she has been involved in several charity events and raised thousands of dollars to find a cure for tragic Parkinson's disease. She now keeps herself busy with her children and juggles her time with Team Cantore.
Recently on 22nd September 2017, she was spotted in 14th Annual Countrified Rock for Research, 2017. The event raised a significant sum to find a cure for Parkinson's disease.
Although she had a successful career behind her, she used most of those fortunes for a charitable event. Her net worth hasn't made to media yet, but given her laid-back lifestyle and charities, she probably has decent net worth.
Tamra's Short Bio and Family:
As per wiki sources, the graduate from the Bowling Green State University was born with the birth name Tamra Till. Though her information about the family, early childhood, and birth date are kept under the curtains, she probably ages around the fifties or sixties. The former executive stands at a decent height and thanks to medication and sports enthusiasm; she maintains a healthy body shape. Tamra is American and belongs to the white ethnicity.