Tana Mongeau is an American YouTube star. She is famous for her self-entitled YouTube channel. She is also known for her appearances in TV shows Minute Match-Ups in 2015 and Escape the Night in 2016. She is now in the limelight for her alleged lesbian relationship with Blended actress Bella Thorne.
Family Life; Parents Reported Stalker
She was born to parents Richard and Rebecca Mongeau.
On her YouTube channel, she posted a video on 3 October 2016 in which she shared that she was stalked in her childhood. She revealed that the stalker not only hacked her phone but he reportedly broke inside her house and took photographs of her while sleeping. She also said that the stalker called her and expressed his obsession for Tana.
You May LIke: Kodi Smit-McPhee Girlfriend, Dating, Family, Brother Details
She was in grade two when the events occurred, and she mentioned that her parents reported him to her elementary school.
She shares a strong bond with her family and often shares pictures of them on her Instagram account. The YouTuber posted a photo with her father and wished him on Father's Day on 17 June 2018.
Posts Sensuous Pictures; Is Tana Dating Blended Actress? 
The YouTuber is currently dating Blended actress Bella Thorne. Back on 5 September 2017, Tana tweed that she wants to date Bella. Then weeks later, she posted a picture in which she was kissing Bella and wrote, dreams do come true kids.
Tana shared a lip-lock picture with Bella in Hawaii on 12 June 2018. They were reportedly posing for photographer Hunter Moreno.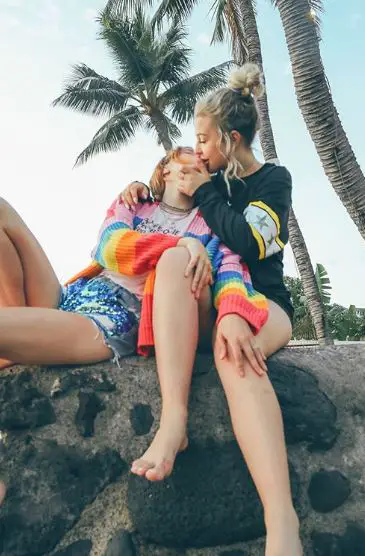 Tana Mongeau (right) with Bella Thorne at Lahaina beach in Hawaii on 12 June 2018 (Photo: Instagram) 
Bella revealed that she was a bisexual in 2016. Before her relationship with Tana, Bella was dating rapper Mod Sun.
Although Bella is currently dating a woman, it is not clear if she identifies herself as a lesbian. However, in one of the Twitter post, she mentioned that she would go lesbian for the girl on 1 February 2016. As she was in a relationship with an Instagram star boyfriend, she might be a bisexual. As of now, she is yet to confirm her sexuality.
Don't Miss: Steven Seagal's Wife Erdenetuya Seagal Wiki: Age, Ethnicity, Family, Model
On the other hand, Tana also opened up her sexuality and revealed that she is pansexual. As confirmed by MTV, she told
"If you wanna call that pansexuality, you can call me pansexual. I think that people need a box to put people in to feel okay, but I'm just not like that...I'm going to love who I want to love, I'm going to do what I want to do, and I don't give a f*ck who doesn't like it,"
Nevertheless, Tana has called off her relationship with Bella and is currently dating a guy named Brad Sousa. She established her relationship with the guy via an Instagram post on 7 December 2018, when his man posted a photo of himself with Tana and confirmed that it is official. Also, the love-duo captured their first kisses and photographed on the occasion of the Valentine's Day 2019 and shared it with Instagram fans.
Most recently, Brad celebrated his 21st birthday with Tana.  To mark the special day, Tana shared the photo where she was lip-locking with her man and wished him a happy birthday. She even poured her love and asked to let her kiss him 21 times.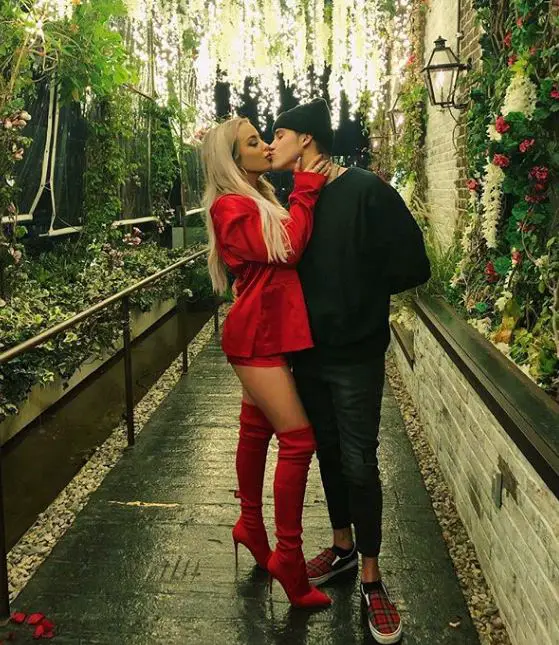 Tana kisses her man, Brad on his 21st birthday (Photo: Instagram)
Though Tana has moved on from her post-relationship, her ex-partner Bella still receives the questions relating to their relationship. Many of her fans still asked her about Tana, who was annoying her. Thus, she preferred to clarify the fans' queries via tweet. On 26 February 2019, Bella tweeted saying that she is no more together with Tana so, she requested to stop asking her about their relationship.
Dated Instagram Star Boyfriend
Tana was in a relationship with Instagram star Somer Hollingsworth. The couple started dating in 2015 and ended their relationship after two years in 2017.
She shared a video giving a lap dance to her fellow YouTuber, Kian Lawley in 2017. Tana teased her fans on Twitter calling the screenshots as nuts.
However, things did not go smooth for her then-boyfriend as he expressed his feelings of betrayal on his Twitter post on 8 June 2017. But Tana defended herself, and she did not cheat on her boyfriend. The YouTuber claimed that the lapdance was just a joke, and there was nothing sexual about the video.
The couple never officially confirmed the news of their split. But her relationship with Bella Thorne might be enough to prove their split.
Explore More: Shanna Riley Wiki: Age, Family, Job, Divorce, Affair/Single- All About Roman Atwood's Ex-Wife
Is Tana Mongeau Engaged?
It seems like Tana Mongeau is now engaged to Jake Paul and the news that has left fans and followers in confusion whether the engagement is a real one or just a fake. 
On 24 June 2019, Tana took to her Twitter and affirmed that her beau Jake proposed her and in another tweet mentioned that she was engaged.
The news of her engagement comes shortly after celebrating her 21st birthday on 23rd June 2019 in Las Vegas. Earlier that day, Tana shared the happy news via Instagram story where Jake bent down on one knee and proposed her with a giant diamond ring
Also, he surprised her with a cake with a proposal; Will You Marry Me, Tana?. Later, Tana shows off her engagement ring along with a caption engaged@jakepaul at an Instagram story.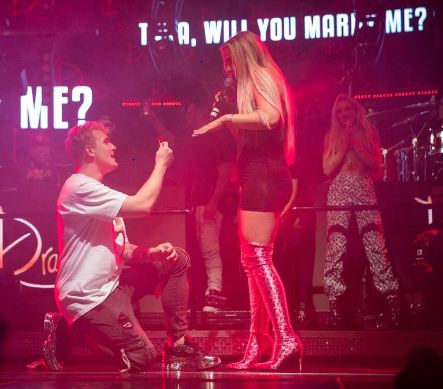 Tana Mongeau and Jake at the time of birthday (Photo: E Online)
But as for her fans and followers, they are still not convinced about their engagement. The newly engaged couple have always had a very confusing relationship as Jake's relationship with Erika Costell came out to be fake, which is why people are speculating the same.
As for Jake, he has yet to talk about or post anything about the engagement. Maybe he's just overwhelmed with joy!
The Weird Wedding 
The YouTube power couple; Tana Mongeau and Jake Paul, who were dating for a couple of months, reportedly shared their wedding vows on 28 July 2019 in Las Vegas after a month of their engagement. The marriage ceremony, which was orchestrated for Mongeau's MTV series, Tana Turns 21 with over three hundred guests later turned out to be an awful event. Despite the ceremonial celebration, there are no confirmation whether the couple has wedded for real. 
Shortly after citing the wedding vows, a fight amongst the guest broke out after which the couple shared their first kiss as a "married" couple. Even his brother Logan Paul and other YouTuber are surprised and did not believe as if the wedding was real.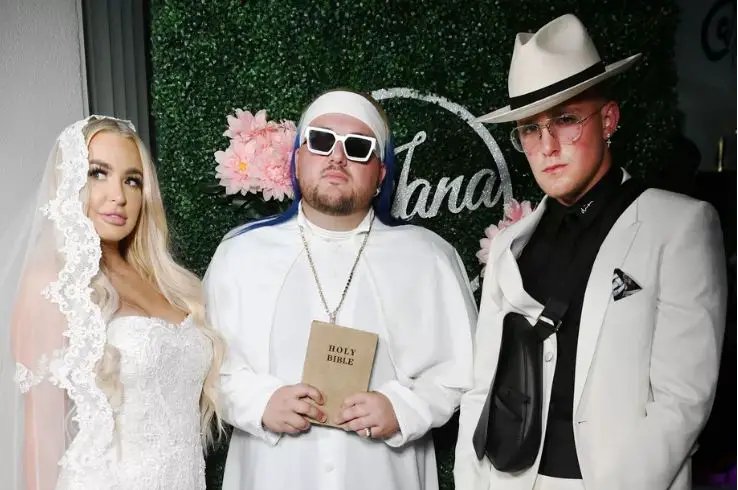 Tana Mongeau with her husband, Jake Paul during their wedding (Photo: WireImage) 
However, a misunderstanding between the couple arose during their marriage, and later, Paul attacked the party cake with a sword. 
After the wedding broke out, Jake Paul left the ceremony with his crew heading towards the casino. On the other hand, Tana also placed out the marriage into an Uber in front of a Forever 21. 
The wedding of the couple was also streamed online for $50. 
Short Bio
Tana Mongeau was born on 24 June 1998 in Las Vegas, Nevada as per wiki. The YouTuber stands at the height of 1.65 meters (5' 4") and belongs to a white ethnic group. Her birth sign is Cancer.