The way to success is not always easy; sometimes we have to become patient and wait longer to get the outcomes of our hard work. The YouTube star, Tanner Braungardt also knows this well as he started uploading vlogs from the year 2011 but got a breakthrough only after his video titled 'Coke vs. Mentos Bath Challenge' came to light.
Career and Progression:
Tanner created his self-entitled YouTube channel on August 31, 2011, which has around 3 million subscribers. His first uploaded a video titled "Epic trampoline net FAIL" where he showed his gymnastic talents on a trampoline.
The artist has now started taking suggestions from his followers and accordingly posts challenges and dramatic acts. In one of his video, Tanner is seen jumping in the bathtub full of coca cola in which he has the highest number of viewers.
Initially, he was criticized by the older generations for his backflips and gymnastic skills, but he has always been popular among the youngsters.
How much is Tanner's Net Worth?
Just at the age of seventeen, Tanner had become successful to gain massive fame over the digital platform. Speaking of his financial status, he reportedly earns an annual income of $114.8K to $1.8M. On March 1, 2017, he uploaded a video titled 'BUYING MY DREAM HOUSE AT 16 YEARS OLD!' and informed everyone about his achievement. 
What about Tanner's Affairs and Girlfriend?
Tanner Braungardt was previously in a relationship with the Instagram star, Paris Anderson. The couple started dating each other on December 11, 2016, but kept it a secret for nearly one month.  
In January 2017, Tanner posted a video on YouTube titled "Meet My Girlfriend" and confirmed the two are in a dating affair. Paris also shared her first snap with Tanner on her Instagram account on January 10, 2017.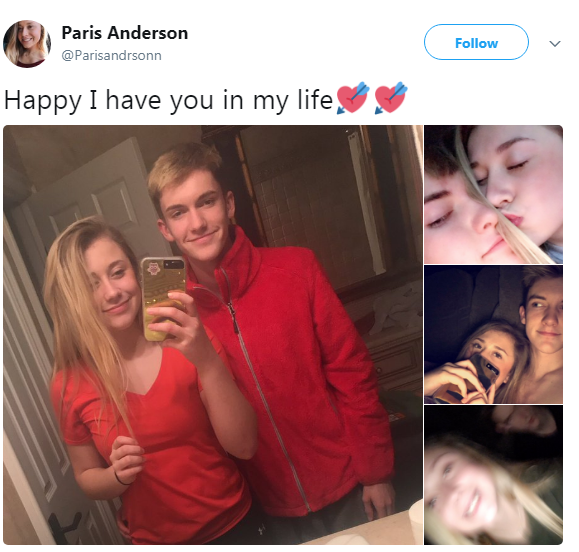 Caption: Paris with her ex Tanner, posted on March 2, 2017
Although the couple enjoyed a budding young affair in the initial days, they soon parted the ways in July of 2017. Tanner later explained in his YouTube video that he just wanted to focus on his channel and be alone and happy.
Tanner might have broken the relationship with Paris, but his fans are still looking forward to seeing him with someone special.
His Parents and Siblings:
Tanner was born to parents, Kim and Jamie Braungardt who got divorced when he was four years old. His currently resides with his mother who is very supportive of his profession. Speaking of his siblings, Tanner has a brother named Tristan, a YouTube star and sister, Taylor, an Instagram star.
Short Bio and Wiki:
Tanner Braungardt aged 17 was born on July 24, 2000, in Wichita, KS. His birth sign is Leo. His nationality is American, and he belongs to white ethnicity. His height is around 5 feet 8 inches. At the age of 16, he has succeeded to own two cars, (car), Dodge Challenger and Audi R8.