Taylor McKinney who used to work as the motocross racer is known to the audiences when he was introduced on the show Teen Mom OG as the superstar, Maci Bookout's husband. Did you know he shifted to Tennessee and became a permanent resident as the husband of Maci? If yes, you have missed it big time.But, this article has got your back and continue reading to know about the solid foundation of Taylor and Maci.
Dating Life Of Taylor McKinney
Taylor started dating American TV personality, Maci Bookout in late 2012 after he met her in the party. He was living in Dallas, Texas whereas Maci was from Chattanooga, Tennessee. They managed their long-distance relationship going back and forth on the jet to see each other.
Nearly two years after their long-distance relation, on 26 May 2014, Maci announced the great news via her twitter. She announced that Taylor was officially going to be a Tennessee resident and are stepping one step further in their relationship.
He became a father figure to her son Bentley, son of Ryan and got super-well with him. With Maci, Tayler welcomed his first baby as daughter Jayde McKinney on 29 May 2015.
One year later after they welcomed their first children, they were blessed with their son Maverick Reed McKinney on 31 May 2016. 
Married To Mother Of Three, Maci Bookout!
Finally, on 16 October 2016, the couple had their wedding on Honey Lake Resort in Greenville, Florida after a nine-month-long engagement. Even her ex-boyfriend Ryan had attended the ceremony along with his parents. Jayde served as the tiny flower girl in her parent's celebration alongside with her big brother Bentley.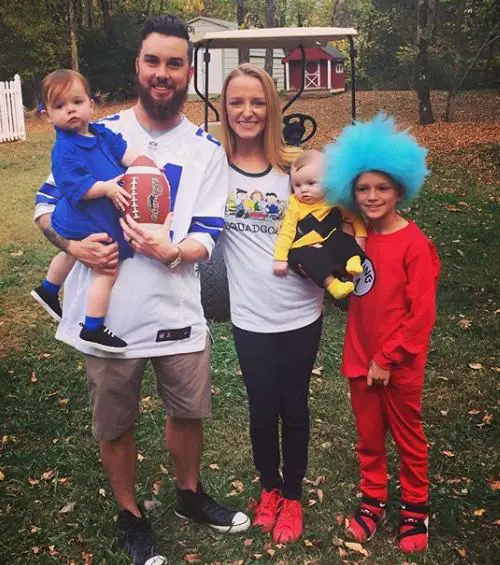 Taylor McKinney and Maci Bookout alongside with their children on 1 November 2016 (Credit: Maci's Instagram)
In 2017, Taylor was expecting his third child as the baby girl, and the couple even decided the name of their baby girl, Dandelion McKenny. Unfortunately, his wife, Maci had a miscarriage. Maci who had given birth for almost two years in a row made it clear that she does not wants to be pregnant again. The couple is currently residing in Tennessee taking care to their children.
Feud With Maci's Ex-Beau
Looking back towards Maci, when she was 16 years old, she was pregnant and gave birth to a son Bentley Cadence Edwards in 2008. She was in the relationship with her ex-beau Ryan Edwards, with whom her affair ended in 2010.
In the episodes of December 2017, Teen Mom OG Maci's ex-beau Ryan returned from rehab to visit his son, Bentley. Taylor ripped him claiming that he wasn't an actual father to Bentley and he never asked to see his son on Father's Day. Her wife claimed that Ryan had threatened her to bring his son over with some vulgar messages when Bentley asked to see Ryan.
Taylor and Ryan's dispute further keeps expanding when it comes to Bentley and Maci. On 19 March 2018, in Taylor threw some severe Twitter shade towards Ryan and his new wife Mackenzie Standifer when there were rumors that the new couples were making comments about her wife, Maci. In his own words, he said:
Well when you have two jobless adults, one of whom is 30 years old and still needs his ass wiped, what do you [expect] the dinner convos to be? They should thank Maci for paying their 'nursing school' — but that's none of my business.
Professional Career And Net Worth
There is concise but few information available regarding his career. Taylor was a motocross racer who used to drive in Dallas, Texas. In 2006, he had an unfortunate accident where he broke both of his arms. After that, he took a break from his job as a racer. 
After he married Maci, he left his full-time job and helped his wife, Maci to run a fashion business and gave a decisive effort to prepare for the photo shoots for the web company.
The limited details on his profession have restricted the information about his annual earnings and revenue. But with his wife, Maci who is a famous American TV reality star, is enjoying a net worth of $10 thousand 
Short Bio
Taylor was born on 12 April 1989 with his parents Larry McKinney and Evelynn McKinney. His age is 29 years old. He currently resides in Tennessee and belongs to American nationality. In 2007, Taylor completed his education at the public school in Fossil Ridge High School, Fort Collins, Colorado. As a sibling, he has a younger sister, Tara McKinney in his family.
As per wiki, his parents filed for bankruptcy in September 2005 and was reportedly granted a bankruptcy discharge in the year 2006. However, these reports are yet to be confirmed.