Fans might recognize Teddi Mellencamp as the daughter of 2008 hall of Famer, singer-songwriter John Mellencamp. She is as the newest addition to the season 8 of the Real Housewives of Beverly Hills.
Teddi Mellencamp is also known for her other roles in reality Tv series like Flipping Out(2007) and recent dance drama Next Level(2019).
Wiki-Bio, Age & Family
The reality star was born on 1 July 1981 in Bloomington- Indiana, USA. She has a height of height 1.6m(5ft 3 inch) and convenient weight with a slim build.
Talking about her parents, her father is a pop singer, who has had more than ten Grammy nominee John Mellencamp. He is also known for his hit songs like Jack & Diane. Teddi's mother Victoria Granucci hasn't made much impact on the entertainment industry; however, she has appeared on a few music videos of John Mellencamp.
Teddi has a younger brother Hud Mellencamp and a sister Justice Mellencamp.
Husband, Married?
Teddi has been married for twice!
She was married to her first husband Matthew Robertson on 3 June 2006 in Bloomington, Indiana. The couple first met on a blind date that started with miscommunication when Matt arrived late for their date. After the marriage, they flourished their relationship 
However, the relationship didn't go well, and the couple separated on 1 December 2008 after two and a half years of marriage. Later, their divorce got official in February 2010. She didn't have any children from her first wedding, and the reason for the divorce is still under the radar.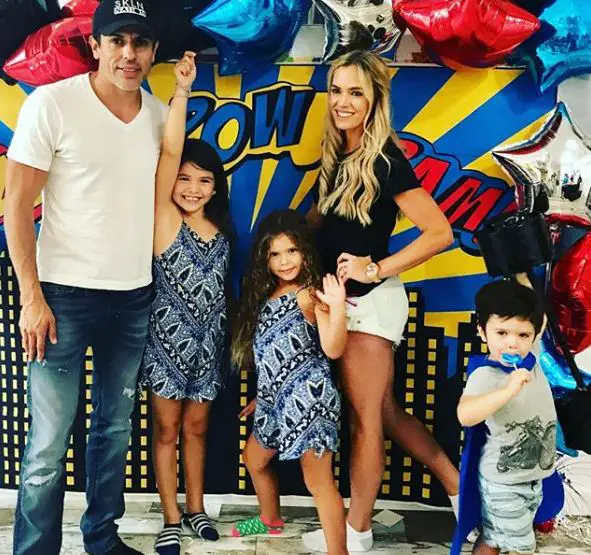 Teddi smiling with her family (Photo: Teddi's Instagram)
The reality star is currently in a relationship with her husband, Edwin Arroyave. Her current husband is the CEO and founder of Skyline Security Management, Inc. The pair, who met each other in the night party, shared the wedding vows on 11 July 2011.
As of now, Teddi is relishing excellent relationship with her husband and adorable kids.
Kids; Multiple Miscarriage 
Teddi and her husband are now parenting kids; a daughter Slate Arroyave (born on 6 October 2012), son Cruz Arroyave(born 21 August 2014) and step-daughter Isabella Arroyave(born 30 November 2008). Though the pair are happy to be parents of their youngsters, their voyage to parenthood was not at buttery smooth as people would expect.
Teddi had gone through multiple miscarriages before giving birth to her youngest son in 2014. The birth of their baby son via In Vitro Fertilization(IVF) process and at the time of delivery, she and her husband faced scary moments. Her son wasn't breathing, which is why he was taken to NICU. He even diagnosed with a heart condition.
All these problems traumatize her, which is why Teddi isn't ready for the next baby, as affirmed Instagram Story.
Similar Content: Shaniece Hairston-Bio, Father, Net Worth, Boyfriend
Teddi Is Pregnant!
Congratulations to Teddi and her husband, Edwin. On the 11th of September 2019, Teddi posted a picture of her on her Instagram that showed her to be pregnant. Her pregnancy news left everyone in a state of a shock considering the fact about her previous experiences with pregnancy.
She further confirmed the news of her third child in an interview with USmagazine. She revealed that she has a baby in her belly and has been hesitated to do normal things in the past few weeks. She unveiled that she is in her second trimester. The pregnancy may seem normal to many, but for Teddi, it's a blessing.
Her past two pregnancy experiences have not been very delightful. She had to undergo multiple miscarriages before the birth of her son in 2014. And through IVF, her son was able to be born but still faced a lot of problems as he was not able to breathe and had to be taken into NICU.
Thankfully, her son was able to survive. That is why Teddi's recent pregnancy comes as a load of happiness as well as a surprise to Teddi.
Career & Weight Loss
As the saying goes, no matter what others say about you, believe in yourself, and follow the path of your passion. Although Teddi's weight was a bit off the model's figure margin, she developed her passion, which landed her role in the reality TV show the Real Housewives of Beverly Hills in 2017. She later was able to secure a position in another reality-tv show Flipping Out in 2018.
In the year 2019, Teddi debuted in the movie, Next Level, where she plays the role of Mrs. Stallings.
Apart from the entertainment field, She also has been doing accountability coaching for a few years and started her business LA Workout Junkie and owns a boutique business.
What Is Her Net Worth??
The fitness coach has been running her business LA Workout Junkie for a few years now and besides owns a boutique business as well. Meanwhile, her appearance on the reality-tv shows and movies attributes additional profit to her net worth.
At present, the net worth of the fitness accountability coach is estimated to be around $12 million. Besides, Teddi listed her Hollywood Hills mansion above the sunset strip on sale for an astonishing $3.2 Million in April 2019.
Weight Loss
The reality star has been the hot topic after her transformation from chubby cute star to sexy and fit accountability coach. She gained about 80 pounds during her first pregnancy, and by the end of a second pregnancy, her weight increased another 80 pounds.
However, by the age of 37, she has turned herself into a slim and beautiful lady. She even showcased a picture of her transformation from 19 years old chubby girl to 37 years old slim lady. 
On 21 January 2019, one of her fans asked her how long it took her to get in shape on the regard of her incredible weight loss transformation. She answered that it took her five months of 100% commitment to adapt to this healthy lifestyle.