Plastic surgeon and television personality Terry Dubrow is popular for co-hosting shows Botched and Good Work. He is recognized for appearing on The Real Housewives of Orange County with his wife. The University of California's medical degree holder, Terry also appeared in the on the Fox series, The Swan featuring in the role of a Plastic surgeon.
What's Terry Dubrow's The Net Worth?
Terry Dubrow summoned the net worth of $30 Million. Also, he and his wife, Heather Dubrow have the joint net worth of $60 Million. He derived the wealth from his career as a plastic surgeon. As per the work.chron.com, an average salary for a Plastic Surgeon is about $270,000.
He also gathered the revenue from appearing in the reality series, The Swan, where he featured as a plastic surgeon. He increased his earning as being the former director of the Acne Clinic of Newport Beach. Also, Terry and his wife, Heather sold their mansion for $16.4 million and purchased land in a new community to build their new dream house.
After two and half years of construction, they moved into their 20,000-square-foot mansion in mid-2016. Their new villa encompasses 14 bathrooms, a lap pool, a movie theater and an underground garage.
The 59-year-old surgeon appeared on The Real Housewives of Orange County with his wife. As of now, he is co-hosting the show Botched since 2014.
Terry's Wife Quits Show To Save Marriage; Has Four Children!
Terry Dubrow's wife, Heather Dubrow announced that she was quitting the show Real Housewives of Orange County after five seasons in January 2017.
As per the Radar Online Magazine, she made her final decision to quit the show and save her marriage of 17 years. In the last season of the show, Terry and his wife's relation was in trouble and became the central story plot of the show.
The couple often got into arguments on-camera. In one of the argument, Terry's wife broke down in tears and revealed that her husband, Terry was never at home because of work.
Terry and Heather both said that it would be the best decision for Heather to quit RHOC to save their affair since they have other successful projects and do not need the money.
RHOC's pair married in June of 1999 after the first meeting through a blind date on D- Day, i.e., 7 December. During their first meeting, Terry's wife didn't want to date him. She revealed about her intention in an interview with Bravo TV in 2016 when she said,
"This is why we almost didn't get together because when I met him I was like, 'This is not going to work out because you're never seeing me naked cause it's all real'"
Terry Dubrow and Heather are now parents of four children named Katarina, Collette, and twins Nicholas and Maximillia. The couple often keeps flaunting the photo with their children on social media. On 9 July 2018, Heather shared the picture with Terry and her four kids on Instagram.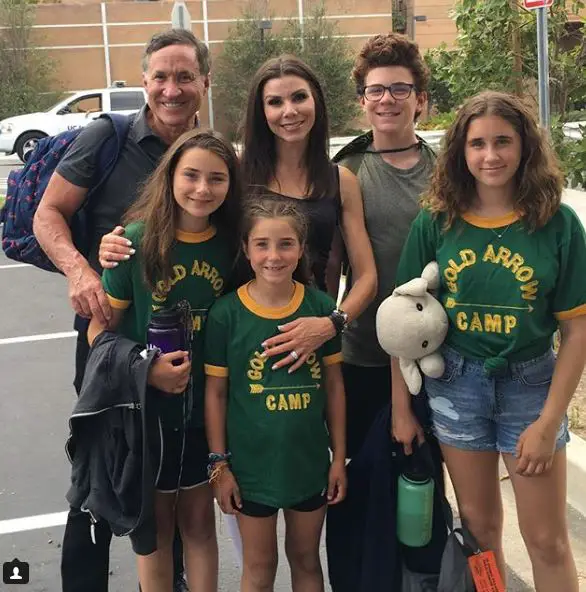 Terry Dubrow and Heather pose with their four kids (Photo: Instagram)
Terry mentioned that her Dubrow's family went on camping. As of now, Terry and his wife Heather are now enjoying the cherishing moment with her children.
Short Bio
Son of Laura and Alvin Dubrow, Terry Dubrow was born as Terry J. Dubrow on 14 September 1958 in Los Angeles, California.
Terry grew up with his older brother named Kevin Dubrow, who was a lead singer of the popular metal band Quiet Riot. His brother died in 2007 of an overdose at the age of 52. He was found dead in his Las Vegas Home on 25 November 2007.
He completed his medical degree from the University of California, Los Angeles School of Medicine. Also, he received the master's degree from Yale University. Further, he completed a residency in general surgery from Harbor-UCLA Medical Center and completed three years of fellowship in plastic and reconstructive surgery at the UCLA Medical Center.