American Author, Terry McMillan has earned immense significance with her prolific novels including Who Asked You?, and Waiting to Exhale. Working on her passion, she initiated her writing career in academic years that led her to achieve the height of success with Doubleday New Voices award in Fiction award for Mama in 1986.
Based on Terry's novel including Waiting to Exhale and How Stella Got Her Groove Back, filmmakers even directed the movies. Besides, she has written New York Times Bestsellers including Disappearing Acts.
Terry McMillan's Married Life; Husband Revealed His Sexuality
Terry McMillan's romantic life involves her married relationship with Jonathan Plummer, who was twenty-four years junior to her. The couple first met at a Jamaican Resort in 1995 and initiated the joyous dating affairs.
Despite their vast age differences, they blossomed the buds of relationship for several years and eventually shared the wedding vows in 1998 confronting their friends, family, and relatives.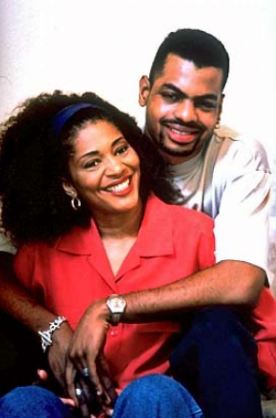 Terry McMillan with her ex-husband, Jonathan Plummer (Photo: Getty Images)
But as time passed on, Terry's relationship with her husband Jonathan took the direction of tragedy. Their married life could not last longer than six years.
In the year 2005, Terry's husband, Jonathan unveiled his sexuality as a gay man which led them to separate. As reported, Terry filed a divorce paper in May 2005 in California's Contra Costa County Superior Court alleging that her spouse married her to get the United States citizenship.
Witnessing Jonathan's cases, he asserted that Terry started to treat him with "homophobic" expression after he confirmed his sexuality. He also suggested putting aside their marital agreement to prevent him from spousal support. 
Five months later, their divorce was legally finalized in October 2005. As per the settlement, Jonathan received $50,000 -- $20,000 in cash, $20,000 for the loan on his car and $10,000 for spousal support. 
On the contrary, Terry sued her husband for $40 million in 2007 stating that he ruined her reputation during their divorce. As per the lawsuit, the defendants threatened her to deteriorate her professional and personal regards and also violate her privacy. Also, Terry alleged Jonathan of violating a restraining order when he met with her children, Solomon Welch.
In 2013, in an interview about her book, "Who Asked You?" she revealed that her ex-husband was a different person during the time of their marriage. Also, Terry stated that she loved the man she married and she doesn't hate him because of his sexuality. 
As of today, Terry relishes a single life with no traces of her possible love life. 
Know About Terry McMillan's Net Worth
Terry McMillan, age 67, has an estimated net worth of $40 million which she garners from her professional career as an author. After her graduation from high school in 1986, she initiated her writing career and published her first book, Mama in 1987. In 1992, her third novel, Waiting to Exhale became one of the best selling books on the New York Times bestseller list which later turned into the movie Forest Whitaker in 1995.
Similarly, the movie was directed based on her novel, How Stella Got Her Groove Back in 1998. Besides that, she has published I Almost Forgot About You: A Novel, Who Asked You?, and Getting to Happy (Waiting to Exhale Book 2) which has the price of $9.99, $7.99, and $9.99 respectively in Kindle Edition. 
Discover More: Geraldine Viswanathan Wiki, Ethnicity, Parents
Short Bio
Born in Michigan, the United States, in 1951, Terry McMillan celebrates her birthday on 18 October. She possesses an Afro-American ethnicity and holds an American nationality.
She was grown up by parents; Edward Lewis McMillan and Madeline Tillman, who divorced when she was only thirteen. Her mother was the model for the protagonist of her first novel Mama, who raised Terry along with four siblings as a single mom.
Besides, she received her education from the University of California, Berkeley where she earned the degree in Journalism in 1986.