Brazillian professional footballer, Thiago Silva is one of the top-rated defenders in World Football and plays his professional football in Ligue 1 club Paris Saint-Germain and Brazilian national team. As the captain of Brazilian side, he won 2013 FIFA Federation Cup. A solid defender made a name for himself after he broke into the scene in A.C. Milan as young Brazilian wonder kid.
Thiago's Married Life; Wife's Dream To Wear Bridal Dress
The backbone of Brazilian defense, Thiago Silva is married to his longtime girlfriend Isabel Da Silva. The couple reportedly started dating since 2004. The pair married at the registry office, but Isabel always dreamt of a proper wedding ceremony and bridal wear, but she never saw the green signal from Thiago. 
Her wife shared an old image along with the player in 2018 with a caption, My boyfriend since 2004???? @thiagosilva_33 Happy valentine's day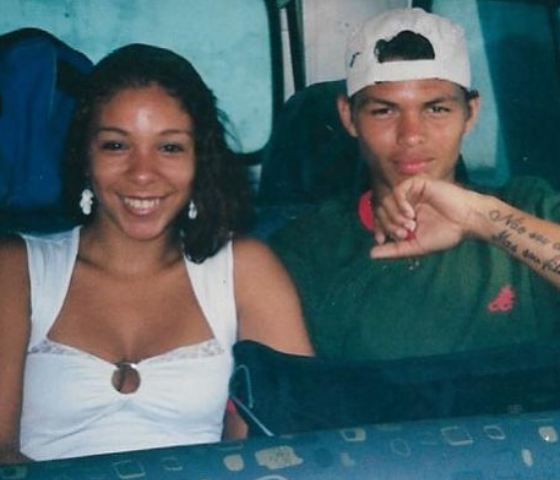 A throwback picture of Thiago Silva with his wife, Isabel Silva on 13 June 2018 (Photo: Instagram)
Isabel also flaunted her beautiful diamond ring presented by Thiago on her social sites on 5 June 2012.
The pair has two children, Isago born on 12 November 2008 and Iago born on 4 April 2011. Thiago reportedly wants another child as a girl while Isabel is satisfied with the two boys that they have.
Thiago often shares the love for his family on Instagram. On 6 June 2018, he shared a picture of his family and said in Portuguese that, 
In the distance can prevent a kiss, a touch, a hug. But cannot prevent a feeling. Love you
Supportive Wife On and Off The Field
Thiago is blessed to have Isabel as his life partner. She has been with her husband through his hard time when he was a sufferer of tuberculosis in 2005. Isabel left her family and friend and even her dreams to become a doctor to be with him.
Thiago's wife also made her dissatisfaction after her husband was benched in the Champions League game between Real Madrid and Paris Saint Germain in 2018. She was not hesitant to share her views disagreeing with the manager's decisions on her Instagram on 14 February 2018.
Thiago's Children; Wants To Become Their Role Model
PSG captain Thiago admitted the hardest part of his life was his exile from Dunga's Brazil Squad. The player was reportedly axed from the team due to his uncharacteristic mistake against the quarterfinal match with Paraguay in 2015 Copa America.
Thiago then admitted that it was difficult for him to answer the questions of his children who raised concern over their father's absence in an international game. However, the highly rated defender paved his way back into the side and is now an integral part of the Brazilian squad but squandered his captain's armband to Marcelo.
What Is Thiago Silva's Net Worth?
The 33-year-old defender has a net worth of $45 million from his professional career in football. He has been making increasing revenues as a player defending the colors of Paris Saint-Germain since 2012. He earns an eye-watering salary of $17 million in PSG.
Short Bio
Thiago Silva, 33, was born on 22 September 1984 in Rio De Janerio with the birth name Thiago Emiliano da Silva as per wiki. The player was admitted to the largest school, Campo Grande neighborhood of Rio to complete his education. Thiago stands at the height of 1.83 m (6') and weighs around 174 lbs.
He was born to parents Geraldo Emiliano da Silva and Angela Maria da Silva. His family maternal family name is Emiliano and the second paternal family name is da Silva. In his family, he has a brother, Erivelton Emiliano da Silva and a sister named Danila Emiliano da Silva.